This Is the Best Low Interest-Rate Credit Card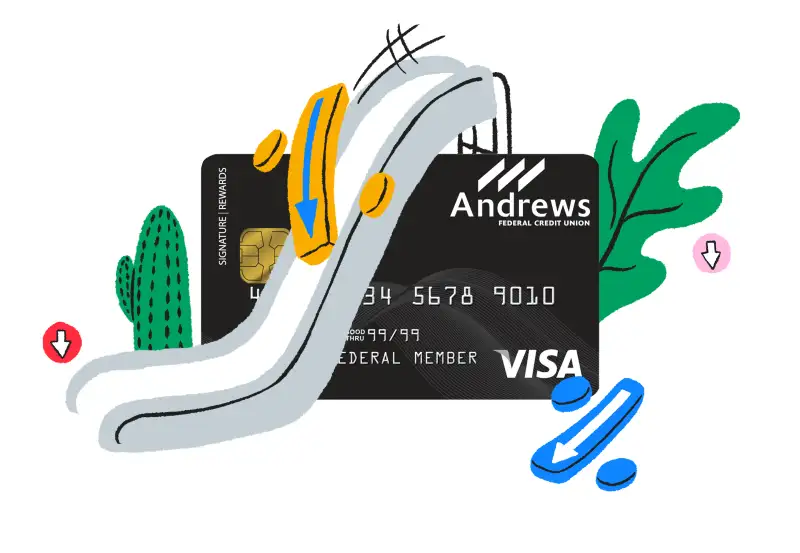 Illustration by Tania Guerra
Credit cards from brand-name issuers like big banks usually come with eye-watering interest rates. But if you have good credit, you can do a lot better.
When Money evaluates the best credit cards, the APR is always a factor in our decision-making. No matter how good the perks are or how many points you can earn, the value of those benefits will erode rapidly if you revolve a balance, making the interest rate one of the key criteria for what makes a credit card rise above its competitors.
Illustration by Tim Boelaars
Check your credit score before applying for a low-APR card, because you'll likely need top-notch credit (think 800-plus on the 300-850 credit-scoring scale) in order to qualify for the lowest rates.
(If you're looking for a 0% APR, credit cards with an introductory or teaser rate will give you anywhere from several months to more than a year to pay no interest on purchases, balance transfers or both. If you're looking specifically for a balance transfer card, check out Money's recommendation here.)
As we've noted before, credit unions are often a good resource if you're looking for low APR credit cards. These nonprofit financial institutions don't have to answer to shareholders the way banks do, so their terms often are comparatively more generous.
The caveat about credit unions is that you often have to live, work, or study in a particular geographic area or with a particular organization in order to be a member. Fortunately, some credit unions have found creative ways to help Americans outside their typical member base, by offering membership through one or more nationwide nonprofits. For a one-time donation of $10 or $15 (and sometimes less), you can get access to products like low-interest credit cards — like this year's winner.
Illustration by Tania Guerra
Key Terms
•Rewards: Three points per $1 spent on gas and groceries, 1.5 points per $1 spent elsewhere.
•Annual Fee: $0
•APR: 7.99%-18%
Why You Should Get It
With an APR that starts below 8%, this Visa card from Andrews Federal Credit Union has the lowest non-teaser APR rate in MagnifyMoney's database. It's a repeat winner in this category, and we're willing to bet that people searching for no interest credit cards won't be disappointed by this card's terms.
If you're looking at 0% interest credit cards, this card has a decent offer right now with an introductory 0% APR on both purchases and balance transfers for 12 months. (There is a 1.5% balance transfer fee, FYI). This card delivers value when you spend, too. It offers accelerated rewards earning on gas and groceries, two key household budget categories, as well as a signup offer of 7,500 bonus points — worth $75 — for cardholders who spend $500 within the first three months of opening their account.
Best of all, joining Andrews FCU is easy — and free. Just enroll in the nonprofit American Consumer Council; it normally costs $8, but you can join for free by entering the promo code "Andrews" when you sign up.
Caveats/Alternatives
When we looked at the best interest rates, another card that caught our attention was the Premier America Credit Union Premier Privileges Rewards MasterCard. Its APR starts a fraction of a percentage point higher than the Andrews card, at 8.45%, and it has a six-month promotional period with a 0% introductory APR on both purchases and balance transfers. When it comes to 0% interest credit cards, no balance transfer fee is a rarity — and this card's regular APR is decent, as well.
Money worked with MagnifyMoney to narrow down credit card options in each category to a set of finalists. Money's editorial staff was solely responsible for choosing the winners, focusing on interest rates, fees, and perks of each card.
Opinions expressed here are the author's alone, not those of any bank, credit card issuer, airline or hotel chain, and have not been reviewed, approved or otherwise endorsed by any of these entities.