The Best Men's Golf Shoes for Your Money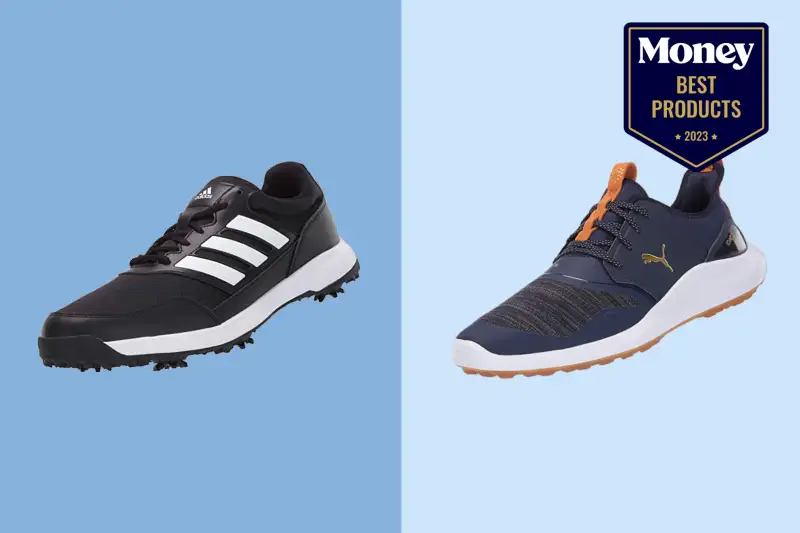 Whether you're an expert golfer or just learning the ropes, investing in the right equipment is essential to improve your game. In golf, among the many things at your disposal, there's one thing that stands out as a true game-changer: men's golf shoes. This remarkable sports footwear is not just a fashion statement on the course but a vital component of your overall performance. With their advanced design and cutting-edge technology, men's golf shoes provide unrivaled support, stability and traction, allowing you to confidently maintain your balance and swing.
There are many different options to choose from, though, which makes selecting the right pair daunting. So to assist you in making the right pick, we've compared the best men's golf shoes for 2023 to take your game to the next level.
Best Overall: Adidas Men's Tech Response 2.0 Golf Shoes
Most Stylish: FootJoy Men's Fj Flex Golf Shoes
Best Support: PUMA Men's Ignite Nxt Lace Golf Shoes
Best Traction: Thestron Men's Mesh Walking Sport 7 Golf Shoes
Best Durability: New Balance Men's Breeze V2 Golf Shoes
Reviewing the Best Men's Golf Shoes of 2023
List Price: $25.47 - $170.33
Check on Amazon | Check on DICK'S Sporting Goods
In the top spot on our list, the Adidas Men's Tech Response 2.0 Golf Shoes are ideal for any golfer who values comfort and stability while they play but doesn't want to break the bank. This budget-friendly and lightweight pair of shoes boasts a breathable design that won't weigh you down. The textile and synthetic upper provides an ideal combination of durable construction and quality materials. The lace closure allows you to adjust the shoe's fit for maximum comfort and support during your round.
The real star of these shoes is their sole. The non-marking adiWear outsole with X-Traxion primary lugs gives you excellent grip and balance on all surfaces, making it great for optimal traction on the greens. This pick features thinTech EXP cleats to reduce turf build-up, allowing you to move freely across any terrain without worrying about damaging the course. Plus, a lightweight Cloudfoam sockliner adds extra cushioning to keep your feet feeling supported no matter how long you play. The combination of superior grip and balance from the sole with the lightweight, breathable upper make these men's golf shoes the best overall option on our list.
Pros
Lightweight and breathable
Comfortable and supportive fit
Balanced feel during each swing
Cons
Heel backing may feel stiff
Size may be smaller than expected
List Price: $79.95
Check on Amazon | Check on DICK'S Sporting Goods
Featuring a sporty appearance, the FootJoy Men's Fj Flex Golf Shoes are a great choice for any golfer who wants a supportive yet stylish shoe. Available in nine colors, its versatile design ensures it's suitable for on-course performance and off-course fashion, making it a great addition to your arsenal of golf apparel. The laser sport fit offers increased comfort, full rounded toe character, toe spring and a standard fit across the forefoot and instep. This pair of shoes also features a performance mesh upper, which is lightweight and breathable, while the VersaTrax outsole gives you excellent traction during your swing and while walking the course.
With its lace-up closure, this product fits well and provides excellent support for your feet while you're golfing. The midsole is made from a soft EVA material that offers superior underfoot cushioning and enhanced stability. Whether you're on the green or just out for a casual lunch at the club, these men's golf shoes are a comfortable and aesthetically appealing option.
Pros
Comfortable to wear for long periods
Stylish, sporty-looking design
High-quality materials provide a perfect fit
Cons
Hard to clean
Construction isn't waterproof
List Price: $83.30 - $140.00
Check on Amazon | Check on DICK'S Sporting Goods
The PUMA Men's Ignite Nxt Lace Golf Shoes are a practical choice for the golf course, delivering excellent support for a comfortable fit and feel. The shoes come with a unique blend of materials, including a sole shield, ignite foam and waterproof mesh — all providing excellent durability and comfort for the golfer during long-lasting wear, even when the course is wet. This pick comes in four color combinations to create an elegant look that pairs perfectly with any golfer's outfit.
The sole is designed with a low profile to provide greater flexibility when moving, while its upper features a combination of microfiber leather, mesh and TPU, offering a lightweight fit that will keep your feet cool throughout the game. These men's golf shoes also feature innovative GripZone technology, which offers enhanced grip and power transfer during key points of the golf swing. These quality features make the pair an excellent choice for golfers looking for performance-driven golf shoes that don't compromise on looks or comfort.
Pros
Snug and comfortable fit
Proprietary foam for stable cushioning and support
Suitable for wet weather
Cons
Rear pull-on loops may break over time
Shoelace eyelets may have quality issues
List Price: $45.99 - $64.99
The Thestron Men's Mesh Walking Sport 7 Golf Shoes offer excellent functionality and traction to keep you firmly in place on every swing. With a rubber sole, these shoes provide excellent traction and stability on the golf course. The inclusion of spikes ensures optimal grip on the green, allowing for precise movements and enhanced club control. This product also includes additional spikes in case you need to replace them.
Available in an impressive 14 styles, they boast a simple and classic design that appeals to men who value elegance on the course. These men's golf shoes are made with a combination of microfiber and mesh materials to provide breathability and comfort, so they're suitable for all seasons. Plus, their waterproof feature ensures peace of mind, as you won't have to worry about playing in wet conditions.
Pros
Built-in spikes on outsole for optimal grip
Suitable for all seasons
Waterproof construction for wet weather
Cons
Some find them uncomfortable
Spikes need to be installed by users
List Price: $59.99 - $69.33
Check on Amazon | Check on DICK'S Sporting Goods
Searching for a durable pair of men's golf shoes that will last for years to come? Then the New Balance Men's Breeze V2 Golf Shoes are a must-have for golfers of all levels. Keeping your feet protected from the elements, these tough shoes have a welded forefoot water guard that ensures you stay dry, while the cush+ insole provides increased comfort. The breathable performance mesh upper with supportive overlays of these shoes enhances their overall durability and comfort, while the REVlite 10mm drop midsole offers superior cushioning and responsiveness. In addition, the NDurance spikeless rubber outsole delivers extra stability and control to help you dominate the greens.
This pair of men's golf shoes comes in three stylish designs that look great when paired with any golfing outfit. The lightweight and flexible feel makes them perfect for all-day wear; you can comfortably walk around the course for hours without feeling weighed down. Designed with comfort and longevity in mind, this long-lasting pair is sure to give you more confidence and focus while you play.
Pros
Lightweight yet sturdy construction
Generous toe box for added comfort
Spikeless rubber outsole offers stability
Cons
Can be hard to clean
May break down with intensive use
Buying Guide: Men's Golf Shoes
Imagine a crisp morning breeze, the scent of freshly mown grass and the anticipation of a perfect drive. You stand at the tee, ready to conquer the course. But amidst the sweeping landscapes and anticipation of a well-executed swing, one essential element often goes overlooked: the humble item that can make or break your performance — a pair of men's golf shoes.
As you navigate the numerous options on the market, finding the perfect fit for your feet can be challenging. Don't worry though, our comprehensive buying guide will equip you with the knowledge to shop confidently, ensuring your investment in men's golf shoes is a hole-in-one.
Comfort
It's essential to find comfortable shoes, as you'll spend several hours walking around in them on the golf course. Look for durable and breathable materials that provide adequate cushioning and support. Shoes with extra padding or features such as arch support can be beneficial for additional comfort.
Traction
Grip-enhancing tread patterns should be considered when purchasing a golf shoe. This traction will help provide optimal stability during the round by keeping your feet firmly planted on the ground. Look for shoes with rubberized outsoles and cleat designs that are specifically designed for golf courses.
Waterproofing
Whether on a dewy morning or a drizzly afternoon, your feet will inevitably be exposed to wet conditions on the course, so it's important to have waterproof material and construction to keep your feet dry. Look for shoes that use waterproof membranes such as Gore-Tex or neoprene fabrics to ensure maximum protection from the elements.
Weight
Weight affects your performance, so lightweight designs are a must-have for golf shoes. Heavier designs will bog down your feet and make it difficult to golf through a long round with ease. Look for shoes made of lightweight materials such as mesh or synthetic fabrics that don't add any extra bulk and still provide adequate support.
Flexibility
Golf requires a lot of bending, moving and twisting, so flexibility is vital when selecting a pair of golf shoes. Look for designs with split outsoles or flexible uppers that allow you to move freely without sacrificing support or stability.
Breathability
Throughout a round, your feet will likely become hot and sweaty, so breathability is essential when choosing a pair of golf shoes. Look for open ventilation systems such as mesh panels or perforations that provide ample airflow to keep your feet cool and comfortable all day.
Support
Many golfers suffer from foot pain due to a lack of proper support during play, so ensure your new pair of men's golf shoes provides adequate guidance during play. Structural features like heel counters or arch supports provide better control over foot movement and keep them secure throughout the round.
Style
Style should always come second after functionality when picking out golf shoes, but it's still an important factor affecting whether or not you want to wear them during play. Look for sleek designs with classic lines and modern colors that look fashionable on and off course without sacrificing performance or comfort.
People Also Ask
Is there a difference between men's and women's golf shoes?
Yes, there is a difference between men's and women's golf shoes. Men's golf shoes tend to be slightly wider in the toe box and more forgiving in the forefoot area than women's styles. On the other hand, women's golf shoes tend to be lighter and have higher heels than men's shoes, where the lower heel helps with balance during the swing.
Are waterproof golf shoes necessary?
Waterproof golf shoes aren't always necessary but can be helpful to extend the longevity of your shoes and keep you more comfortable if you play in wet conditions. Waterproof materials such as Gore-Tex can help ensure your feet stay dry while allowing air to circulate around the foot for breathability.
How do I choose the right size of golf shoe?
Choosing the right size when selecting your men's golf shoes is important because a poor fit can lead to discomfort or decreased foot support on the course. The ideal way to find your proper size is to measure your foot length using a Brannock Device or tape measure and then compare it to a manufacturer's sizing chart for that particular shoe model. Another tip is to buy shoes at least one-quarter inch larger than your foot measurement so they don't feel too tight.
How much should I expect to pay for a good pair of golf shoes?
A good pair of men's golf shoes typically ranges from around $50 to $200 depending on features such as waterproofing technologies, slip resistance, cushioning technologies, brand name and construction quality. Generally speaking, the more high-tech features you want in your shoe, the more you will pay for them.
How should I clean and care for my golf shoes?
It's important to clean and maintain your golf shoes regularly to keep them in good condition for longer periods and to enhance your performance on the course over time. To do this, use a soft brush or cloth to remove dirt or debris after each round. For leather shoes, use mild soap when cleaning deeper layers of grime with lukewarm water only if necessary, as hot water can cause damage over time. Plus, you should apply protectant sprays from time to time to keep leather models from losing their color or becoming stiff from water damage, which can lead to premature wear if left unchecked for long periods.
Why Trust Us
Our commitment to customers begins with a carefully curated product selection process, ensuring we provide high-quality and reliable options. We meticulously vet each pair of men's golf shoes, analyzing quantitative aspects, such as star ratings and review count, and qualitative factors, including review content and product features. Our dedicated team of bargain hunters consistently prioritizes your budget by meticulously scouring the market and identifying the best products available without ever compromising on quality or performance. Our panel focuses on presenting the pros and cons of each pair of men's golf shoes and converting technical specs into understandable insights. We aim to offer unbeatable value on golf equipment purchases by providing high-quality products, ensuring a remarkable experience to improve your performance on the course.