The Best Mixers for Your Money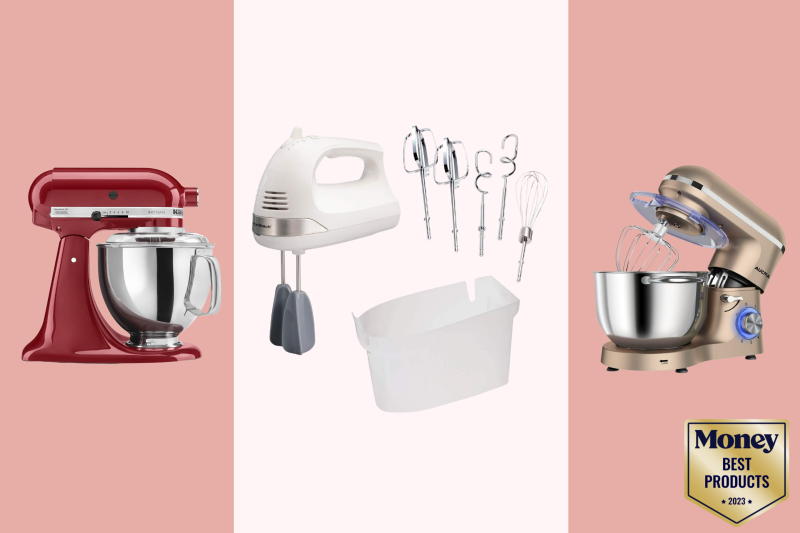 Whether you've been an avid baker for as long as you can remember or just recently discovered a passion for it during lockdown, the right tools can make all the difference in both your experience and the end product. There's one essential piece of kitchen equipment, in particular, that's quite underrated and often underappreciated: the mixer. Not convinced? This guide to the top mixers in 2023 reveals why using a mixer makes a significant difference in baked goods, and it can also help you choose one to fit your needs. Whether you have a small kitchen or a successful home bakery business, our top picks are sure to include an ideal option for you.
Best Overall: Hamilton Beach Hand Mixer
Low Noise: Aucma Stand Mixer
Most Stylish: KitchenAid Stand Mixer
Budget-friendly: Black+Decker Hand Mixer
Large Capacity: Cusimax Mixer
Detailing the Leading Mixers of 2023
List Price: $27.99
Just because life is busy doesn't mean you have to miss out on making delicious treats. Our number one pick for the home cook is the Hamilton Beach Hand Mixer. We love this device because it's lightweight to carry, easy to store, and simple to clean, making it the perfect mixer for busy cooks.
This mixer doesn't take a long time to set up or pack away, and it can make any job fast and effortless, from mixing pancake batter to whipping up a souffle. It comes with seven attachments: two easy-clean beaters, two traditional beaters, two dough hooks, and one whisk. With its six-speed settings, you can easily switch things up for the job at hand. Thanks to its user-friendly design that's great for various baking adventures, this mixer is our top pick.
Pros
QuickBurst function for extra power when necessary
Comes with a storage container attachment
Attachments are dishwasher-safe
Cons
Lower power output than stand mixers
Lowest speed isn't low enough for kneading dough
List Price: $139.99
This powerful stand mixer from Aucma features six-speed settings and a pulse function. It comes with a mixing beater, a whisk and a dough hook for tackling a range of culinary tasks, and its tilt-head design makes it more convenient to access this mixer's 6.5-quart bowl and attachments.
This mixer boasts a 660-Watt motor, but even with all that power, it's still relatively quiet while mixing. It comes with a splash guard to prevent messes, and its non-slip feet help keep it in place during use. This mixer is also available in a range of attractive colors, so no matter what your kitchen decor is like, there's almost certainly an option that will fit right in.
Pros
Available in many colors
Tilt-head design for easy access
Low noise output
Anti-slip suction feet
Cons
Large size requires more storage space
Beater doesn't reach to the very bottom or sides of the bowl
List Price: $379.99 - $459.99
If you love making sure your kitchen is as stylish as it is functional, then this is the mixer for you. This 10-speed stand mixer from KitchenAid is available in a whole host of different colors, but besides being stylish, it's also a great choice for those who do a lot of baking. Although slightly smaller than our previous pick, it has a wider range of speed settings and also allows you to purchase extra attachments as needed.
This mixer's planetary mixing action results in maximal aeration and thorough mixing of ingredients; it also comes with a flat beater, a dough hook, a sturdy 6-wire whisk, a bowl and a splash guard. If you're looking for a mixer that prioritizes both form and function, make sure to check this one out.
Pros
Large, 5-quart bowl
Tilt-head design for easy access
Boasts 10 speed settings
Many color options available
Cons
Splash guard doesn't always fit tightly
Heavier machine
List Price: $23.54
If you're looking for something to make baking tasks faster and easier in your tiny kitchen, this is the mixer for you. This hand mixer from Black+Decker is compact, lightweight, and features dishwasher-safe parts for effortless cleaning.
This mixer boasts an ergonomic grip for increased comfort along with five-speed settings for various mixing jobs. Plus, there's even a turbo boost for when you need some extra oomph. Its smart design allows you to place the mixer upright on the counter or against the edge of the bowl without toppling over, and its eject button lets you keep your hands clean while removing attachments. With the price around $25, this is the most cost-effective on our list.
Pros
Can be used with any bowl
Easy to maneuver
Compact, space-saving design
Cons
Hill in the bowl keeps all ingredients from integrating easily
Cord is too short
List Price: $125.99 - $137.99
For the avid cook or baker, Cusimax offers a somewhat retro-style stand mixer in a bunch of funky colors. This unit comes with a large, 6.5-quart stainless steel bowl for mixing ingredients, and has a splash guard and pouring port so all your ingredients stay where they're meant to be: inside the bowl.
With six speeds, this mixer offers the various intensities you need to make everything from simple brownies to complex bread recipes. Its tilt-head design offers easy access to the bowl and its attachments, and to sweeten the deal just a little bit more, this mixer comes with a beater, a hook, and a whisk.
Pros
Large capacity bowl
Non-slip feet for secure mixing
Comes with three attachments
Cons
Bulky design requires more storage space
Motor requires breaks every 7 minutes of mixing
Finding Your Next Mixer: A Buyer's Guide
Using a good mixer can make a big difference while baking. Not only do mixers save your hand and arm from cramps while cooking and save time, but they also incorporate air in a way that can help your bread and other pastries rise while baking. You can whip up meringues and creams in a flash, combining ingredients faster and in a much more effective way. If you happen to be making bread or pizza dough, mixers also take care of the very time-consuming kneading process.
With so many types of mixers out there, how do you know which one is right for you? Here's what to look out for when shopping for a mixer in 2023, as well as how to decide which one suits your needs.
Types of mixers: hand vs. stand
It may seem like the main difference between a hand mixer and a stand mixer is simply that one is a handheld device and the other has a stand of its own, but there's a lot more to it than that.
While they serve a similar purpose, you might be better off choosing one over the other depending on how much cooking and baking you do and the types of dishes you create.
A hand mixer usually comes with a pair of dishwasher-safe beaters and a whisk attachment, while some also include a dough hook. These mixers generally have a few speed settings, are easy to maneuver, and have a compact design.
Stand mixers are much larger and come with a specific bowl that fits the machine and beater size. They come with a beater, dough hook and whisk attachment as standard accessories while newer, pricier models may even include accessories ranging from pasta makers to graters and spiralizers. Larger mixers generally offer more power, although they require more storage space and a bit more effort to clean.
The brownie test
One of the most important things to keep in mind when choosing a mixer is the effect that its attachments and power have on the ingredients you're mixing. Let's take a batch of brownies, for example. The recipe calls for:
Combining melted butter and sugar
Incorporating air by mixing in eggs
Adding melted chocolate and dry ingredients without overworking the batter or removing too much of the air
A stand mixer with a wider planetary motion can evenly distribute the butter through the sugar to form a thick paste, while smaller beaters on a handheld device will lead to a thinner consistency, with some oil rising to the top.
Next, you need to incorporate air by mixing in the egg whites. The added power and thick butter-sugar blend of the stand mixer will result in a creamy, light consistency when adding the eggs.
A hand mixer takes much longer to aerate the mixture. It will initially form lots of large air bubbles at the top, but eventually, a lightly aerated mixture will develop.
Up to now, the stand mixer has been pretty effective in creaming ingredients and quickly aerating the mixture. Once you add dry ingredients, though, you may notice that they start sticking to the sides of the bowl since the beater can't be moved around. This means you'll have to grab a spatula and scrape the sides periodically to get the batter back into the center of the bowl.
With a handheld mixer, you can simply move the beaters around the bowl to incorporate any bits that move off to the sides back into the mixture.
In the end, the hand mixer batch will likely be denser and less fluffy since a stand mixer is more effective at incorporating small air bubbles. For something like our brownie example, this is not necessarily a bad thing, as a denser, fudgy texture is exactly what you want.
With something like angel food cake, though, you'll need good aeration to obtain a light, fluffy texture. Both batches will taste equally delicious, but these small things can make a difference if you're particular about your baking.
If you mostly make regular, medium-density batters (pancakes, crepes, cupcakes, sponge cake, etc.) to enjoy at home, you'll probably find little difference between these types of mixers.
Other factors to consider when choosing a mixer
Storage space
If you don't have a lot of counter or storage space, a hand mixer is the obvious choice — these devices can conveniently be dismantled to store them in compact spaces, such as a drawer. They're also very lightweight, which makes it effortless to use them.
Stand mixers can't be completely dismantled, although their attachments and bowl can be removed. You'll need counter space near a power outlet to actually use it; however, if you don't use it often and decide to keep it in a cupboard to save space, you'll find that these mixers can be pretty heavy and difficult to handle.
Power
When considering your appliance's mixing strength, look at the range of speed settings on the device. Stand mixers generally have a wider range of speed settings than hand mixers; this allows for very slow mixing of light batters and prevents flour or cocoa powder from flying into the air before dry and wet ingredients are sufficiently combined. Once combined, you can then increase the speed for better blending of ingredients and optimal aeration. Good stand mixers can often handle heavier batters, such as fruit cake and bread dough, quite well.
Having said that, don't underestimate the handheld mixer. Although they generally have fewer speed options, high-quality units are capable of mixing with a lot of oomph.
Effort
A stand mixer allows you to add ingredients while the beaters are running, whereas a hand mixer will require you to stop, put the mixer down, add the ingredients, and then carry on mixing. This can be tedious when following recipes that require you to frequently add small amounts of ingredients while mixing.
If you're making something that requires a long mixing time (such as kneading bread dough or whipping large batches of Swiss meringue icing), a stand mixer will require less effort on your part. Although hand mixers aren't heavy, holding anything for a few minutes can become pretty uncomfortable.
Versatility and attachments
A big factor is what you want to use your mixer for. If you run a baking business or make bulk quantities for events or your family, a large stand mixer can make your job a lot easier with more consistent mixing. On the other hand, if you only bake occasionally or mostly follow small to medium-sized recipes, a hand mixer might be a more budget-friendly choice that can serve you well.
As mentioned earlier, some stand mixers can be used with various attachments; some attachments are included with the mixer itself while others need to be purchased separately. High-end mixers can serve as pasta makers, ice cream makers, graters, sifters, meat grinders, juicers, and spiralizers with the right specialized attachments. If you love making everything from scratch and don't mind splurging a bit, such mixer attachments can be a great way to up your culinary game.
Hand mixer pros
Lightweight and maneuverable
Versatile to be used with many different bowls
Compact for easy storage and setup
Budget-friendly mixing option
Great for whipping, creaming, mixing, and kneading
Faster and more effective than hand-whisking
Hand mixer cons
Not self-supported — won't stay upright
Messy to put down on the counter
Dense batters can be a struggle They can struggle with dense batters
Stand mixer pros
Can easily handle large capacities
Operates independently — no effort on your part
Smooths dense batters to your liking
Effective, fast aeration
Various speeds and attachments offer versatility
Stand mixer cons
Bulky and heavy to store
More expensive than handheld mixers
Often only compatible with its bowl
You can't maneuver its attachments
Guide to speed settings and attachments
Most recipes won't tell you which attachment to use for your mixer. This can be an issue, as using the wrong one can make a big difference in your finished product and can potentially damage your machine.
When whisking egg whites or whipped cream, aim to incorporate plenty of small air bubbles. The whisk attachment is the obvious choice here, as it's thinner than the beater. If you use the beater for aeration, whether using a hand or stand mixer, its wider blades won't incorporate as much air. The air bubbles will be larger, and the beater can even knock out some air with over-mixing.
When mixing medium batters, though, beaters are ideal, as their thicker blades are sturdier and prevent sticking and over-mixing. Over-mixing your batter will cause it to become unpleasantly dense, something you'll want to avoid.
The hook attachment is designed as a quick fix for kneading bread dough and mixing thick cookie batters. The way the hook moves presses the dough against the sides of the bowl, replicating a kneading action. If you try to use a whisk for thick dough such as bread, you'll very likely ruin your mixer.
When it comes to speed settings, faster is only better in terms of aeration. Using the whisk on a fast setting is more effective in creating lots of small air bubbles in egg whites — when you use a lower speed setting you can still incorporate air, but there won't be as many bubbles, and they won't be as small.
It's always a good idea to start on a low-speed setting to prevent your ingredients from flying out of the bowl and onto the counter. Once lightly combined, increase the speed for more effective mixing or whipping.
Medium-range speeds are ideal for batters, as they allow for air while ensuring all your ingredients are well combined.
Use the low setting for kneading, as you want gluten development to hold larger air bubbles. A speed that's too fast knocks the air out of your bread dough and might not be able to handle the thickness of a heavy dough.
People Also Asked
Q: How long should I whisk Swiss meringue?
A: On a high-speed setting, Swiss meringue will take around five minutes to whisk.
Q: Can you over-whip egg whites?
A: Yes, make sure to keep an eye on your egg whites when whisking, as overdoing them will make them unusable. The proteins will begin to break down, and the foam will start to collapse, lose moisture and become grainy.
Q: Can I make butter by beating cream long enough?
A: Yes, you can. Simply beat heavy cream for 5 to 10 minutes in your mixer, and you'll have your own homemade butter!
Q: Can you use a mixer as a food processor?
A: No. While a mixer can combine and mash a variety of ingredients, it cannot chop or puree ingredients the way a food processor can.
Q: How many watts should a good mixer have?
A: Typically, you want a mixer with 500 to 750 watts of power. If you plan to use your mixer for household baking occasionally and won't fill the bowl to the brim, you can easily get by using a machine with lower wattage. However, if you intend to use your mixer heavily for high quantities of dense dough, you might need higher wattage.
Why Trust Us
Our commitment to the consumer begins with product selection and ends with the last word we write in each article. Each mixer is carefully vetted quantitatively through star ratings and number of reviews qualitatively through careful examination of reviews and the features each one has to offer. Leveraging our team of bargain hunters, we're also always sure to keep your budget in mind while we find the best mixers on the market. Our team of experts is dedicated to accurately depicting the pros and cons of each mixer, translating technical product specifications into information you can understand. Our mission is to make sure you get the most bang for your buck…or in this case the most dough for your dime.