The Best Ninja Blenders for Your Money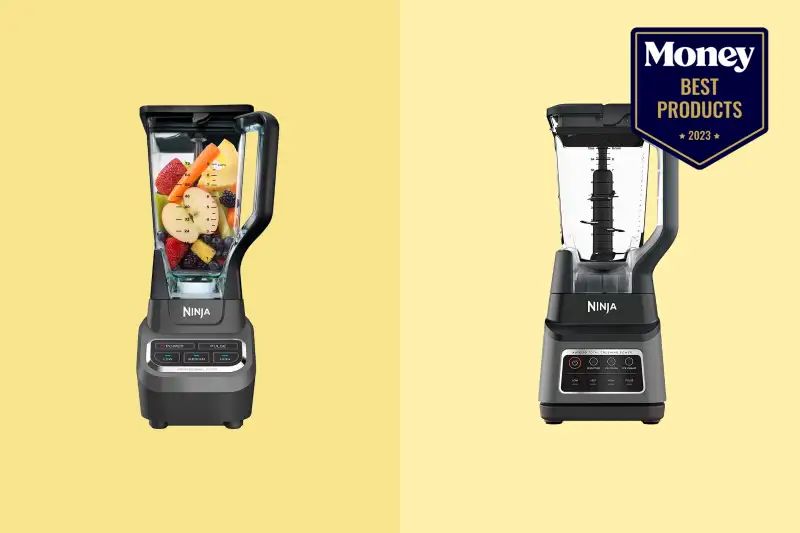 Are you looking for a high-quality blender for all your smoothie-making and culinary needs? You may want to start your search with a well-known brand like Ninja. Ninja blenders are known for their powerful motors, multiple settings and affordable prices. Plus, they come in a variety of colors, styles and sizes, so you're sure to find one that suits your kitchen perfectly.
While ordinary blenders can liquefy and pulverize ingredients in seconds, Ninja blenders boast powerful motors that can crush ice and frozen fruits and blend smaller portions quickly and efficiently. They provide both convenience and versatility, making them a must-have kitchen appliance. But with so many different models on the market, it can be hard to know which one you should pick. That's why we've put together a list of some of the highest-rated Ninja blenders in 2023 to help you figure out which model is right for your culinary needs.
Best overall: Ninja BL610 Professional Blender
Most space-saving: Ninja QB3001SS Personal Blender
Most durable: Ninja BL660 Professional Blender
Most powerful: Ninja BL770 Mega Blender
Most convenient: Ninja BN701 Professional Blender
Reviewing the Top Ninja Blenders of 2023
List Price: $99.99
Check on Amazon | Check on Walmart
The Ninja BL610 Professional Blender is an ideal choice for anyone looking for a powerful and reliable kitchen appliance to blend, puree and mix up fruits and veggies. This blender is equipped with a 1,000-watt motor base that provides tremendous power for smooth, easy blending of all your favorite ingredients. With its Total Crushing Technology blades, this pick can cut through ice, fruit and vegetables in a flash, allowing you to quickly make delicious drinks and smoothies.
Its 72-ounce professional pitcher is big enough to handle large batches, so you won't have to worry about spending hours pureeing food if you're getting ready to entertain a group. Included is a guide that contains plenty of delicious recipes so you can have some fun experimenting with your new Ninja blender, but even better is the fact that it's easy to clean, with its pitcher being dishwasher-safe.
Featuring an intuitive and user-friendly design, this blender is ideal for both personal and professional use, with its three speed settings allowing you to blend ingredients to your desired consistency without having to manually control the appliance. You can even use it to prepare baby food, making it a good choice for more than just smoothies. With its ease of use, effortless cleanup and sleek design, this Ninja blender is our top pick and can make a great addition to any kitchen.
Pros
Impressive crushing and blending technology
One-touch operation and speed settings
Pulse feature for fine crushing
Large 72-ounce plastic pitcher
Cons
Can crack if not handled properly
Takes a while to dry after washing
List Price: $59.99
Check on Amazon | Check on Bed Bath & Beyond
If you want to take your smoothie and shake game to the next level, look no further than the Ninja QB3001SS Personal Blender. This compact personal blender is perfect for shakes, smoothies and food prep, which is down to its 700-watt push-to-blend motor base that can handle pretty much any ingredients you throw its way. Its pulse technology helps you extract more nutrients from whole fruits and vegetables, and you can even use it to crush ice and frozen ingredients for delicious drinks and smoothies.
This Ninja blender is extremely convenient, both when it comes to using it and cleaning it. Its compact design makes it ideal for small kitchens, as it won't take up a lot of counter space and should be able to fit in most cabinets for simple storage. Its intuitive, easy-to-use controls make it an ideal choice for home and office kitchens, and another great thing about it is that you can blend directly into the included single-serving cup, screw on the to-go lid, and enjoy your drink wherever the day takes you.
Because all parts of this blender are BPA-free, you won't have to worry while enjoying your drinks. Plus, the container, lid and blades are all dishwasher-safe for a quick and easy cleanup; simply toss them in to get them as good as new. Overall, this appliance is an excellent choice for anyone wanting to make delicious, nutritious recipes quickly and easily at home.
Pros
Slim, compact design for easy storage
Includes two single-serve cups and to-go lids
Comes with a recipe booklet
Cons
Gasket should be cleaned to prevent moldy
Cups are somewhat small
List Price: $131.14
Check on Amazon | Check on Walmart
The Ninja BL660 Professional Blender is an incredibly powerful and versatile kitchen tool perfect for all culinary creations. Equipped with a 1,100-watt motor, this blender can quickly pulverize tough ingredients as well as mince, chop, grind and blend them to help you prepare all kinds of recipes. It features three speed settings to give you complete control over the texture and consistency of your ingredients, and it also has a pulse function to whizz things up in a matter of seconds.
This Ninja blender features a large, durable 72-ounce pitcher that can make enough smoothies for everyone who wants one. It also comes with two 16-ounce to-go cups with spout lids so you can make your favorite drinks and take them with you to the gym or the office. Additionally, all its parts are BPA-free and can easily be cleaned in the dishwasher.
Aside from practical benefits, it also comes with a guide containing 28 delicious recipes. With its impressive power, versatile functions and added convenience factors, this Ninja Blender can be an excellent addition to any kitchen in need of a powerful tool to make meal prep quick and easy.
Pros
Features six blades for thorough cutting
Comes with an extra-large durable pitcher
Includes a recipe guide
Cons
Blade design makes cleaning difficult
Tall build may not fit under cupboards
List Price: $139.99 - $159.99
Check on Amazon | Check on Walmart
If you're looking for a blender or a food processor that can handle big jobs, then make sure you check out the Ninja BL770 Mega Blender. This powerful blender comes equipped with a 1,500-watt motor and has four different functions so that you can customize your drink-making experience. It comes with a 72-ounce Total Crushing pitcher that can crush ice in seconds, while its 8-cup food processor bowl is perfect for chopping fruits and veggies evenly. Plus, it comes with a couple of 16-ounce cups with to-go lids, meaning your culinary creations aren't confined to the kitchen.
This Ninja blender's stacked blade assembly can tackle any recipe you throw its way, while its dough mixer function boasts enough torque to incorporate ingredients fast and evenly, allowing you to make up to two pounds of dough in just half a minute. Not only is it powerful enough to help you prepare anything from frozen drinks, and smoothies to dough and finely chopped ingredients, but it also comes with a guide containing 31 tasty recipe ideas, making it a comprehensive kitchen companion.
All of this Ninja blender's parts are BPA-free, so you can rest assured while serving up delicious recipes to your loved ones. And when it comes to cleaning it, you couldn't ask for a more convenient option: You can either place it in the dishwasher or use warm soapy water to get rid of any gunk present with the provided cleaning brush. All in all, this appliance is both convenient and practical, offering a unique drink-making and food-prep experience that can make your time in the kitchen enjoyable and effortless.
Pros
Powerful motor that offers consistent results
Five manual programs for complete control
Single-serve cups for on-the-go drinks
Cons
A bit loud
Food processor results could be smoother
List Price: $119.99
Check on Amazon | Check on Walmart
The Ninja BN701 Professional Bender is a powerful, versatile appliance that can help you awaken your inner chef and get creative with your culinary creations. It gives you 1,400 watts of professional power, allowing you to make all kinds of recipes by blending ingredients to your desired consistency. It has three preset Auto-iQ programs for making smoothies, frozen drinks and ice cream, which means you won't have to guess and just wing it when preparing tasty treats. Its Total Crushing blades are ideal for crushing up ice, while its 72-ounce pitcher can handle large batches of ingredients to create delicious drinks and snacks for the entire family.
This Ninja blender is constructed from durable materials and is entirely BPA-free, so you won't have to worry about your health as you enjoy a delicious and nutritious beverage. Its components offer easy cleaning and are dishwasher-safe on the top rack, and when it comes to blending, its motor base and stacked blade assembly equip you with some impressive power.
In addition, this Ninja blender comes with a recipe guide that gives you 15 tasty recipes you can use to get creative with your blender. With its intuitive one-touch operation, this Ninja blender is ideal for busy households that love a good smoothie.
Pros
Stacked blade assembly for optimal blending
Durable and easy to clean
Auto-iQ functions for increased convenience
Cons
A tamper isn't included
Blades are sharp and difficult to clean
Buying Guide: Ninja Blenders
If you love smoothies and shakes, then you probably know the importance of a good blender. If you don't already have one at home, you can upgrade your kitchen by buying a Ninja blender. These blenders offer both convenience and quality, but choosing the right one can be difficult as there are so many features you'll have to consider. That's why we've created this comprehensive buyer's guide to help you find the right Ninja blender for your needs.
Factors to consider when choosing a Ninja blender
Price
Ninja blenders range from basic, inexpensive models to expensive, luxury designs. Consider how often you plan on using your blender and the type of tasks you'll be doing most frequently. If you don't plan to use it regularly, there's no need to buy an expensive, top-of-the-line model. Conversely, if you'll be making complex recipes or grinding ice on a regular basis, you should consider investing in a more powerful blending option.
Motor power
Ninja blenders come with different levels of motor power, ranging from 350 watts to over 1,500 watts. Generally speaking, the more powerful the motor, the better it is at crushing tough ingredients and liquefying them quickly and efficiently.
Blenders with a higher wattage also tend to be more durable, as they can handle regular use without showing any visible signs of wear and tear over time. But keep in mind that more power means a higher price tag, so make sure your usage and needs justify spending extra for this additional power.
Ice-crushing capacity
If crushing ice is important to you, then you should pay close attention to this feature when choosing a Ninja blender, as the amount of ice cubes each model can crush varies. Some models can handle large batches of ice without skipping a beat, while others may struggle or even fail altogether when put through similar stress tests. It's a good idea to read reviews and check out competing models that have similar specs, as being able to crush ice quickly and easily is a dealbreaker for many users.
Speed settings
Most Ninja blenders offer several different speed settings, allowing you to adjust how coarse or fine you want the consistency of your blend to be. The most common speed settings on a Ninja blender are pulse (which offers short bursts), low, medium and high settings, with different speeds depending on the model. Blending at lower speeds is ideal for softer things (like fruits or smoothie ingredients) while higher speeds are better for tougher ingredients (like nuts or coffee grounds).
Blades
The blades play an important role in your Ninja blender's performance. The type of material (typically stainless steel) used to make the blades determines how durable they are, while size and shape give you an idea about their efficiency in cutting through ingredients.
Larger blades are typically more effective at breaking down tough ingredients but may take up more space inside the container than smaller blades. You should look for blades that have been specially designed for specific tasks (such as chopping vegetables), as these will produce superior results compared to the generic blades included in some models.
Capacity
The capacity of Ninja blenders ranges from small, personal blenders that hold one to two cups of liquid all the way up to pitchers that can handle up to 64 ounces of liquid at once, which is twice as much as standard food processors. Consider how much time you typically spend preparing meals or drinks so that you can choose an appropriately sized pitcher or container that will meet your needs without taking up too much space in your kitchen.
Ease of cleaning
One of the advantages of owning a Ninja blender is that many of its parts are dishwasher-safe, which makes cleanup a breeze. With that said, you should refer to the user manual to double-check if all parts are indeed dishwasher-safe before tossing them in, as some models may not be compatible with all types of dishwashers. Also, some components shouldn't be completely submerged in water, so look for details regarding cleaning instructions before finalizing your purchase.
Noise level
Some Ninja blenders produce more noise than others during use, so if noise sensitivity is something you're concerned about, then it's important to read reviews on different models before making your purchase.
Most models operate at between 65 and 75 decibels, which is comparable to normal conversation levels. But if that's still too loud for your liking, then keep an eye out for special "Quiet Blend Technology" included in some models to make sure that it operates quietly without compromising on performance.
Warranty coverage
It's important to make sure that any product you purchase comes with adequate warranty coverage in case it requires repair or replacement. Most Ninja blenders come factory-sealed with one-year warranties, but some extend up to five years depending on the model you choose. You should always check the warranty details upfront when browsing online or in-store so that you have a clear idea of what's covered and for how long before making your decision.
Number of settings and programs
This refers to how many preset controls and programs are available in a model. This allows users to customize their blending experience according to their preferences without having to manually adjust the settings each time they want to make something. Some Ninja blenders feature dials that offer multiple speed options, whereas others have separate buttons for specific tasks, such as smoothie-making and ice-crushing. Having multiple settings and programs can speed up meal prep, which means you'll be able to spend less time in front of the machine and more time enjoying your creations.
People Also Ask
How heavy should my Ninja blender be?
There's no straightforward answer to this, as some models are heavier than others due to their higher-wattage motors and larger capacities. Because of this, some Ninja blenders may be difficult to move or carry around, especially if the pitcher is full.
Luckily, most Ninja blenders have an ergonomic design that ensures comfortable handling, even when performing extended blending sessions. If you're looking for something a bit smaller, personal blenders are usually light and compact enough to fit inside most backpacks and handbags, making them ideal solutions for travelers and those who like to enjoy their blends on the go.
Are plastic pitchers better than glass pitchers?
Both these materials have their pros and cons, but be sure to choose a BPA-free option if you go for a plastic one. Plastic pitchers are easy to clean, but if you blend hard and tough ingredients (like ice and nuts) at a high speed, you can easily scratch the inside, which will quickly make your drink cloudy.
On the other hand, glass pitchers are heavier, more durable, and less likely to retain smells and stains. The downside is that when you want to blend hot food in a glass pitcher, it can break easily as not all glass designs are heat-resistant.
How does a Ninja blender work?
No matter which Ninja blender model you choose, the first thing you need to do is assemble it. After it's set up, you need to plug the blender into a nearby outlet, put your ingredients in, choose a speed and push the start button. The blender will quickly chop up the ingredients to your desired consistency, allowing you to enjoy your favorite drinks and recipes in no time at all.
How long will my Ninja blender last?
Most Ninja blenders are made with premium materials that can last for years. If you use your Ninja blender regularly and make sure to clean it after each use, it should last you several years at the very least. If the blender is well-made and its pitcher is constructed from high-quality glass, it can last around five years when handled with proper care.
Should I get a Ninja blender with a tamper?
It depends on your personal preferences and the type of recipes you want to make with your blender. Some Ninja blender models come with a mini plastic tamper so that you can make lump-free soups and smoothies, as this accessory allows you to safely push your ingredients toward the blades without taking off the lid or having to stop the blender. Make sure to be careful while using the tamper, though, as it can break easily if you push it too hard against the blades.
Which attachments should come with a blender?
Most Ninja blenders feature a main pitcher that can hold up to 64 ounces of liquid, which is usually slightly less than the pitcher's size itself to ensure safe operation. Some versions also come with other containers, such as chopping bowls, smoothie bowls, food processor bowls or single-serving cups, the sizes of which can range from 12 to 24 ounces.
If you're always in a hurry and want to be able to take your smoothies or shakes with you, choose a model that comes with smaller cups and a to-go lid. Also, note that most Ninja cups and containers can be used with other models, but you'll need to check to make sure of this before doing so.
Why Trust Us
Our commitment to the consumer begins with product selection and ends with the last word we write in each article. Each Ninja blender is carefully vetted quantitatively through star ratings and number of reviews qualitatively through careful examination of reviews and the features each one has to offer. Leveraging our team of bargain hunters, we're also always sure to keep your budget in mind while we find the best Ninja blenders on the market. Our team of experts is dedicated to accurately depicting the pros and cons of each Ninja blender, translating technical product specifications into information you can understand. Our mission is to make sure you get the most bang for your buck…or in this case the most blending for your buck.