The Best No Annual Fee Credit Card Gives You 3% Back On Travel and Dining Spending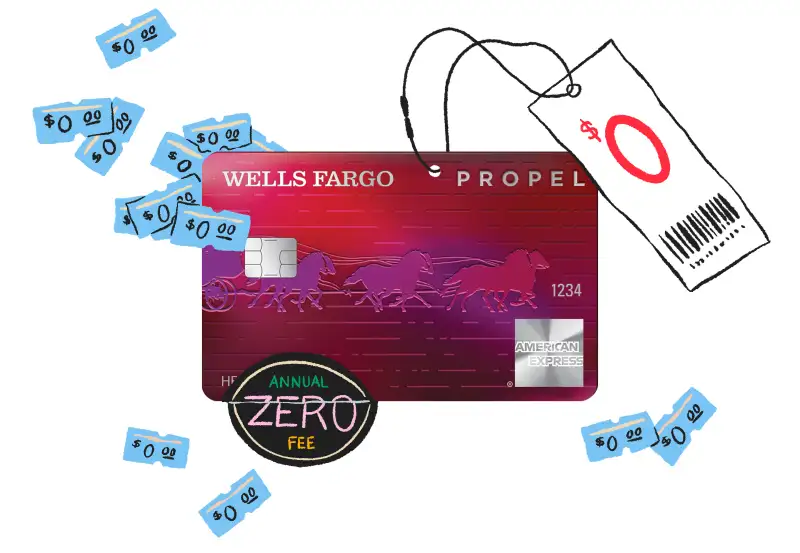 Illustration by Tania Guerra
For many Americans -- including many Money readers -- the 2019's Best Credit Card could only be a no-fee card. Why pay someone to let you spend your money?!
While we think generous rewards can sometimes justify a fee (see our top pick for Travel Rewards) we always give special attention to this category.
Illustration by Tim Boelaars
Fortunately, credit card issuers seem to have gotten the memo because the number of cards in in the no-annual-fee category has grown rapidly in recent years. While not exactly "free" if you run up a balance and pay interest, credit cards with no annual fee can cost a user nothing if they consistently pay off what they borrow in full every month.

When evaluating credit cards with no annual fee, we consider APRs as well as any extra fees, such as foreign transaction fees. We also look for simplicity in rewards structures and wide latitude in how you can redeem your rewards.
Rewards have been getting more generous, according to Brian Karimzad, co-founder of MagnifyMoney.com. "The arms race right now is on category spending bonuses," he says. A shift that emphasizes rewards over time, rather than just a big signup bonus, is a tactic that benefits consumers as well as lenders, he says.

Illustration by Tania Guerra
Key Terms
•Rewards: 3 points per $1 spent on dining out and ordering takeout, gas, rideshares, car rentals, transit, flights, hotels, homestays (like Airbnb, for instance), and popular streaming services; 1 point per $1 spent elsewhere.
•Annual Fee: $0
•APR: 15.74%-27.74%
Why You Should Get It
Among no-fee credit cards Propel rises to the top because of its generous rewards program, with a wide range of spending eligible for accelerated rewards. But we should also point out that the Propel is offering a sign-up bonus of 30,000 points — worth $300 — for cardholders who meet or exceed a $3,000 spending threshold within the first three months of opening the card.
This card also is Exhibit A in how the rewards marketplace is changing because it offers triple points on spending that just a few years ago wasn't considered "travel." The spending category now includes not just airline and hotel bookings, but also home stays; and in addition to gas and car rentals, spending on public transit and ride-sharing also get rewarded. And overseas travelers, take note: The Propel also charges no foreign transaction fees.
While some high-end credit cards have traditionally rewarded restaurant meals, dining has become a popular accelerated rewards category among the best credit cards with no annual fee, and more cards now offer rewards on takeout orders as well as eating out, like the Propel does. This card also offers triple rewards for spending on a slew of streaming media services and up to $600 in protection for damaged or stolen cell phones.

Caveats/Alternatives
If you don't use most (or any) of these categories for which the Propel offers accelerated rewards earnings, the Chase Freedom Unlimited card and American Express Cash Magnet are two other options in the category of no annual fee credit cards that offer a simple, 1.5 points per dollar spent on all purchases. Both of those offer a 15-month 0% APR introductory rate on both purchases and balance transfers, compared to 12 months for the Propel. If you have plans to do some big spending in the year ahead, the Freedom Unlimited also has a current sign-up bonus of 3% cash back within the first year you have the card. This could net you up to a whopping $600 — provided you spend $20,000 in that year.
Money worked with MagnifyMoney to narrow down credit card options in each category to a set of finalists. Money's editorial staff was solely responsible for choosing the winners, focusing on interest rates, fees, and perks of each card.
Opinions expressed here are the author's alone, not those of any bank, credit card issuer, airline or hotel chain, and have not been reviewed, approved or otherwise endorsed by any of these entities.