The Best Pickleball Shoes for Men for Your Money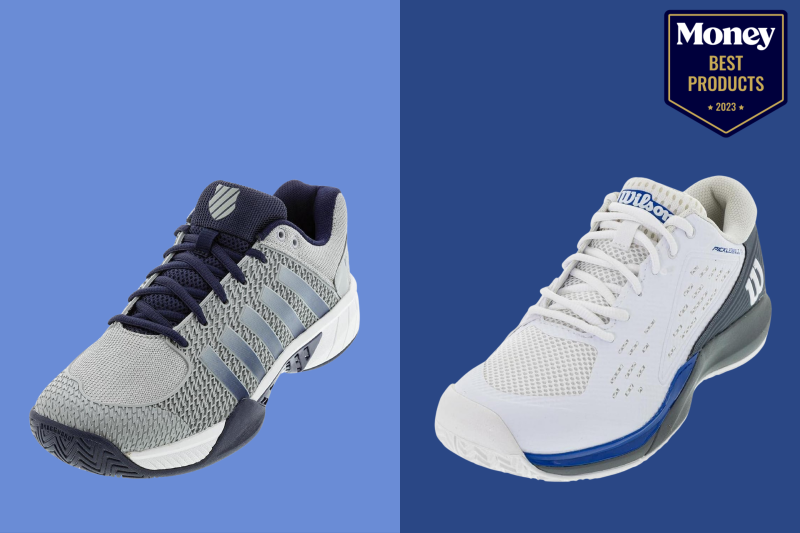 Whether you're an avid pickleball player or just learning the sport, the first step to being successful on the court is having the right gear. Along with the basics such as paddles, balls, and a net, it's essential to invest in high-quality pickleball shoes. The right pair of pickleball shoes can be a game-changer on the court, offering stability, flexibility, and durability to help you be more agile and comfortable while you play. With so many options available on the market, it can be tricky to find the right shoes for you — which is where this buying guide comes in.
Below, we'll take a close look at the top pickleball shoes for men of 2023, exploring their key features and unique specs. These picks are tailored to cater to a variety of needs, from arch support for long matches to lightweight materials for the swift, nimble player. No matter your playstyle, there's a pair to help enhance your performance on the court. So, let's dive in and discover why these pickleball shoes have made a significant imprint on the pickleball community and how they may be the key to stepping up your game.
Best Overall: ASICS Mens Gel-RENMA Pickleball Shoes
Best Support: K-Swiss Mens Express Light Pickleball Shoes
Most Comfortable: Skechers Mens Viper Pickleball Shoes
Best for Wide Feet: FitVille Mens Wide Pickleball Shoes
Best Cooling Design: WILSON Rush Pro Ace Mens Pickleball Shoes
List Price: $67.94 - $69.90
If you're in the market for the best of the best pickleball shoes, look no further than the ASICS Men's Gel-RENMA Pickleball Shoes. These shoes boast several features designed to specifically improve your performance on the court. The brand's TRUSSTIC technology offers stability while the outsole's flex grooves enhance flexibility. Combined with the wrap-up outsole and wider gauge, these men's pickleball shoes will help you achieve smoother and more balanced movements, keeping you steady yet agile. The forefoot gel technology also increases impact absorption during abrupt landings. All together, these features provide a secure, comfortable fit during intense play.
This product is built to last for long-term use as well. The synthetic leather overlays and soles provide good durability while adding a nice touch of style. And if the style is important to you, this option comes in five classy color combinations, so you can choose one that best suits your tastes. As an added bonus, these shoes are made with sustainable manufacturing practices, as the solution-dyed sock liners help reduce water usage by about 33% and carbon emissions by about 45%. The manufacturer includes detailed instructions for taking your measurements and a size chart to find your ideal fit. Thanks to the innovative ASICS technology and comfortable yet eye-catching design, these men's pickleball shoes are the top choice on our list.
Pros
Great traction and stability on the court
Comfortable and flexible fit
Durable and stylish faux leather construction
Cons
Not ideal for wide feet
Laces may be too short for tying a heel lock
List Price: $79.95 - $99.95
The K-Swiss Men's Express Light Pickleball Shoes are the ideal choice if you're looking for a product that delivers reliable support on the court. Designed for any man who's ready to dominate the court with swift and precise movements, these shoes feature a 180-degree thermal plastic plantar support chassis to enhance mid-foot stability. The OrthoLite foam sock liners provide a unique moisture management system, keeping your feet cool and dry during intense play and reducing odors over time. Plus, you'll be excited to sport these shoes during games as they come in six stylish designs.
These men's pickleball shoes boast a long-lasting construction, so you won't need to worry about replacing them frequently. The Aosta 7.0 high-density rubber outsoles provide impressive durability while the DragGuard, which adds reinforcement to high-wear areas like the toe and heel, increases abrasion resistance. For added safety and protection from injuries, this product features Durawrap toe protection to offer an extra line of defense against excessive toe-dragging when making quick movements to return serves. All in all, these pickleball shoes for men deliver long-term support to help you enjoy this dynamic support in comfort for years.
Pros
Provides great support for aggressive play
Offers a comfortable, moisture-wicking fit
Enhances side-to-side stability and movement
Cons
May not breathe well in hot weather
May take a while to break in
List Price: $87.34 - $96.43
The standout characteristic of the Skechers Men's Viper Pickleball Shoes is their comfortable design, largely related to the premium cushioning. The podiatrist-certified arch support insoles offer a specialized shape for optimal comfort that's backed by 20 years of data and 120,000 unweighted foot scans. They'll help minimize foot fatigue and maximize performance to keep you spry on your feet during intense games. The overall fit is fairly relaxed and breathable thanks to the adjustable lace-up front and athletic mesh upper. This pick comes in a wide range of sizes, too, with standard and extra-wide options in sizes seven to 14.
Suitable for indoor and outdoor courts, these pickleball shoes for men have Goodyear rubber outsoles for enhanced traction, grip, and durability. Plus, Skechers advertises this product as being multifunctional for wear during other activities year-round. So, whether you're out for a morning stroll or playing other sports like badminton and tennis, these shoes can keep you comfortable throughout your day. They come in four color options, from bright yellow and navy to sleek black and gold.
Pros
Podiatrist-certified design for a supportive, comfortable fit
Good size range for wide feet
Suitable for wear during other activities
Cons
Toe box may be too wide for some users
Not breathable enough for very hot weather
List Price: $59.89 - $68.89
If shoe shopping is usually made more difficult because of size, the FitVille Men's Wide Pickleball Shoes may be right for you. Specifically designed for those with wider feet, these shoes offer a comfortable and spacious fit box. Available in an extensive size range, they come in wide and extra-wide sizes from seven to 14 to ensure your toes have ample room and freedom of movement. They also provide plenty of support thanks to the honeycomb insoles made from Ortholite material, which offer cushioning and arch support for added comfort — especially if you have plantar fasciitis.
Suitable for all court types, these shoes are a versatile option for any pickleball enthusiast. With non-slip outsoles made from anti-torsion TPU rubber and durable dual-density EVA material, they're sturdy, resilient, and reliable for intense play. Simply put, these men's pickleball shoes are built to last for many games. They also feature a soft and breathable mesh and microfiber upper to prevent odor and keep your feet cool. From orange to white and gray, this product is available in four different designs to suit your preferences.
Pros
Ample room for wide feet
Great arch support and breathability ensure comfort
Shock-absorbing and durable design
Cons
Shoes may feel a bit heavy for some users
Not ideal for individuals with narrow feet
List Price: $88.61 - $102.21
Picture yourself hitting the pickleball court on a sunny day — the last thing you want is for your feet to overheat and sweat excessively, compromising your focus. Stay cool and comfortable in the Wilson Rush Pro Ace Men's Pickleball Shoes, a must-have for anyone playing in hot weather. This lightweight pick boasts an engineered mesh construction that provides optimal stretch and excellent breathability to keep your feet dry and your shoes odor-free. The foam padding around the ankle collar and under the tongue ensures all-around comfort beyond the breathable design, offering ample cushioning and a snug fit. Plus, with a traditional lace closure, you can trust these shoes to stay put no matter how fast and hard you're playing.
These men's pickleball shoes are built for high performance and intense games in other ways as well. The flexible midsole delivers impact cushioning protection while the protective bumper toe helps keep your toes safe from any accidental bumps or knocks. The synthetic outsole provides good traction and is lightweight for agile, quick movements. So, if you're looking for pickleball shoes for men that offer exceptional comfort and performance in hot weather, the Wilson Rush Pro Ace should be your go-to choice.
Pros
Great grip and stability
Breathable, lightweight mesh and synthetic construction
Reliable impact cushioning and toe protection
Cons
Soles wear out fairly quickly
Fit may be loose for some individuals
Finding the Best Pickleball Shoes for Men: A Buyer's Guide
Shopping for athletic shoes can be a tiresome and confusing process, especially if you're doing it online. The good news is we're here to make it easier with this comprehensive buyer's guide on choosing the ideal pair of men's pickleball shoes. We'll share some useful tips and information for weighing your options so you can make an informed, successful purchase. From fit and comfort to grip and traction, here are the most important factors to evaluate while shopping for pickleball shoes.
Fit and comfort
The first aspect to consider while shopping for men's pickleball shoes is their fit and comfort. A shoe that doesn't fit well will not only feel uncomfortable but can also lead to blisters and foot or ankle injuries. Since sizing can differ across brands, it's important to select the right size. We recommend measuring your feet according to each product's instructions and comparing the measurements to the manufacturer's sizing chart for a precise fit. Look for shoes that fit your foot snugly without being too tight. You should also consider choosing a pair that has comfort-enhancing features, including cushioned insoles for shock absorption, padded collars for ankle comfort, and breathable materials or panels for proper ventilation.
Durability
The dynamic nature of pickleball means your shoes will need to withstand a lot of wear and tear. Accordingly, considering the durability of the shoes is essential for ensuring you get long-term use out of them. High-quality materials and sturdy yet flexible construction are hallmarks of durable pickleball shoes for men. Reinforced toe caps can protect against frequent scuffs, and robust outsoles can resist wear and tear. Investing in durable shoes means you'll not only save money in the long run but also ensure consistent performance on the court over time.
Grip and traction
When playing pickleball, you'll be quickly changing direction and making constant lateral movements, so your shoes will need to provide excellent traction and grip. Look for shoes with non-marking rubber soles that offer a solid grip without leaving scuff marks on the court's surface. Men's pickleball shoes with a multi-directional tread pattern can provide additional stability, ensuring you don't lose your footing amid a close and heated game.
Support and stability
The ideal pair of pickleball shoes should offer plenty of support and stability to reduce the risk of foot and ankle injuries and keep you comfortable on your feet, even after hours of playing. A sturdy heel counter and a well-constructed midsole can provide the necessary arch support and shock absorption. Pickleball shoes for men with a low-profile design typically offer better stability, helping to maintain balance during swift movements.
Weight and flexibility
While you don't want shoes that weigh you down, choosing ultra-light shoes might mean compromising on support. The trick is to find an optimal balance. Look for lightweight shoes that don't skimp on features designed for support and stability. Additionally, flexible shoes can enhance footwork as they allow natural foot movements. A good pair of men's pickleball shoes should bend at the ball of your foot and not in the middle.
Conclusion
Ultimately, the ideal men's pickleball shoes should feel like an extension of your foot, offering seamless comfort and support as you smash your way to victory. Choosing the best pickleball shoes for men involves careful consideration of several factors — fit, comfort, durability, grip, support, stability, weight, and flexibility. By taking care to evaluate these features while shopping, you'll be able to find a pair of shoes that not only boost your performance but ensure you enjoy every moment of the game.
You might also be interested in the best pickleball shoes for women.
People Also Ask
What is special about pickleball shoes for men?
Pickleball shoes for men are specifically designed to support lateral movements and quick stops and starts that are typical in a game of pickleball. They also often provide enhanced grip on the pickleball court and are generally more durable and supportive than regular sneakers or athletic shoes.
How should my men's pickleball shoes fit?
Your pickleball shoes should have a snug fit without being too tight. There should be some wiggle room for the toes, but not so much that the foot shifts around in the shoe. It's also important that the heel is secure to prevent slipping out of the shoe during play.
Are pickleball shoes for men suitable for other sports?
While pickleball shoes are optimized for pickleball, they can be used for other racquet sports that require similar movements, such as tennis or squash. Please note, however, that they may not offer the same level of performance when used for sports they are not specifically designed for.
How do I clean and maintain my pickleball shoes?
Regularly clean the soles with a stiff brush to remove dust and debris. If the shoes get wet or sweaty, remove the insoles and let them dry separately to prevent unpleasant odors. Avoid machine washing your shoes as it can damage their structure.
Can I wear men's pickleball shoes on different court surfaces?
While pickleball shoes can be used on a variety of surfaces, it's advisable to check the shoe specifications. Some shoes may be better suited to certain surfaces like concrete or indoor courts.
What should I do if my pickleball shoes are causing blisters or discomfort?
If you're experiencing blisters or discomfort, it might be due to a poor fit. Make sure your pickleball shoes are the right size and properly broken in. If discomfort persists, consider trying a different brand or style or consult with a podiatrist.
How long does a typical pair of pickleball shoes for men last?
The lifespan of pickleball shoes varies based on frequency and intensity of use, but in general, you can expect to replace them every three to six months if you play regularly. If the soles are worn out or the shoes no longer provide adequate support, it's time to replace them.
Why Trust Us
Our commitment to customers begins with a carefully curated product selection process, ensuring we provide high-quality and reliable options. We meticulously vet each pair of pickleball shoes, analyzing quantitative aspects, such as star ratings and review count, and qualitative factors, including review content and product features. Our dedicated team of bargain hunters consistently prioritizes your budget by meticulously scouring the market and identifying the best pickleball equipment available without compromising on quality or performance. Our panel focuses on presenting the pros and cons of each pair of pickleball shoes and converting technical specs into understandable insights. We aim to ensure remarkable gameplay and performance on the court with top-rated pickleball equipment.