The 10 Best Places to Live in the South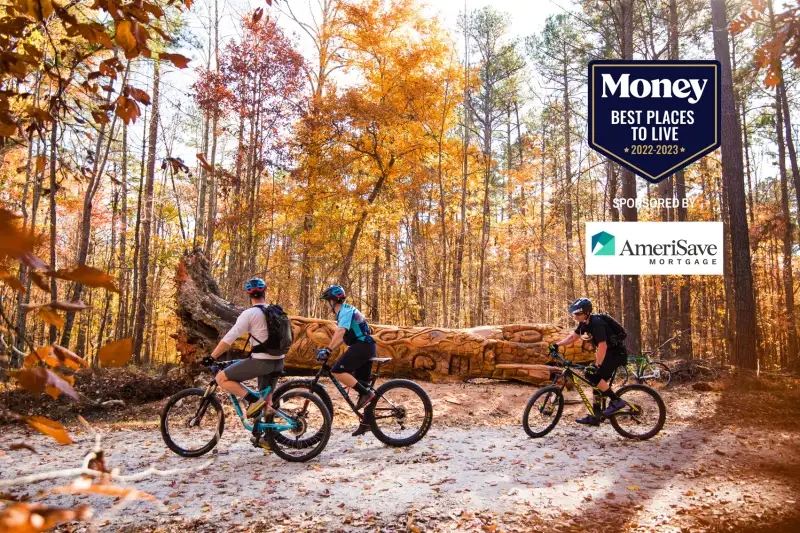 Michael Robson / Visit Raleigh
Raleigh, North Carolina, is no small town. Home to about 470,000 residents, it doesn't register as a major U.S. city either. Still, this Southern gem spoils locals as if it were — with a booming foodie scene, an abundance of craft-breweries and top-notch arts and cultural offerings (most of which are free!), plus more than 9,000 acres of parkland.
The City of Oaks is also notably more diverse than North Carolina as a whole and celebrates this fact. The Out! Raleigh pride celebration and the African American Cultural Festival are just two examples. Both events roared back to life this past summer after having been on pause due to the pandemic.
Plenty of other events dominate the streets of downtown Raleigh, too — including Hopscotch, an annual multi-day music festival that draws the hipsters from around the East Coast. The event is a crown jewel of the area's thriving music beat, which has produced the indie darlings Bowerbirds and Sylvan Esso (technically from neighboring Durham).
These factors are major contributors to Raleigh's placement as the No. 4 Best Place to Live nationwide and helped it clinch the top spot on this regional list.
To determine the best places to live in the South, we focused on places with populations of at least 50,000 that were located in 16 Southern states as defined by the U.S. Census. Those states are Alabama, Arkansas, Delaware, Florida, Georgia, Kentucky, Louisiana, Maryland, Mississippi, North Carolina, Oklahoma, South Carolina, Tennessee, Texas, Virginia and West Virginia.
We also limited the rankings to one place per county and two places per state. As with our core Best Places to Live ranking, we collected approximately 350 pieces of data on each Southern place and grouped that information into nine primary ranking categories such as amenities, cost of living, diversity, economic opportunity and more. (See our full Best Places methodology for more details.)
While Raleigh provides a great quality of life with tons of options for entertainment, perhaps the strongest factor of all is its economy.
Between 2016 and 2021, the city saw an 11% boom in job growth — doubling the national average — and over the next five years, Moody's Analytics predicts additional growth of more than 10% (an especially impressive feat for an already large and diverse economy).
As a third of North Carolina's prestigious Research Triangle, Raleigh has courted many big-name employers, including IBM, Cisco Systems and Pfizer. North Carolina State University is a major local employer, as are local branches of Duke University's hospital system.
Plus, as the home to NC State and the HBCUs Shaw University and Saint Augustine's University, Raleigh is also a higher-education powerhouse. Duke University and UNC- Chapel Hill are just a short distance away in Durham and Chapel Hill respectively — and are the other two points that complete the Research Triangle.
To top it all off: Raleigh's public school system is highly regarded, with students scoring well above average in math and reading.
Of course, the South boasts plenty of amazing places to live as well. Here's a look at some other stand-out cities.
The 10 best places to live in the South
Raleigh, North Carolina
Columbia, Maryland
Tampa, Florida
Chapel Hill, North Carolina
Arlington, Virginia
Rockville, Maryland
Franklin, Tennessee
Alexandria, Virginia
Marietta, Georgia
Bentonville, Arkansas
Editor's note: We excluded Atlanta for this regional list of best places to live. Atlanta ranked No. 1 on our overall Best Places to Live list, and we dedicated an entire cover story to sing its praises. Here, we highlight other exceptional Southern cities.
More from Money:
The 50 Best Places to Live in the U.S.
The 10 Best Places to Live in the Midwest