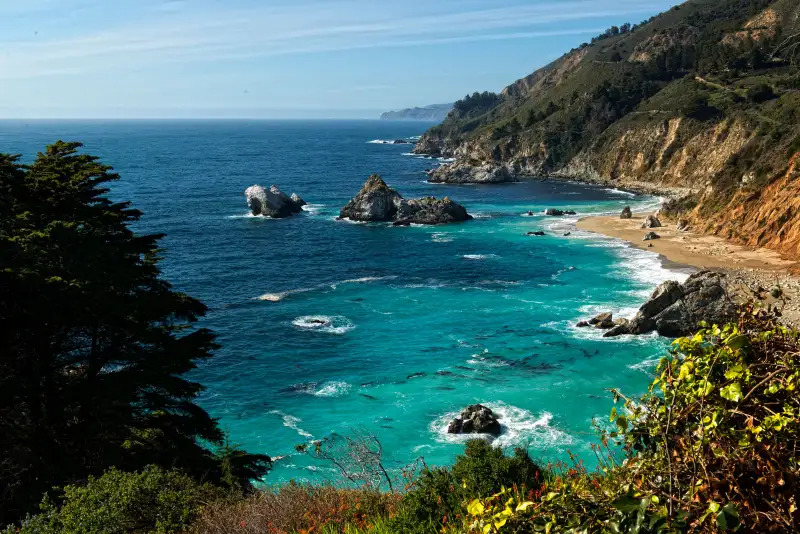 Load up your gas tank and buckle up, we're heading from the Bay to LA (or San Diego, if that's more your speed).
Forget Jack Kerouac's cross-country route — the journey along the Pacific Coast Highway is easily the most beautiful, quintessential road trip in America, at least in our opinion. And with some careful planning, you can do it on a budget.
Note: The itinerary below accounts for an entire week of travel, so the "average trip cost" (which includes hotel accommodations, airfare, vehicle rental, meals and more), reflects seven full days of expenses.
If you're flying to the Golden State for your road trip, you'll touch down at the Arcata-Eureka Airport, where the average one-way ticket costs about $280.
Eureka's history, local art scene and artisanal small businesses give this underrated city its character. Eureka's historic Old Town is another big draw: Its brightly-hued Victorian buildings house indie bookstores, boutiques and curio shops galore. Be sure to visit the Carson Mansion, a Queen Anne-style home harkening back to the days when the area was dominated by lumber mills. Right across the street is the wedding cake-esque "Pink Lady Mansion," another architectural gem (it also has a super cool sculpture garden on the property).
At the nearby Sequoia Park Zoo, California's oldest, you can make like a squirrel and experience the redwoods over 100 feet above the forest floor on the Redwood SkyWalk. Clarke Historical Museum, another must-see housed in a former 19th century bank, has the most comprehensive collection of North Coast regional history. Finish off your day with a drink at the Speakeasy for craft cocktails and live local music with a side of eclectic decor.
Perched on California's Mendocino Coast, Fort Bragg is about three hours south of Humboldt County via US-101 and CA-1 S. Stunning Pacific Ocean views make family-friendly Fort Bragg, a former military post established in 1857, an ideal place to rest for the night on your way to Santa Rosa and San Francisco. You have plenty of affordable options for an overnight stay.
If you do nothing else, make sure to check out Glass Beach, a coastal spot known for its colorful sea glass (which you can't take home with you, by the way). Time permitting, the Skunk Train will take you on a nostalgic steam locomotive ride through Mendocino's redwood groves. Those hoping to see flora amid canyons, wetlands and coastal bluffs will find what they're seeking in Mendocino Coast Botanical Gardens, a 47-acre stretch of horticultural bliss.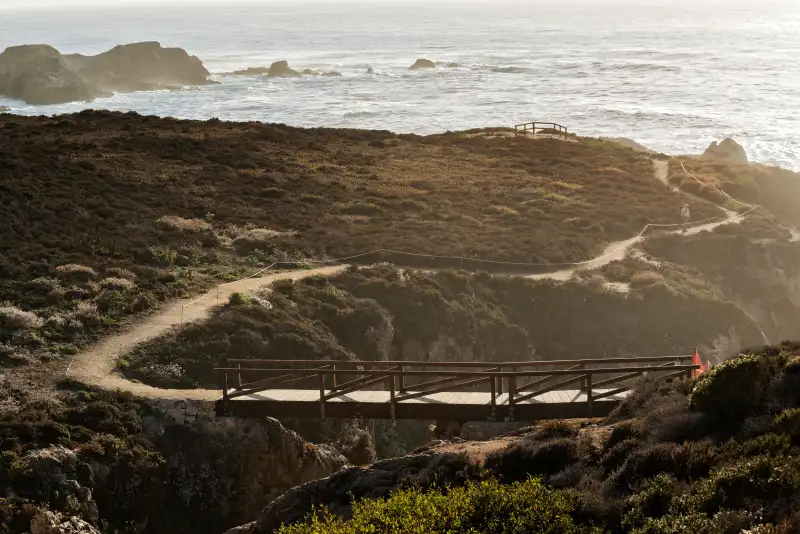 Wake up in Fort Bragg and head about two hours and 25 minutes down CA-128 E and US-101 S to Santa Rosa, the former home of Peanuts creator Charles Schultz. You don't have to be in town overnight if you want to power through to San Francisco, but you might find yourself in need of lodging if you're going to take advantage of Sonoma County's renowned wineries.
Speaking of which, you'd be hard-pressed to find a winery more worthy of your money than St. Francis Winery and Vineyards. This sustainable, 380-acre property offers some of the best views of Sonoma Valley, as well as ZAGAT-recommended wine and food pairings. Head to Spring Lake Park afterward to walk off your buzz, or head to downtown Santa Rosa before you continue to your next destination.
Home to sourdough, seafood and the Golden Gate Bridge, there's no way you can call this journey a Pacific Coast road trip without visiting the City by the Bay.
When you get to town, grab a casual bite to eat at Fisherman's Wharf, which has some of the freshest seafood in the U.S. There's a lot to experience in San Francisco, but if this is your first time in the city, you'll want to prioritize Alcatraz Island, Golden Gate Park, and Twin Peaks, where you'll get unbeatable views of the entire city. Be sure to check out Lands End Lookout (inside Golden Gate Park), where you can see views of the bridge and, during low tide, the ruins of historic shipwrecks. Take a stroll past the famed Painted Ladies — the pastel-colored Victorian and Edwardian homes of Steiner and Hayes Streets — and get in a workout hiking up Lombard Street, the "most crooked street in the world."
You didn't think we'd leave Jack Kerouac out of this entirely, did you? Head about three hours down US-101S and CA-1S for the stunning ocean vistas, rugged cliffs and majestic mountains of Big Sur. The longest and most scenic stretch of pristine Pacific coastline, the wilderness of the largely undeveloped Central Coast looks just as enchanting as it did when the famous beat poet wrote about it 60-some years ago.
Big Sur is best experienced with at least two days to explore, but if you have just one day and night, the good news is that most of the region's main attractions are located on one road. Cross the Bixby Creek Bridge, one of the most photographed bridges in the world. Built in 1932 to connect Big Sur residents to the rest of California, this stretch of the highway is considered one of the most beautiful in the world. If you've got the time, add McWay Waterfall, Pfeiffer Big Sur State Park, Point Lobos, hiking on the Partington Cove trail and a meal along Cannery Row to your to-do list as well. If you only have time for one more activity, get a meal at Nepenthe, a 74-year-old restaurant perched on a cliffside.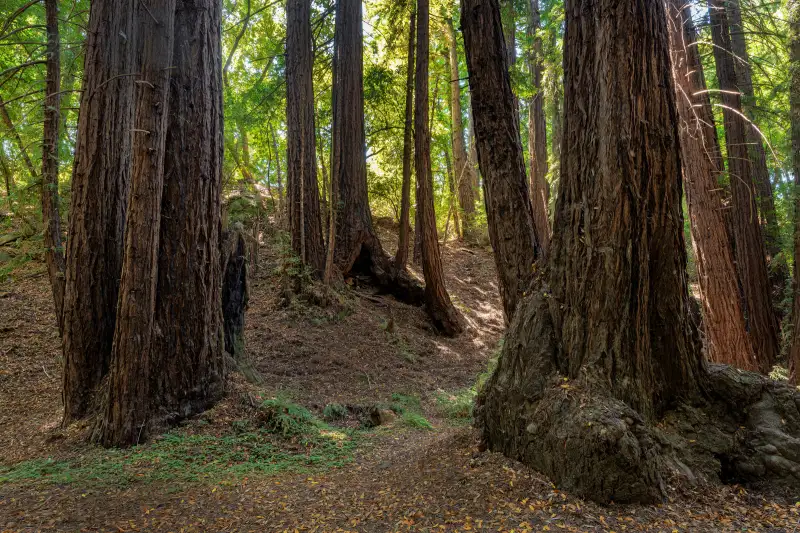 Accommodations in Big Sur are expensive — you'll get a much better deal driving the roughly three and a half hours to Los Alamos, a teeny-tiny town in the Santa Ynez Valley with kind of open-air wine bars, boutiques and idyllic restaurants that road trip dreams are made of.
Another plus: staying in Los Alamos puts you about four and a half hours away from San Diego, which means you can bypass the obligatory, uber-expensive Los Angeles stay that usually comes with this trip.
This SoCal metropolis, nicknamed America's Finest City, is the last stop on your tour of the Pacific Coast and one you won't soon forget.
Get some sun and sand at La Jolla beach, where seals and sea lions bask on the shores (just don't get too close). There are seven sea caves to explore via kayak (with a tour guide for safety), plus snorkeling, hiking and paddleboarding. The long Bayfront stretch of Embarcadero is an ideal place to shop, people watch and catch the sunset. If you have more than one day to spend in the city, take a walk through Balboa Park, which has 15 museums (15!), gardens, theaters, and restaurants.
A one-way ticket home from San Diego will cost you less than $200, on average.