The Best Putters for Your Money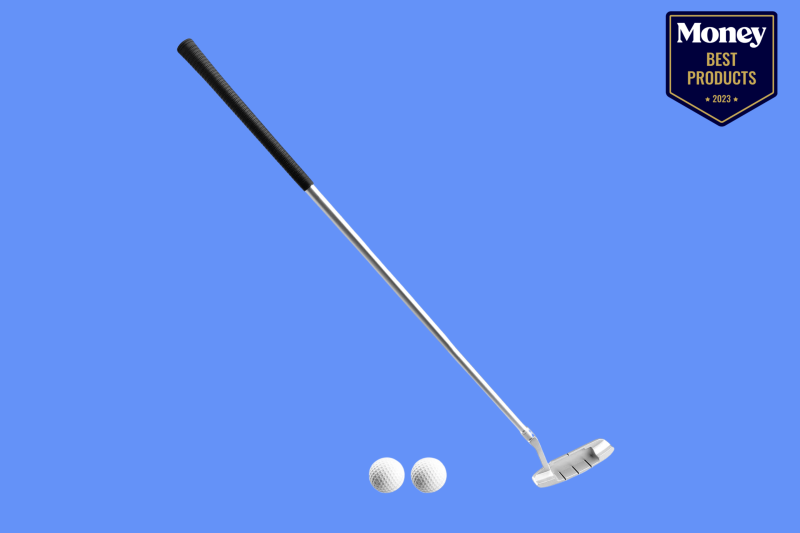 Putting is a critical part of golf. Whether you're new to the sport or are a seasoned player, the right putter can go a long way in helping you shave strokes off your game. With a high-quality putter in hand, you can get a leg up on the competition and enhance your overall performance.
In this article, we'll take a look at the finest putters of 2023, analyzing their features, prices, pros and cons. We'll close out the article by sharing some buying tips and answering frequently asked questions about golf putters. Whether you're a first-time shopper or you're looking to upgrade or replace an old putter, we've got you covered.
Best Overall: WILSON Harmonized Putter
Most Stylish: Ray Cook SR500 Putter
Most Versatile: GoSports GS1-34-F Putter
Best for Beginners: Asyxstar Putter with Golf Balls
Most Variety: Odyssey Golf White Hot OG Putter
Comparing the Top Putters of 2023
List Price: $40.49
Our top spot goes to the WILSON Harmonized Putter for its easy-grip handle and convenient alignment markers. Designed for right-handed use (but available in a left-handed style if needed), this product features a vertical seam grip for an enhanced feel with each stroke. The club's head features horizontal line markings to help you line up your shots properly. It measures 35 inches and has a shaft made from durable alloy steel material.
One of the best features of this golf putter is its balanced weight distribution, which can help to improve accuracy by counteracting off-center hits. The head has a semi-mallet shape for maximum stability and consistency, and the face features a microinjection polymer insert for a better feel on contact.
Pros
Has markings to aid in alignment
Balances out off-center hits
Offers superior feel
Cons
This specific model isn't suitable for left-handed players
No additional colors are available
List Price: $59.99
Our next pick, the Ray Cook SR500 Putter, strikes a balance between style, function and durability. Made from top-quality steel material, this limited-edition product has a sleek finish and attractive red and white details. It's also available in a limited-edition blue color as well as two different black styles. It measures 34 inches but comes in a 35-inch option as well.
This golf putter comes with a black head cover that's embossed with the brand's logo, providing a fashionable way to keep the head protected when the club isn't in use. The head has a weighted design for better stroke flexibility. Its forgiving design and mid-sized, paddle-style grip are just a couple more of the many features that make this putter a great addition to any club collection.
Pros
Stylish head cover included
Two size selections
Weighted head for enhanced fluidity
Cons
No left-handed choices are available
Edition has limited-time availability
List Price: $74.99
Thanks to its versatile construction, the GoSports GS1-34-F Putter is suitable for players of all skill levels and handicaps. The extra-large grip has a 1.3-inch diameter to reduce hand rotation and increase consistency. The head is made from sturdy stainless steel and has a milled face for better contact. This putter comes with a cushioned cover to shield it and your other clubs from scuffs, scratches and damage while in transportation.
If you prefer a smaller right-handed grip, this putter is also available with a pistol grip. It measures 34 inches long and conforms to golf equipment standards set forth by the United States Golf Association (USGA). It's backed by a six-month manufacturer's warranty against workmanship and material defects, allowing you to purchase with confidence.
Pros
Suitable for all players
Six-month warranty coverage
USGA-approved design for official play
Cons
Grip may be too large for some
Some users might not like the lightweight feel
List Price: $22.97
If you're a new player looking for an affordable, beginner-friendly model to get you started, then consider the Asyxstar Putter with Golf Balls. Designed for all individuals of novice level, including children, this product measures 33 inches long and has an aluminum alloy shaft for maximum durability and balance. The grip is made from rubber and offers excellent skid resistance for a secure, comfortable hold.
This putter is designed with portability in mind. It comes in four parts and can be assembled or taken apart quickly for added convenience. As a result of this unique construction, it's easy to travel with, carry and store. Golf is a great way to encourage children to spend more time outdoors, so this tool can help them be more active and improve their hand-eye coordination, fine motor skills and accuracy.
Pros
Affordable price point
Two golf balls included
Anti-slip rubber grip
Cons
Minor assembly required
Less durable than other models
List Price: $189.24 - $299.99
The Odyssey Golf White Hot OG Putter comes in multiple size and style varieties, making it a solid pick for those looking for a more customized golfing experience. It's available in left- and right-handed orientations and six lengths ranging from 33 to 49 inches. Additionally, it comes in several styles including two-ball, double-wide and seven-slant-neck options.
The silver, metallic finish and the embossed logo on the bottom add a splash of style and elegance to the product. It weighs 2.3 pounds for easy carrying and handling, and it's made from a combination of graphite and steel materials for long-lasting use. This golf putter comes with a head cover as well as a two-year manufacturer's warranty for purchase protection.
Pros
Two-year warranty coverage
Six length selections
Left- and right-handed styles available
Cons
Packaging could be more durable
No alignment markings
Putter Buying Guide
With so many varieties to choose from, finding the best golf putter for your needs isn't always easy. We've curated this buying guide to help you navigate the overwhelming pool of options. Below, we'll walk you through the essential considerations to keep in mind while shopping for a putter so you can make an informed purchase.
Weight
Your putter's weight will play a major role in the accuracy and distance of your stroke. Putters range from ultra-lightweight to heavyweight. Lightweight putters are more suitable for those with slower swing speeds, while heavier putters provide more stability and control for players with faster swing speeds. Consider your swing style and choose accordingly.
Balance
A balanced putter is essential for achieving consistent contact throughout the impact area and improving overall accuracy on the green. Look for a putter with a balanced weight distribution between the head and shaft to help you make more solid contact with the ball.
Grip
A putter's grip affects how you make contact with the ball and follow through after the stroke. Make sure the grip provides you with adequate comfort, stability and control. Additionally, the grip should be made from slip-resistant material, such as rubber, for a secure grasp.
Head design
Putter heads come in several head shapes including blade, mallet and hybrid styles. Blade putters offer more workability when compared to mallet putters, while mallets provide better stability on impact due to their higher moment of inertia (MOI). Consider which style best suits your needs before making your purchase decision.
Materials
Putters are constructed from a variety of metals and alloys. Some of the most common materials used in the production of putters are stainless steel, carbon steel, aluminum and titanium. Stainless steel putters are generally cheaper but heavier than other materials, while carbon steel is often more expensive but lighter in weight. Consider what material works best for your needs regarding price point, performance and durability.
Orientation
Putters come in right- and left-handed styles. Make sure the model you choose is suitable for you. In other words, if you're right-handed, opt for a right-handed putter; if you're left-handed, choose a left-handed model. If you're ambidextrous, either style should work well for you.
Alignment guides
Some putters feature lines or markings to help you line up your shots. This can be especially helpful for new players who are still learning the ins and outs of the sport.
Length
Putters come in a variety of lengths and choosing the right one can have a large impact on your performance on the course. Shorter lengths are better if you have a slower swing speed, whereas longer lengths are the best choice for faster swings. Choosing a length that matches your swing speed will ensure reliable contact and improved accuracy over multiple strokes.
Price
The price of putters can range from low-cost models for beginners to expensive high-end models that feature the latest technology and materials. Consider your budget and compare features and prices across multiple products to find a putter that fits your needs without breaking the bank.
Brand reputation
It's always a good idea to purchase from brands that have proven track records for providing high-quality products and good customer service. Before making your purchase, read through customer reviews and research the brand to get an idea of how high (or low) its overall customer satisfaction rate is.
People Also Ask
What's the best type of putter for someone with a high handicap?
The best type of putter for someone with a high handicap would be an oversized, mallet-style putter. This type of putter is easier to align and has more forgiveness than blade-style models.
Do putters come in different styles?
Yes, putters are available in a variety of styles. Some of the most common options include blade-style, mallet-style, heel-shafted, center-shafted, face-balanced, toe-balanced and long putters.
How do I choose the right putter for my game?
When choosing the right putter for your game, consider factors such as your handicap and stroke type. If you have a slower swing speed or higher handicap, an oversized, mallet-style model may be beneficial for added stability and accuracy. For those with faster swing speeds, a blade-style club offers an improved feel and better control.
What's the difference between blade-style and mallet-style putters?
Blade-style putters typically have a more traditional design that consists of a flat face and a rounded sole. On the other hand, mallet-style putters often feature larger heads with thicker faces to provide extra stability on impact. Both styles offer increased forgiveness compared to other types of clubs.
How can I improve my putting stroke?
Practice makes perfect. Working on your technique is the key to improving your putting stroke. Keep your head steady during the stroke and try not to strain your wrists or hit the ball too hard. Developing an even tempo and following through properly on every shot will help take strokes off your scorecard over time.
What's the difference between women's and men's putters?
Since women are generally smaller in stature than men, women's putters are lighter in weight and have shorter shaft lengths, making it easier for women with shorter arms to maintain proper posture during their stroke. On the other hand, men's putters are heavier in weight and have longer shafts to accommodate their taller, broader frames.
Why Trust Us
Our commitment to customers begins with a carefully curated product selection process, ensuring we provide high-quality and reliable options. We meticulously vet each putter, analyzing quantitative aspects, such as star ratings and review count, and qualitative factors, including review content and product features. Our dedicated team of bargain hunters consistently prioritizes your budget by meticulously scouring the market and identifying the best putters available without ever compromising on quality or performance. Our panel focuses on presenting the pros and cons of each putter and converting technical specs into understandable insights. We aim to ensure remarkable gameplay and performance on the course with top-rated golfing equipment.