The Best Smart Home Devices for Your Money, According to Tech Experts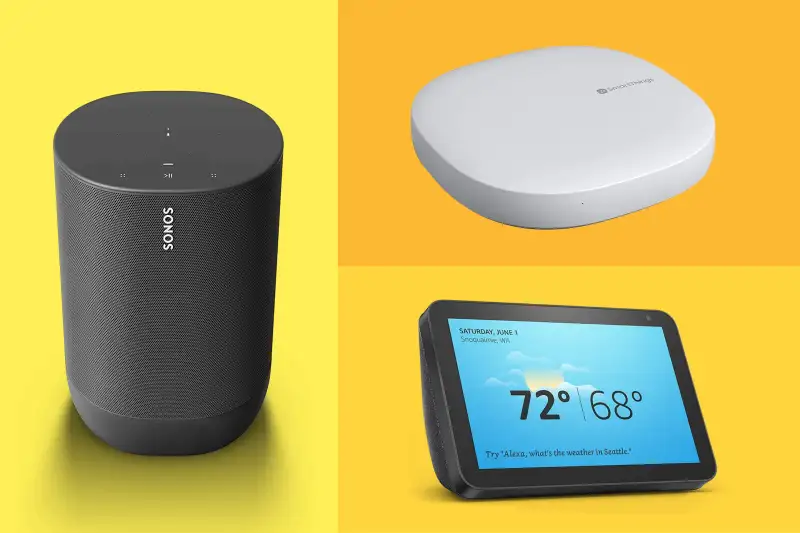 You've probably got a smartphone. Maybe it's also time to get a smart home?
Smart home technology is often associated with security systems, along with smart learning thermostats like Google Nest, which allow you to control heating and cooling in your home with your phone. But you can also use smart home tech for so many other purposes — check for carbon monoxide and dioxide, turn on and adjust the lights, play your favorite music just by asking, and much, much more.
Best Smart Home Devices: Updated September 2020
There's no need to have a custom smart home built from the ground up, as there are plenty of affordable gadgets that can help your home get wired. You can pick and choose just the kinds of smart devices that make sense for you — and that you feel are worth the money.
If you are interested in making your domicile a little more cutting edge and easier to keep tabs on, here are some of the best smart home devices, as recommended by technology experts.
Best Smart Home Assistants
The Broadlink FastCon Lighting Control Kit is a great option for those who want to transform their home into a smart home on a budget and who enjoy the convenience of voice-activated controls. This kit comes with 4 light bulbs and a lighting control remote with a color-changing function that's activated with music. It's compatible with Alexa and Google Home, adding hands-free voice control to your lights. You simply download the Broadlink FastCon app, turn the devices on, and wait for them to show up and connect to the app. You can also tune the lights from warm light to cool (2700-6500K) or dim the brightness (0-100%) to suit your needs.
"I love this system!! It's great I was easily able to set it up as were my parents who are older and they love it too! My dad really enjoys that they can create routines and have it set to turn off and on when needed and the color blue works great at night so it doesn't disturb others. Really the only con is the controller doesn't come with batteries. Everything hooked up right away as easy as can be."
We could all use a little help around the house, right? Darab Ali, the Toronto-based founder of Better1, a recommendation website that focuses on smart devices, says that if you are looking for your own personal assistant, he likes Amazon Echo Show 8 Smart Home Assistant. "This is Amazon's attempt to take the Amazon Echo (and Alexa) to the next level, and it's great," he says. "With the Echo Show 8, you can manage your day through an 8" HD screen that can sit on your bedside table, your kitchen counter, or your living room's TV stand. It truly fits in anywhere and can be effective from everywhere."
But what does "managing your day" actually mean? According to Ali, the Echo Show 8 "allows you to send messages through it, as well as connect on video calls as long as the other person has the Alexa app or a similar Echo device. You can watch movie trailers, TV shows, and the news just by asking Alexa through voice commands and you can show off all of your latest photos."
In addition to making your TV watching experience easier, "the Echo Show 8 will also help you control all of your other smart home devices, like your security cameras, control lights, thermostats, and more," he says. The device is also "easy to use for older people who might be intimidated by new technology."
If you're looking to smarten up your home, you will need "a smart brain," according to Nathan Sebastian, a marketing pro with GoodFirms, a B2B research and review platform, based out of Washington D.C.
"A centralized system connects an array of smart devices that includes speakers, lights, thermostats, locks, and even heavy electronics such as TVs, air conditioners, and refrigerators," he says. "Samsung SmartThings Hub makes these devices work together and allows you to control them efficiently."
Sebastian adds that "the best thing is, it gives a flexibility to determine when and what devices to buy. You can connect more devices as you go, and you won't be locked into buying smart products from only one brand or installing remote apps for each new device. This hub controls all the devices and its app shows which devices are integrated."
Best Smart Lights & Smart Speaker Combo
If you hate coming home and fumbling around in the dark while looking for the light switch, then Bernie Wong, a Hong Kong-based creative digital marketing professional and founder Social Stand Limited, recommends pairing Apple's HomePod personal assistant with the Philips Hue's Smart Lights.
"HomePod + Philips Hue is the best match! Whenever you arrive home, you can simply say: 'Hey Siri, switch on the light.' Hue works with Apple HomeKit, and it allows for basic light controls. The technology can be activated by both voice and motion," he says. As a nice bonus, "the technology allows for different-colored lights to give a room a certain mood or ambiance, depending on what the user would like."
Best Smart Speaker
For music obsessives and discerning audiophiles, it's worth spending more for the best possible sound. Joshua Brown, the founder of Renovation Collective Toronto, is someone who's worked on his share of smart homes, and he recommends the Sonos brand of smart speakers.
"Their speakers and soundbars are all wirelessly controlled via their free app on your phone or tablet. Additionally, they have huge sound and offer one of the best high fidelity audio systems I've ever used. You really only need one speaker per room or section of your home, but you can elect to get the whole package," he says. "What's also nice is that friends and families who also have the system or have downloaded the app can also control your system, so for social events it can be fun for many. It also uses Alexa, so you can enjoy both a high-end audio experience and a smart assistant in one."
Best Router for Smart Homes
Whether you're working from home or just trying to find something on Netflix, nothing can ruin your day quicker than spotty WiFi. Make that a non-issue with Samsung SmartThings WiFi Mesh Router.
"It has helped ensure I have a steady connection for all my meetings, and given me a sense of added security. The device works as both a mesh router and a smart home hub," says Mark Hayes, the New Zealand-based head of marketing at the online advisor resource Kintell. "The mesh router optimizes your Wi-Fi by learning from its environment and channelling your connection to the clearest channel through a fast path. If you turn on 'Secure and Protect,' you enjoy added protection from phishing, SPAM, malware and other types of cyberattacks."
Best Smart Garage Door
Once you install the Chamberlain Group myQ Smart Garage Door Opener, you will never again suffer from the tyranny of not being able to find your garage door clicker. (Misplacing your smartphone is, alas, an eternal problem.)
"This is hands down the best smart home device for opening your garage door on the market. It comes at a great price, and it's very easy to set up since it's completely wireless. Meaning you don't have to make any wire changes to your current garage door set up," says Mark Soto, owner of Cybericus, a cybersecurity & software development company in Milwaukee, Wisconsin. "Being one of the most popular garage opening devices out there, it has been extensively investigated by private software security companies. Although some vulnerabilities have been found, the security companies have found it to be more secure than other similar devices out on the market."
Related: Best Garage Door Opener
Smart Home Smoke Detector
Some smart devices can make your life easier. The Kidde Smoke Detector could potentially save your life by making you are aware if you have smoke or CO2 in your house.
Bill Samuel, a Chicago-based residential real estate developer who specializes in flipping houses for his company Blue Ladder Development, says that "a great newer product we started using in our renovations is wireless interconnected smoke and CO2 detectors. Current national building code requires your smoke/CO2 detectors to all be interconnected so if one goes off all the other detectors in the home will go off."
He says that Kidde smart devices "only costs marginally more than the hardwired detectors but don't require the electrician to run hardwire to each individual detector," which if you are in a home built before 1990 would likely be required. "These are actually so easy to install that many homeowners can do it themselves and save a considerable amount of money by not having to pay an electrician for labor."
More From Money:
The Best Laptop, Headphones and Other Remote Learning Gadgets for Your Student's At-Home Workstation
The Best Online Grocery Delivery Services for Your Money: A Comprehensive Guide to Fees, Prices and Availability
The Best Mattress for Your Money — and Every Kind of Sleeper