The Best Smoker Grills for Your Money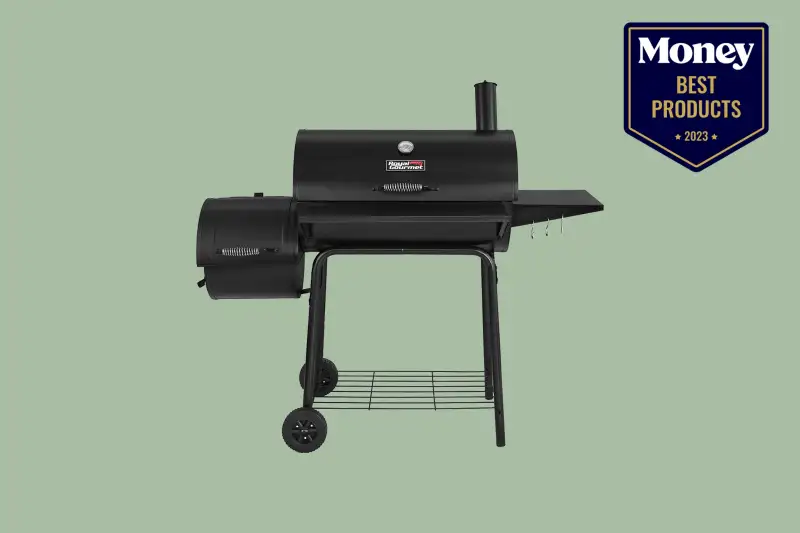 For anyone who loves barbecuing, nothing beats the flavor you get from a smoker grill. With the right ingredients, you can make slow-cooked, melt-in-your-mouth smoked dishes that will tantalize your taste buds and have your guests coming back for more. Choosing the right smoker can be challenging though, as there are many different models on the market.
In this article, we'll take a close look at the finest smoker grills of 2023. We'll also share a detailed buying guide, emphasizing key features of smokers to help you find the ideal model for creating mouthwatering dishes for your family or your next outdoor gathering. Whether you're a beginner or a seasoned BBQ chef looking for the ideal combination of convenience and flavor, these smokers can help you achieve grilling greatness.
Best Overall: Char-Broil 12201570-A1 American Gourmet Offset Smoker
Most Versatile: Z GRILLS ZPG-450A Wood Pellet & Smoker Grill
Best for Camping: Royal Gourmet CC1830SC Charcoal Grill Offset Smoker
Best Temperature Control: Masterbuilt Gravity Series 560 Digital Charcoal Grill Smoker
Best Value: Char-Griller E16620 Akorn Kamado Charcoal Grill & Smoker
Reviewing the Top Smoker Grills of 2023 in Detail
List Price: $129.99
The Char-Broil 12201570-A1 American Gourmet Offset Smoker tops our list due to its impressive performance and versatility for various cooking styles. Combining a smoker, barbecue, and charcoal grill into one multi-functional package, this option offers plenty of surface area and functionality to prepare various delicious meals. With 290 square inches in the main chamber and 140 square inches in the firebox, it provides plenty of space to grill and smoke meats and vegetables simultaneously. The adjustable-height steel fire grate offers a customizable cooking experience so you can raise or lower the temperature to achieve your ideal results.
This smoker grill also features a built-in adjustable damper for precise smoke control. This allows you to fine-tune the intensity to give your grilled dishes the perfect balance of smokiness and flavor. Maintenance of this model is simple, with a door offering easy access to the fuel source for hassle-free ash removal. The spacious side shelf provides extra convenience, creating a workspace for essential utensils and ingredients. As the best overall product on our list, this top-rated smoker excels in outdoor cooking for its user-friendly features and exceptional performance, making it a valuable investment for any grilling enthusiast.
Pros
Versatile design for grilling and smoking
Enhanced smoke control balances flavor
Convenient door access for easy maintenance
Spacious side shelf offers prep/storage space
Cons
Longer heating time compared to other models
Assembly may be time-consuming
List Price: $339.50
The Z GRILLS ZPG-450A Wood Pellet & Smoker Grill is the most versatile model on our list thanks to its multi-function capabilities and overall performance. With eight cooking functions, including bake, roast, braise, smoke, grill, sear, char-grill, and barbecue, this pellet grill allows you to experiment with various flavors and cooking styles. Boasting 452 square inches of grilling space, it's perfect for serving delicious barbecue favorites to guests at dinner parties and outdoor gatherings. The steel construction, high-temperature powder coating, and stainless steel accents make this model a stylish and durable addition to any outdoor kitchen.
The pellet grill technology infuses foods with a smoky flavor while maintaining consistent cooking temperatures for optimal results every time. With a temperature range of 180-450°F, you can smoke, grill and bake simultaneously, adding delightful wood-fired flavors to your dishes. The PID technology ensures stable temperatures throughout the chamber, providing precise heat regulation for consistent results. This option is ideal for anyone who enjoys cooking meals outdoors, from barbecue and smoking meats to baking pizzas. With its versatile functionality, large cooking space, and durable construction, this smoker is built to prepare a wide variety of delicious meals for every occasion.
Pros
Eight different cooking options for versatile use
Durable construction from premium materials
Adjustable temperature range for various foods
Advanced PID technology ensures consistent temperatures
Cons
No digital display features to display readings
Some users found assembly instructions complicated
List Price: $149.99
The Royal Gourmet CC1830SC Charcoal Grill Offset Smoker is the most suitable model for camping enthusiasts looking for a multi-purpose outdoor cooking station. This durable steel smoker grill is built to last through numerous outdoor adventures. It has a total of 811 square inches of cooking space, featuring a large 443 square-inch porcelain-enameled steel wire cooking grate, a 184 square-inch chrome-plated warming rack, and a 184 square-inch offset smoker. A two-level adjustable charcoal pan allows better heat control and holds over 4 pounds of charcoal, while a lid-mounted thermometer helps users monitor temperature for optimal cooking results. The offset smoker is firmly attached to the grill to ensure good circulation of heat and smoke, while an easy-to-open side door allows you to add charcoal and remove ashes quickly and easily.
The grill combo has front and side tables that offer sufficient workspace for storing and organizing seasonings and grilling tools while away from your kitchen. Plus, a bottom shelf provides extra storage space. All in all, this pick is an excellent choice for campers and tailgaters seeking to take their culinary creations on the go. With its multi-function design, portability, and quality features, this smoker grill enables you to effortlessly whip up mouthwatering meals in any outdoor setting.
Pros
Easy transport with its foldable side tables
Multi-function design for easy cooking and grilling
Lid-mounted thermometer for temperature control
Smoker ensures good heat and smoke circulation
Cons
Cover fades if exposed to direct sunlight
Instructions could be clearer
List Price: $539.19
The Masterbuilt Gravity Series 560 Digital Charcoal Grill Smoker provides a seamless grilling experience with superior temperature control. Its double-wall insulation effectively retains heat, saving fuel and time while keeping temperatures consistent for even cooking. Equipped with a gravity-fed charcoal hopper, this option holds up to 10 pounds of lump charcoal or 16 pounds of briquettes, ensuring hours of uninterrupted cooking. Reaching 225°F in only seven minutes and 700°F in 13 minutes, this smoker provides rapid, consistent heat-up for perfectly cooked food.
This product features a state-of-the-art digital fan and accurate temperature control with Wi-Fi connectivity, allowing you to closely monitor the cooking process from any location using your smartphone. It also allows you to adjust the internal temperature settings for precise control over the cooking process while away from the grill. This smoker includes a meat probe, too, allowing you to accurately measure the internal temperature of meats and other foods. Plus, it comes with a durable cover to keep it protected from the elements. With its powerful performance and innovative technology, this smoker delivers convenience and accuracy for precisely cooking dishes.
Pros
Powerful performance and innovative technology
State-of-the-art digital fan to control the temperature
Seamless Wi-Fi connectivity to monitor cooking process
Accurate internal temperature readings with meat probe
Cons
Expensive compared to other grill combos
Time-consuming assembly requires two people
List Price: $374.99
The Char-Griller E16620 Akorn Kamado Charcoal Grill & Smoker is an affordable yet high-quality option for those seeking a smoker-grill combo that rivals more costly alternatives and is built to last. The grill body is constructed with 22 gauge steel for long-lasting performance. It also features triple-walled steel construction for greater fuel efficiency, with a porcelain-coated cast iron grill grate designed to retain heat and provide an even cooking surface. This insulated design means less charcoal and airflow are needed for efficient heating, making your food juicy and flavorful. It also features a convenient built-in temperature gauge and easy-to-use adjustable dampers for precise temperature control.
Its spacious cooking capacity of 447 square inches and versatile design allows for various cooking styles, from grilling to slow smoking, and preparation of different-sized foods. This model includes a digital thermometer and two side shelves for extra workspace. It also has a slide-out ash pan for easy cleanup and large locking caster wheels so you can move the grill around easily. This smoker-grill combo is a fantastic choice for those seeking quality performance without breaking the bank. With its sleek design, durable construction, and premium features, it's sure to be an excellent addition to any grilling enthusiast's toolkit.
Pros
Sturdy construction comparable to costly options
Efficient heating for even cooking
Spacious cooking area and warming rack
Removable ash tray for easy cleanup
Cons
Assembly may be time-consuming
Heavy to transport without caster wheels
Buying Guide: Smoker Grills
If you're looking for a convenient way to make delicious food for a backyard party or barbecue, you'll want to invest in a smoker grill. These grills use low temperatures to slowly infuse your food with smokey flavors that no other cooking tool can match. They are ideal for low and slow cooking that brings out the best in your favorite cuts of meat and other culinary creations.
With so many smoker grills on the market, finding the right one for your needs can be challenging. In this buyer's guide, we'll break down the key features of smoker grills to help you evaluate various models when making your selection. Read on to find the perfect match to take your grilling and smoking experience to the next level.
Type
Different types of grills provide different cooking experiences. Each type has advantages and disadvantages, so it's important to consider which one best suits your needs before purchasing. Gas grills offer fast heat distribution and are simple to use, while pellet grills provide convenience by using pellets instead of charcoal or wood chips. Charcoal grills have been popular for years due to their great flavor when used with charcoal wood chips. Suitable for cooking delicate foods like fish, electric smokers are versatile models that give precise temperature control for optimal results.
Size
Smoker grill size is measured by cooking space capacity rather than physical dimensions. Choose a model based on the number of people you plan to feed and the amount of food you need to cook at once. If you plan to host large gatherings often, consider getting a larger grill to accommodate more food. On the other hand, if you prefer slow or low-temperature cooking, then going with a smaller size may be the better option.
Temperature control
Temperature is one of the most essential factors when cooking with a smoker. Look for a model that offers precise temperature control from low to high heat so you can find the right setting for your desired result. Many modern smokers come with digital controls that make it easy to adjust temperature levels without opening the lid or moving hot coals around.
Heat source
The type of fuel you use to fire up your smoker is an important factor in determining how it cooks your food. Charcoal smokers use lump charcoal or briquettes, while gas models require natural gas or propane tanks. Electric smokers require access to an electrical outlet for cooking food, while pellet smokers use specially-made wood pellets as fuel sources.
Access to fuel source
Some smokers feature easy access panels or doors at the bottom or sides, allowing users to refill fuel sources like wood chips or pellets effortlessly without losing heat. This helps maintain moisture levels, particularly during extended smoking sessions when you're slow-roasting large quantities of food. Advanced models offer auto-fill containers, minimizing manual effort and ensuring an even distribution of smoking flavors throughout the cooking process. These features save time and enhance the overall smoking experience.
Quality
Quality construction is essential for your grill's performance and longevity. Consider a durable model featuring heavy-duty materials to withstand frequent use and high temperatures without rusting or warping.
Design
Design plays an essential role in selecting the perfect smoker grill. Opt for one with adequate airflow controls or dampers to ensure uniform heat distribution while cooking. Efficient insulation and heat retention are important for maintaining ideal temperatures throughout slow roasting and extended smoking sessions.
Ease of cleaning
Cleaning and maintaining kitchen appliances can be tedious, but smoker maintenance can be even more challenging since you'll need to regularly remove used fuel sources like charcoal or pellets. Select a model with removable ash pans to simplify the cleaning process. Spacious cooking surfaces also minimize the necessity for constant emptying and refilling of fuel sources between sessions and can keep your ingredients and tools better organized.
Temperature gauge
Temperature is a significant factor when choosing a smoker grill. Pick one with strategically placed thermometers in the smoker chambers to measure cooking temperatures. Combined with an easy-to-view temperature gauge, this ensures consistent results for smoking meats and vegetables, enabling accurate temperature control and providing visual or auditory alerts when limits are reached. Advanced models may feature digital displays for precise readings, which can remove the need to open lids and preserve moisture levels when slow-roasting foods in large quantities. Maintaining desired temperature levels for extended cooking durations helps ensure optimal results.
Safety features
When selecting a smoker grill, prioritize safety features like auto shut-off mechanisms and flame guards. These elements can help prevent fires due to incorrect usage or buildup of unburnt fuel like charcoal or wood chips. Before purchasing, compare safety features in different models to ensure a safe grilling experience.
Warranty
Before buying a smoker grill, it's crucial to research the warranty coverage offered with the item. Examine which parts and components are included under warranty to prevent unforeseen expenses for potential component issues or damage to parts, whether caused by regular usage or defects.
Cost
The price of a smoker grill varies widely depending on the type of grill, size, features, design construction quality, accessories, and brand reputation. Consider the features you want and shop around to compare models available within your set budget.
People Also Ask
Are smoker grills difficult to use and maintain?
Most smoker grills are designed with ease of use in mind. Many models come with digital controls that allow users to program precise cooking temperatures and times and other features for easy cleaning. It's also essential to read the user guide carefully and follow maintenance instructions for optimal performance and maintenance.
How do I properly season my smoker grill?
Seasoning your smoker grill is crucial for a successful and flavorful cooking experience. First, disassemble the parts of the smoker. Next, apply a light coating of vegetable oil or cooking spray to all interior components. After that, reassemble the smoker and preheat it for 30 minutes.
Does temperature control play a role in selecting the best smoker grill?
Yes, temperature control is an important factor when choosing the right smoker grill for your needs. For example, some models may have features that allow you to easily adjust the temperature range to cook various meats and dishes at different temperatures, while others may only offer basic temperature settings.
Are there components available to customize my smoker grill?
Yes, there are many components available on the market that you can use to customize your smoker grill setup depending on your individual preferences and needs. These include smoking chips and pellets to achieve different flavors or adjustable racks for different-sized food items. It's recommended that users check manufacturer guidelines for compatibility before purchasing any additional accessories or upgrades for their smoker.
How should I clean and care for my smoker grill?
For optimal performance, follow these steps to maintain your smoker grill. Clean and care for it after every use. Eliminate food residue from grates using a stiff brush or scraper, and wipe surfaces with damp, soapy cloths or paper towels. When not in use, store your grill in a dry area away from direct sunlight to prevent rust and weather-related damage.
Why Trust Us
Our commitment to the consumer begins with product selection and ends with the last word we write in each article. Each smoker grill is carefully vetted quantitatively through star ratings and the number of reviews qualitatively through careful examination of reviews and the features each one has to offer. Leveraging our team of bargain hunters, we're also always sure to keep your budget in mind while we find the best smoker grills on the market. Our team of experts is dedicated to accurately depicting the pros and cons of each smoker grill, translating technical product specifications into information you can understand. Our mission is to share top-of-the-line grilling products worth your money, ensuring a remarkable outdoor cooking experience that won't break the bank.