The Best Store Credit Card Gives You 5% Cash Back on All Amazon Shopping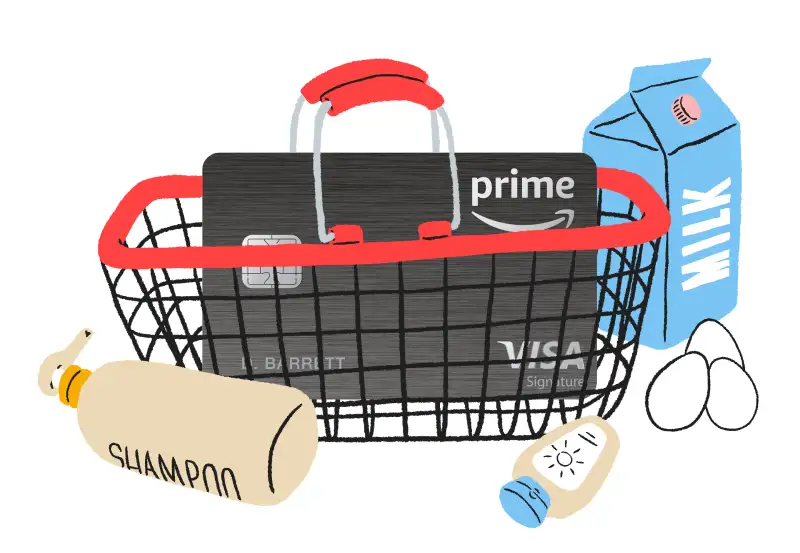 Illustration by Tania Guerra
Store credit cards are a common choice for people who might not yet qualify for a general-purpose credit card, and retailers use their branded cards to drive customer loyalty via promotions and rewards. But even the best store credit cards tend to have a few big drawbacks: APRs are often considerably higher than their general-purpose counterparts and credit limits tend to be lower, sometimes as little as a few hundred dollars.
Illustration by Tim Boelaars
If you're looking to build or rebuild your credit with a retail card, this can be a double-edged sword, since using the card to charge even a moderate amount could result in a credit utilization ratio that is too high, which can actually drag down your credit score. Furthermore, many store cards can't be used outside of that chain or its corporate family of brands.
More so than for other credit card categories, the quote-unquote best store credit card is going to vary greatly depending on where and how you spend. If you renovate and flip homes, an Ikea credit card might make sense for you — whereas if you're just looking to buy a dresser and some throw pillows, a potential drag on your credit score might outweigh any benefits. Rewards, too, are likely to be tied to that retailer, so if you don't shop there regularly, you might not be maximizing the value a store credit card could give you.
Despite store cards' shortcomings Money found a few standouts in this category. We evaluated MagnifyMoney's extensive database of retail cards, looking for ones that give you the most spending flexibility, most generous and versatile rewards, and consumer-friendly terms. While there were a few we liked, we found that one offering easily rose to the top.
Illustration by Tania Guerra
Key Terms
•Rewards: 5% cash back for Amazon.com and Whole Foods purchases; 2% cash back at restaurants, gas stations and drugstores; 1% cash back elsewhere
•Annual Fee: $0, but an Amazon Prime membership, which costs $119 annually, is required
•APR: 16.24%-24.24%
Why You Should Get It
There's a lot to like about this Amazon-branded Visa. Even though you can pretty much buy anything on Amazon, you're not limited to its retail ecosystem (although rewards are most generous for Amazon-related spending). If you already have an Amazon Prime membership, it's basically like having a no-annual-fee card. The APR range is more or less in line with many of the general-purpose rewards cards we've seen out there. If you spend $5,000 a year on Amazon.com, that's $250 in rewards — and that's not even counting rewards you earn for purchases outside of Amazon. We also appreciate the inclusion of drugstores in the card's 2% accelerated-earnings category; medication costs are a growing concern for many Americans, so being able to recoup even a small fraction of that spending is helpful. Finally, although this isn't a travel card, it has a couple of travel-friendly perks like 2% back at restaurants and gas stations, and no foreign transaction fees.
Caveats/Alternatives
If you're not a big Amazon shopper, don't belong to or don't want to join Amazon Prime, this card's offerings probably won't excite you very much, especially since the default reward-redemption mechanism is to use rewards for future Amazon purchases. If you want grocery rewards outside of Whole Foods (which has earned itself the nickname "Whole Paycheck," in spite of Amazon's pledges to lower prices), there are general-purpose cards that have more generous grocery rewards. If you're Team Costco, you might find the Costco Anywhere Visa Card from Citi — which gives you 4% cash back on gas, 3% on dining and travel and 2% on in-store and online Costco purchases — a worthy competitor to the Prime Rewards Visa Signature card.
Money worked with MagnifyMoney to narrow down credit card options in each category to a set of finalists. Money's editorial staff was solely responsible for choosing the winners, focusing on interest rates, fees, and perks of each card.
Opinions expressed here are the author's alone, not those of any bank, credit card issuer, airline or hotel chain, and have not been reviewed, approved or otherwise endorsed by any of these entities.