Everyone Wants to Invest in AI. Here's the Best Strategy
Money is not a client of any investment adviser featured on this page. The information provided on this page is for educational purposes only and is not intended as investment advice. Money does not offer advisory services.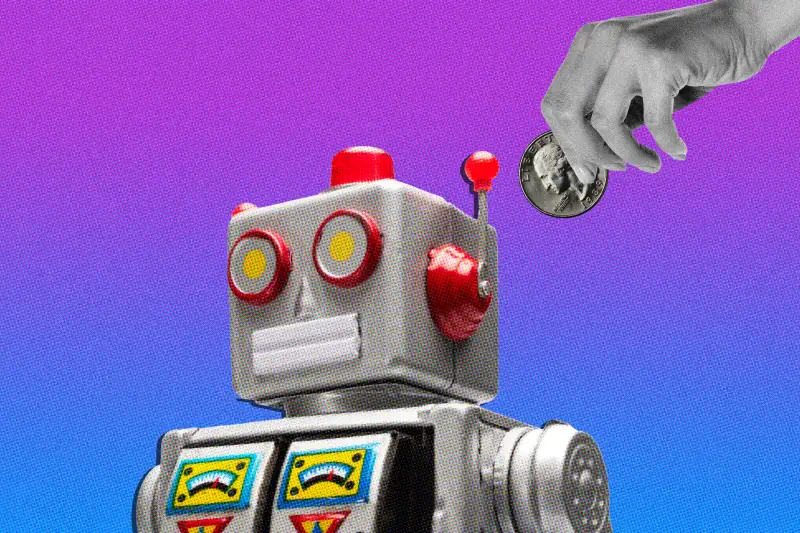 Eddie Lee / Money; Getty Images
Thanks in big part to the arrival of the chatbot ChatGPT, talks of artificial intelligence are suddenly everywhere. Investors are trying to figure out which AI stocks could help them capitalize on the hype — but just betting on the tech giants making headlines could be risky.
"It's hard to really predict who the big winners are going to be right now because it's so nascent and we're seeing so much disruption in such a quick period of time," Jay Jacobs, head of iShares thematics and active equity ETFs at BlackRock, said during Public's first-ever Exchange conference this week. (Money was the exclusive media partner for Public's conference.)
In other words, you could "get the theme right and the company wrong," Jacobs says. That makes sense; he focuses on thematic investing, and iShares has created an ETF that includes companies across the AI ecosystem.

But the reminder of diversification is a good one: Putting your money towards a wide variety of companies will help you lower risk and likely help you see growth in the long term — even if a few popular names have you excited to invest.
The explosion of AI
While AI has been around for years, it was pushed into the forefront of business discourse in November 2022 with the launch of ChatGPT. The chatbot can help in tasks like writing cover letters or poems, breaking down complicated topics or summarizing — all to varying degrees of actual helpfulness.
At the Exchange conference, Cathie Wood, CEO of ARK Invest, said that ChatGPT involves breakthroughs that, five years ago, her firm wouldn't have expected until maybe 2030.
"Generative AI is the wave of the future and it's here," Wood added. "ChatGPT proves that."
And unlike during the tech and telecom bubble from the late 1990s, the technology is moving even faster than we thought, she said.
Not everyone is keen on the innovations moving so quickly. This week, a group of AI experts and industry executives including Elon Musk, signed an open letter calling for a six-month pause in training AI systems more powerful than the recently-launched GPT-4.
"Powerful AI systems should be developed only once we are confident that their effects will be positive and their risks will be manageable," the letter reads.
Investing in AI
For better or worse, developments in the space are moving quickly and we're seeing companies like Alphabet and Microsoft put the excitement around ChatGPT to use with the developments of their own chatbots (Alphabet-owned Google with Bard and Microsoft with Bing).
But don't focus on just the tech giants, Jacobs says.
"It might be easy to name just one or two or three stocks around the world that are leading in AI but that isn't the entire ecosystem," he adds. "You're taking on a lot of idiosyncratic risk if you're just picking one or two stocks."
Instead, he says investors can get exposure to companies that are part of AI development, robotics developers (since, in his words "robotics are the body and AI is the mind") and semiconductor companies, which are creating the hardware that power AI.
Of course, diversifying across large and small companies — and those from various industries — should always be top of mind when you're investing. But when it comes to technology that's still in the early stages of development and practical use, it may be especially important to avoid putting all of your eggs in one basket.
More from Money:
How to Invest in AI as ChatGPT Takes Tech by Storm
Can ChatGPT Save You From the Agony of Writing a Cover Letter?