The 9 Cheapest International Trips You Can Take Right Now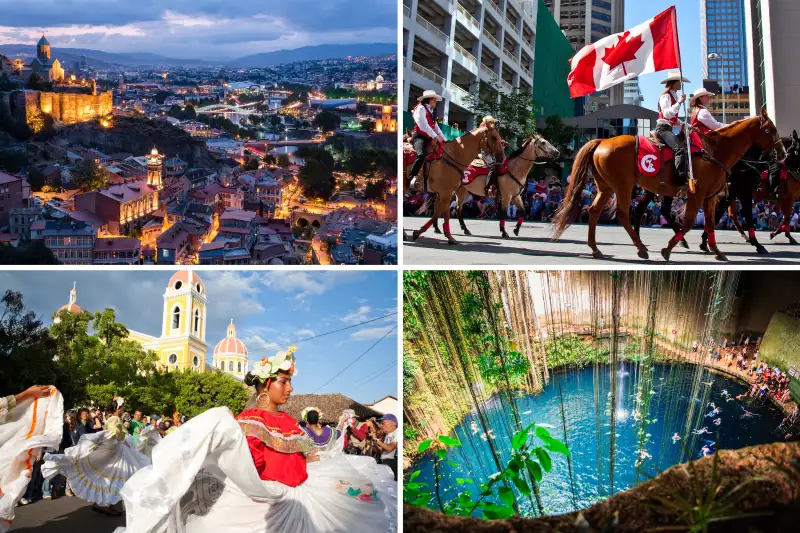 (Clockwise from top left) Getty Images (3); Alamy (1)
It's suddenly August, and you're nowhere near using up your vacation days. For many people, it's because taking a real vacation just sounds too expensive.
That's where Money can help. We dug into our Best in Travel database to identify some fabulous spots to lure you not just out of the cubicle, but out of the country altogether.
To find these cheap, excellent destinations, Money analyzed more than 16,000 data points for nearly 450 international cities. We ranked each destination by the cost for two to visit each location, and then weighted the results by the value each destination delivered, through amenities like museums, beaches, and restaurants, as well as "pleasantness" measures such as weather, crime and walkability.
We used data from Hopper and Kayak for flight prices, Hotels.com for hotel prices and cost of meals and transportation from Numbeo.
Here are the best global bargain vacations for right now:
---
1. Mérida, Mexico
gappino—Getty Images/iStockphoto
Cost of "good deal" airfare: $389
Average nightly hotel rate: $74
Cost to spend a week for 2: $2,018
Among the affordable Mexican vacation spots, Mérida comes out on top for both affordability and richness of experience. Average airfare is down 4.3% since 2016 according to Kayak, and a hotel costs about $74 on average on Hotels.com.
The historic city landed in the No. 3 spot overall Money's Best in Travel 2018 rankings:
Be sure to explore Chichen Itza, the 1,000-year-old ancient city known for its Mayan ruins and the impressive Kukulkan Pyramid. The ruin, also known as El Castillo, captures the Mayan fascination with math and astronomy: The site has 365 steps total, each representing a day in the year, and the pyramid's eighteen sides (bisected by staircases) represent the months of the Mayan calendar.
Back in town, tour the Gran Museo del Mundo Maya to see 1,100 preserved Mayan artifacts, along with contextual information about the ancient civilization — or view the murals and oil paintings depicting the Spanish takeover at the Palacio de Gobierno.
---
2. Xi'an, China
Nikada—Getty Images/iStockphoto
Cost of "good deal" airfare: $631
Average nightly hotel rate: $93
Cost to spend a week for 2: $2,994
Xi'an is one of the most affordable cities to visit in China right now. You can find good deals on flights for around $631 into Xi'an Xianyang International Airport according to Hopper, and hotels in the city are, on average, far cheaper than the $157-a-night spots found in Shanghai.
Xi'an boasts the iconic Terra Cotta Army sculptures and museum. Discovered by archeologists in 1974, the thousand clay soldiers were meant to accompany China's first emperor Qin Shi Huang Di in the afterlife. Entrance fees range from $18 U.S. to $22, depending on when you visit. You can rent a recorded audio guide for less than $1 (40 yuan), or get one of the museum guides to walk you around for $22.
Another must-see site includes the Tomb of Emperor Jingdi, which gives visitors a glimpse info the daily life of ancient Chinese citizens. The museum houses more terra cotta figurines, with these depicting eunuchs, servants, domesticated animals, and female cavalry members. You can even get a glimpse of the ongoing excavation through the tomb's glass floor.
For a break from museums and ruins, head to the area's Muslim Quarter. You can visit the Muslim Family Restaurant to get classic Chinese Islamic dishes like lamb kebabs, dumplings and beef- or lamb-filled fried bread.
---
3. Bali, Indonesia
Cost of "good deal" airfare: $856
Average nightly hotel rate: $133
Cost to spend a week for 2: $3,464
Known for its titanic beaches and hundreds of Hindu shrines and temples, it's no wonder Bali gets called the Island of the Gods.
Each part of the island offers unique excursions. The southern section holds the most popular beaches, including surfer-friendly Balangan Beach. This reef break in the Bukit peninsula offers large consistent barrels for experienced surfers. If surfing isn't your thing, try paddleboarding or water yoga at the laid-back Canggu beach.
At the western end of the island, you'll find giant squirrels, rusa deer and the endangered Bali starling roaming the natural rainforests in the Bali Barat National Park. Entrance for foreign visitors costs 200,000 rupiah, or about $14.
Don't miss visiting one of the island's ancient temples, including the Mother Temple, Pura Besakih. Located in the northern part of the island, the temple stands near Bali's highest point, Mount Agung. Pura Besakih's complex actually holds 80 individual temples; plan on spending a few hours to get the full experience.
Subscribe to Money on YouTube to see more videos.
---
4. Calgary, Canada
Henry Georgi—Getty Images/All Canada Photos
Cost of "good deal" airfare: $330
Average nightly hotel rate: $125
Cost to spend a week for 2: $2,681
Visit Calgary for its cultural history, as well as its proximity to outdoor adventure spots in the Canadian Rocky Mountains.
The city's sights include the 627-foot-tall Calgary Tower, which gives visitors a 360-degree view of the skyline, and the country's largest living history museum, where you can learn how to trade fur like a 19th century colonial.
For some cheap thrills, pack a picnic and canoe across Bow River at Prince's Island Park, or strike your best Adam Rippon pose at the Olympic Oval, the facility used for the 1988 Olympic Games. Skating costs about $5 U.S. for adults over 18 and just $4 for kids. If you're hungry, don't miss one of Calgary's best restaurants, Una Pizza & Wine. (Try the Beltline pizza with double smoked bacon, sausage and maple syrup for $18.)
Venture an hour outside of the city to Banff National Park, where you can ski, mountain climb, hike and fish in the country's first national park. Travel + Leisure recommends taking a dip in the 100-degree Upper Hot Springs Pool. A group of two to seven people in a single vehicle can enter the park for about $15 U.S., and adults can enter the springs for $6.
---
5. Tbilisi, Georgia
Frans Sellies—Getty Images
Cost of "good deal" airfare: $709
Average nightly hotel rate: $127
Cost to spend a week for 2: $3,622
Travel to Tbilisi, an ancient crossroads between Asia and Europe, for a blend of medieval architecture and modern food and drink.
Money named it No. 8 on this year's Best in Travel ranking:
The region has also developed a reputation for winemaking; head out to the province of Kakheti to visit the vineyards.
---
6. Prague, Czech Republic
Hans-Peter Merten—Getty Images
Cost of "good deal" airfare: $803
Average nightly hotel rate: $143
Cost to spend a week for 2: $3,622
Immerse yourself in European culture and history on a budget in Prague. Entrance to many of the city's cultural attractions — including the mid-10th century fort Vyšehrad, the city's 1,000-year-old marketplace Old Town, and Holy Roman Emperor Charles IV's namesake bridge — are free.
Prague's museums give a deeper sense of the city's cultural history. Check out the original manuscripts of Beethoven's Fourth and Fifth symphonies at the Lobkowicz Palace inside Prague Castle, or visit the site where Mozart completed Don Giovanni at Museum Bertramka. The Jewish Museum holds 40,000 exhibits and 100,000 books, making it one of the most extensive collection of Judaic art and culture in the world (admission costs about $8 U.S. for adults and $6 for kids).
Beer lovers will enjoy the area's brews, which Czechs have been producing since the Middle Ages. Be sure to visit the Strahov Monastery Brewery, located in a 800-year-old former monastery.
---
7. Azores, Portugal
sack—Getty Images/iStockphoto
Cost of "good deal" airfare: $793
Average nightly hotel rate: $99
Cost to spend a week for 2: $3,046
The Azores, a small archipelago of nine islands roughly 1,000 miles off the coast of Portugal, boasts scenic volcanic mountain peaks, year-round mild temperatures, and white, sandy beaches.
The two islands most popular with travelers are São Miguel,the archipelago's largest, and Santa Maria. On the former, you can visit water parks or surf or take a dip in the Termas da Ferraria thermal and ocean baths. On Santa Maria, swim in the mild waters of beach Praia Formosa or fish on the island's coastline for bluefish bream, amberjack, conger eels and other native fish.
If you'd rather stay off the beaten path, try whale watching on the island of Pico, or hike up the Pico Da Esperanca on São Jorge for views of the other islands in the Azores.
Traveling between the islands can be costly, says blogger and Azores native Bruno, of Geeky Explorer; he suggests picking one island and sticking to it. Another tip: Rent a car in advance to avoid having to take costly taxis or rely on the bus system.
---
8. Jeju Island, South Korea
Henn Photography—Getty Images/Aurora Open
Cost of "good deal" airfare: $1,483
Average nightly hotel rate: $126
Cost to spend a week for 2: $3,715
The time to visit Korea's largest island is now: Flight costs fell almost 19% from the prior year, according to Kayak, while Hotels.com finds hotel prices got 8% cheaper.
Head to Hyeopjae Beach to lounge and enjoy the views of the Pacific Ocean, or catch a wave at Jungmun Beach. For a unique hiking experience, head to the 597-foot-high extinct tuff volcano, Seongsan Ilchulbong — a crater-shaped mountain surrounded by jagged rocks. Admission to the natural wonder costs $2 for adults and $1 for children.
At the northeastern part of the island, you can explore the Manjanggul Lava Tube, a 5-mile-long cavern with volcanic shelves and stalactites. For a taste of the island's traditional culture, visit Jeju Folk Village ($6 for adults), where you can see 300-year-old preserved buildings, try on traditional wedding outfits, or ride native ponies.
---
9. Istanbul, Turkey
Cost of "good deal" airfare: $775
Average nightly hotel rate: $92
Cost to spend a week for 2: $3,223
After centuries-long waves of armies and settlers — including the Greeks and Romans, as well as Venetian, Byzantine, and Ottoman civilizations — Istanbul has no shortage of cultural immersions. Have your cameras ready during your visit to the Blue Mosque, where towering minarets and domes hold Byzantine and Islamic-influenced ceramic designs, stained glass windows and ornate calligraphy. The nearby Hagia Sophia museum holds both Christian and Islamic mosaic designs, as well as galleries depicting Biblical tales and scenes. (Entry to the Hagia Sophia costs $4 for adults during the summer and $3 during the winter.)
Practice your haggling skills at the Grand Bazaar, where you'll find a collection of Turkish delights, mosaic chandeliers, and traditional rugs. For your pick of teas, herbs, nuts and dried fruit, visit the Ottoman-era Spice Bazaar. Here you'll also find the most famous coffee supplier in the city, Kurukahveci Mehmet Efendi. Check out the classic doner kebabs at city eateries like Bereket Döner (where they'll run you $3.50) and Dürümzade (starting at $2).
This article was updated to remove Granada, Nicaragua, which is currently undergoing a period of dangerous political unrest.