The Best Credit Card for Travel Comes with a 50,000-Point Sign-Up Bonus, $300 Credit and Plenty of Other Perks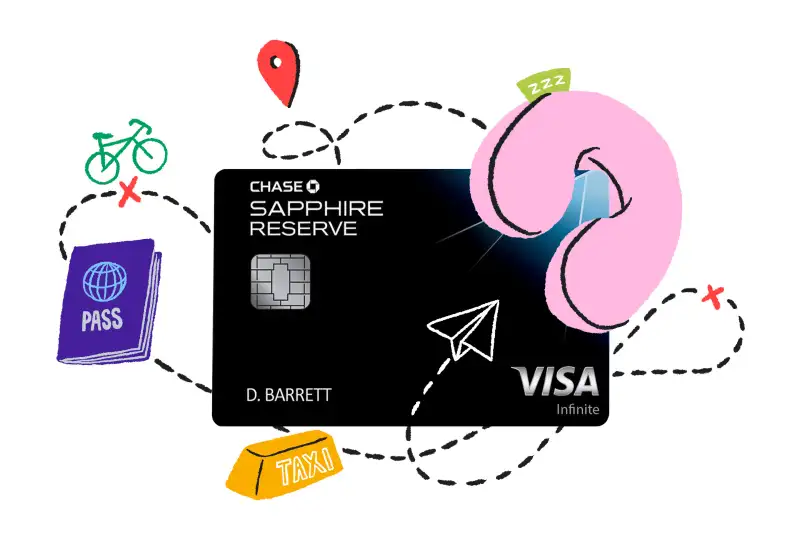 Illustration by Tania Guerra
If you love to travel, there are plenty of credit cards that offer sweet perks. That's especially true if you are willing to pay an upfront annual fee. But there are also good deals for those who aren't.
Illustration by Tim Boelaars
Back in the day, road warriors generally chose airline credit cards based on which carrier they flew most often for business trips, or based on their opinion of which airline had the best frequent flyer program. Today, consolidation in the industry along with the rise of low-fare airlines that don't use the traditional hub-and-spoke system has fundamentally changed the criteria for the best credit card for travel miles. Our data show the best credit card for travel is one that offers generous rewards on all kinds of travel spending without demanding brand loyalty.
General purpose travel credit cards approach rewards a little differently: People searching for the best card for travel miles today are likely to find that points are more typical rewards "currency." This has an advantage over even the best mileage credit cards of earlier eras because points generally have a fixed value (most often, 100 points equals $1 in rewards), whereas determining the exact value of miles was a complex effort involving airline fare classes and lots of dollar-per-mile calculations. That said, if you're seeking the best credit card for travel points, you should evaluate whether or not you can increase the value of your rewards by redeeming them for travel through the issuer's rewards portal.
Some things haven't changed. Today, the best credit cards for travel still offer perks like lounge access and various credits for expenses like baggage fees. If your travels take you overseas, also keep in mind that the best credit cards for international travel aren't going to charge you foreign transaction fees. (In fact, Money considers this a deal-breaker when evaluating cards to select for the best travel rewards credit card.)
Key Terms
•Rewards: Three points per $1 spent on travel and dining, one point elsewhere
•Annual Fee: $550
•APR: 18.74-25.74%
Why You Should Get It
Introduced in 2016, this travel rewards credit card became immediately popular in spite of that hefty $450 annual fee on the strength of its generous rewards structure and lavish perks. High demand showed issuers that there's a huge pool of people who travel a lot who want more flexible rewards structures than even the best airline credit card can offer. This realization prompted other issuers to roll out other "super-premium" cards, creating a sort of arms race for the best travel rewards card. This is good news for consumers because the competition has kept the rewards and bonuses coming, which is why we've named this the best travel credit card for 2019.
Although Chase Sapphire Reserve's annual fee is high, we find that the rewards and credits more than make up for it. One big bonus is the $300 travel credit you earn annually on the anniversary of your account opening, which can be used to offset hotel and airline purchases, including baggage and upgrade fees. The best travel cards make it easy to earn rewards, and this one certainly fits the bill: Cardholders get three points per dollar spent on travel and dining (excluding the $300 that is canceled out by the credit every year), and one point per dollar elsewhere. The current signup bonus is a bucket of 50,000 points earned after spending $4,000 in the first three months, which is worth $500 if redeemed for cash or $750 if redeemed for travel through the Chase Ultimate Rewards portal.
Along with that $300 annual travel credit, other benefits include a credit of up to $100 every four years towards the application fees of Global Entry or TSA PreCheck, plus access to more than 1,000 airport lounges worldwide through the Priority Pass Select Program.
Caveats/Alternatives
That $450 annual fee, though. We understand a lot of people looking at the best travel cards want an option that doesn't cost hundreds of dollars a year. If you're in that camp, the Wells Fargo Propel American Express Card also caught our eye this year. The Propel has no annual fee but still offers triple points on travel and dining spending, along with some new twists on traditional rewards categories. (Read our full profile of the Propel here.) If you plan to revolve a balance, a card with a lower interest rate than either of these two and with no annual fee is the PenFed Pathfinder American Express Card, with a regular APR that starts at 12.74%.
Money worked with MagnifyMoney to narrow down credit card options in each category to a set of finalists. Money's editorial staff was solely responsible for choosing the winners, focusing on interest rates, fees, and perks of each card.
Opinions expressed here are the author's alone, not those of any bank, credit card issuer, airline or hotel chain, and have not been reviewed, approved or otherwise endorsed by any of these entities.