The Best Travel Garment Bags for Your Money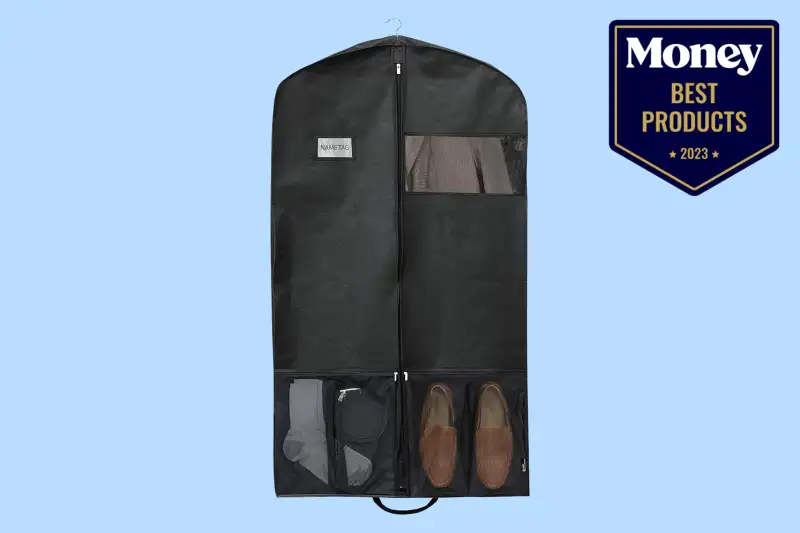 When traveling, you want to ensure your clothing remains clean, wrinkle-free and well-protected. That's why a garment bag is essential. Investing in a quality garment bag is a smart way to store your clothes and maintain their pristine condition, ensuring you always present a professional appearance while on the go.
In this article, we'll compare the leading travel garment bags of 2023. We'll look at different sizes, styles and features of each product so you can find the right one for your needs. Whether you prefer a lightweight, foldable option or something more luxurious, there's a garment bag here that's ideal for your travel style and long-term storage preferences.
Best Overall: Simple Houseware Heavy Duty Garment Bag
Versatile Carry-On: Modoker Convertible Carry-On Garment Bag
Most Budget-Friendly: MISSLO Gusseted Travel Garment Bag
Most Premium: Mancro Convertible Carry-On Garment Bag
Ideal for Long Trips: Univivi Travel Garment Bag Set
Reviewing the Finest Travel Garment Bags of 2023
List Price: $15.97
The Simple Houseware Heavy Duty Garment Bag wins the Best Overall category thanks to its durable construction and versatile all-in-one storage solution. With a sleek black design, it features a rip-resistant and dustproof material that will keep all your garments fresh and clean, even during long-term storage. The fabric is breathable and gentle on the clothes yet tough enough to withstand the daily wear and tear of busy travel. This spacious garment bag measures 26 inches in width, 43 inches in length, and 5 inches in depth. It offers ample storage for suits, tuxedos, dresses, and more, providing sufficient width to hold multiple items.
This heavy-duty product features upper and lower handles that allow for easy carrying between destinations and an eyelet that enables simple hanging with hangers. It also has an additional pocket for shoes and two large pockets for accessories. This versatile travel accessory blends style, function, and durability, which is why it earns the top spot on our list. Whether you're packing for a business trip or a leisurely vacation, this travel garment bag will surely exceed your expectations.
Pros
Durable, dustproof, and rip-resistant construction
Clear window for easy identification of items
Extra-large pockets for accessories and shoes
Upper and lower handles for easy transportation
Cons
Fabric may pill with wear and tear
No shoulder strap unless purchased separately
List Price: $60.00
For the discerning traveler seeking a versatile carry-on bag that offers both quality and functionality, the Modoker Convertible Carry-On Garment Bag is an excellent choice. This versatile travel accessory is designed with convenience in mind, seamlessly blending the capacities of a garment bag with the practicality of a duffle bag. This black and gray bag is crafted from high-quality polyester fiber and jacquard material, meaning it not only looks stylish but also offers impressive durability and water resistance. Its anti-scratch and tear-resistant design ensures your clothing stays clean and safe, even during extended travels. Crafted with precision to perfectly fit overhead bins, it significantly eases airport travel. This carry-on luggage's size of 31 inches in length by 21 inches in width makes it easy to bring onboard your flight.
This versatile garment bag is perfect for overnight trips or as a weekend travel companion. It features a wrinkle-free exterior and 45 liters of storage, with a side pocket designed for your shoes and another tailored for smaller items like your passport and keys. It also has an adjustable and detachable shoulder strap for ultimate comfort during transport. Its durability, spacious capacity, and stylish design greatly simplify airport travel while keeping your belongings well-organized and in pristine condition. Whether used for overnight trips or to accumulate more frequent flyer miles, this is an excellent travel garment bag.
Pros
High-quality fabric is water- and scratch-resistant
Versatile combination of garment and duffel bag
High-capacity storage with additional pockets
Comfortable straps included for easier transport
Cons
Clothes may wrinkle if not packed properly
Design may not suit everyone's personal style
List Price: $12.99
If you're seeking a budget-friendly travel garment bag that doesn't skimp on quality, the MISSLO Gusseted Travel Garment Bag is a wonderful choice. Crafted with lightweight yet durable non-woven fabric, this bag protects your clothes while maintaining breathability, ensuring your clothes remain odor-free. At 43 inches long and with a 3.5-inch gusset, this bag is suitable for carrying up to five suits or dresses. Designed for ease and convenience, the smooth, long, two-way zip closure provides security and accessibility to your clothing items. This pick also features an additional pocket at the front, allowing for convenient storage of ties, belts, and other small items.
Thanks to the clear 5.4-inch square window, you can quickly identify the bag's contents without having to open it. It has two heavy-duty fabric handles for convenient carrying and a durable metal grommet that lets you fold it up for travel. The top slot holds three to four coat hangers, making it easy to keep items stored away in your closet. This travel garment bag is unparalleled in value, providing exceptional quality at a fraction of the cost of its competitors — which is why it's the ideal choice for any budget-savvy traveler.
Pros
Great quality and value for the price
Excellent protection against wrinkling
Zippered pocket for safekeeping accessories
Clear window to easily view contents
Cons
May not be suitable for airplane travel
May not fully protect more expensive garments
List Price: $62.99
The Mancro Convertible Carry-On Garment Bag is a premium option for travelers seeking quality, organization, and sophisticated style all in one package. Made of rugged and water-resistant 1680D polyester, this luggage delivers exceptional durability and protection. Its professional and elegant black appearance makes it ideal for business trips and leisurely vacations alike. This pick has internal hooks for hanging to prevent your suits from creasing, keeping your clothes clean and wrinkle-free. The back strap makes it easy to slip this bag over your suitcase's extended handle, while the reinforced handles and adjustable shoulder strap ensure comfortable travel.
This travel garment bag also fits snugly into the overhead compartments of most airplanes, making it convenient to take with you from the start of your trip to your final destination. Designed with functionality in mind, this bag features two internal compartments to help organize your belongings. The bag's roomy exterior has secure zipper pockets for extra items, with a front organizer offering additional space for electronics and documents. This professional and polished travel accessory is ideal for travelers seeking sophistication, quality, and a spacious interior — all at an exceptional value.
Pros
High-quality, water-resistant construction
Sophisticated, sleek, and professional style
Convenient foldable and zippered design
Multiple pockets and organizer included
Cons
May be too expensive for budget-conscious travelers
May not be suitable for multiple devices
List Price: $26.99
The Univivi Travel Garment Bag Set is an ideal solution for frequent travelers seeking dependable garment storage and protection during extended trips or long-term storage. This multipack comes with five garment bags designed with high-quality, breathable polyester Oxford fabric that guards your clothing against humidity and rain. Each bag has a large, transparent viewing window, making it easy to identify the clothing inside without needing to open each bag. The lightweight and foldable design of these garment bags makes them incredibly easy to transport while traveling. They also minimize clutter at home by taking up very little closet space.
These travel garment bags have durable zippers and upper and bottom metal stoppers to prevent zipper derailment. The top opening of each one conveniently accommodates a coat hanger that seamlessly loops through the metal grommet at the bottom, making folding and storage a breeze. This product offers ample space for two suits or five shirts, as well as formal attire, dresses, coats, jackets, and more, all while keeping them in excellent condition. This garment bag multipack is a must-have for frequent travelers or anyone who likes staying organized at home. It offers exceptional value, quality, and convenience for keeping your clothes in excellent condition.
Pros
Durable Oxford fabric material construction
Long enough for formal attire and suits
Clear viewing window for easy identification
Outstanding value with five garment bags included
Cons
No extra features for added convenience
Design isn't particularly fancy or stylish
Buying Guide: Travel Garment Bags
If you're looking for a reliable and easy way to pack and transport your clothes for a trip, a travel garment bag is the perfect solution. This travel accessory will keep your clothes organized and wrinkle-free while on the go, serve as a protective layer for your clothing, and simplify the whole packing and unpacking process.
If you're ready to take the plunge and invest in a travel garment bag, it's important to find the right one. To help, we've created this buying guide so you can find the ideal option for your next trip. We've looked at features like durability, capacity, style, and more to ensure you get the best value for your money. Read on to learn more and find out which travel garment bag is right for you.
Durability
When it comes to selecting the right garment bag, durability should be at the top of your list of considerations. Frequent use and heavy handling typically come with travel, so it's essential to opt for materials that are both sturdy and lightweight, such as nylon or canvas. Also, consider the bag's construction. Ensure that all seams are reinforced and the zippers are of good quality to avoid any tears or snags.
Weight
Whether you're a seasoned traveler or a novice, having a lightweight garment bag as part of your luggage can make all the difference. Not only will it spare you the inconvenience and discomfort of lugging around a cumbersome bag, but it may also ensure that it fits in overhead compartments or under airline seats. A lightweight garment bag can also help reduce the likelihood of paying extra fees for overweight luggage, saving you money in the long run.
Size
To ensure the safe and comfortable transportation of your belongings, selecting the right garment bag size is essential. The number of garments and accessories you plan to pack should determine the size of the bag you choose. To ensure you select the right size for your belongings, you should consider the length of typical garment bags, which generally range from 36 to 55 inches. This will help you to determine which size is most appropriate for your needs.
Portability
When choosing a travel garment bag, look for one that's comfortable to carry. It should fit snugly on your shoulder or in your hand without causing discomfort or strain. For even more comfort, consider investing in one with an adjustable shoulder strap. This way, you can adjust the strap as you travel to ensure that you carry your bags in a way that puts minimal strain on your body.
Compartments and pockets
Garment bags do more than just keep your clothes clean and wrinkle-free. Their useful compartments and features make traveling more convenient. To stay better organized, select a bag with secure and zipped pockets, compartments to store shoes, and ample room for your devices and other tech gear.
Water resistance
To protect your belongings from unexpected spills or rain while on the go, consider using a water-resistant garment bag. Opt for a bag made from waterproof or water-repellent material to keep your clothes dry. With this added layer of protection, you can travel confidently, assured that your items will arrive in the same pristine condition as when you packed them.
Ease of cleaning
When searching for a garment bag, select one with fabric that's simple to clean and maintain to ensure that it lasts longer. For ultimate convenience and practicality, consider materials that can easily be wiped down or spot-cleaned with a damp cloth.
Security features
To add an extra layer of safety and security while on a trip, consider opting for sturdy bags with reinforced zippers, combination locks, or any other fastening mechanisms that offer peace of mind. With these features, you can rest easy knowing your belongings will remain secure throughout your trip.
Price
When choosing a travel garment bag, always keep your budget in mind. Factors like construction quality, material types, additional features, and brand recognition can all have a significant impact on a product's price. To ensure you're getting your money's worth, prioritize quality over luxury and brand names. Look for bags constructed with sturdy materials and robust techniques that provide enough storage space and fit within your price range.
People Also Ask
How do garment bags differ from suitcases?
A travel garment bag holds clothing securely while preventing wrinkles or creases during travel. It usually opens in the middle, allowing you to pack your clothes around a central compartment. On the other hand, a regular suitcase is designed to hold a wide variety of items and often has multiple compartments, requiring clothes to be folded for travel — sometimes at the expense of keeping them clean and wrinkle-free.
What features should I look for when shopping for a quality travel garment bag?
When searching for a quality travel garment bag, it's essential to keep a few key features in mind. Look for durable materials and ample space to store clothing and accessories, with solid handles and a reliable zipper that can withstand the wear and tear of travel. Beyond these basics, pockets or compartments can help organize and secure smaller items while in transit.
Are garment bags made from durable materials?
When shopping for the perfect travel garment bag, it's essential to consider durability a top priority. Look for materials like heavy-duty nylon, polyester, or canvas to ensure your bag can withstand the wear and tear of frequent travel.
What sizes are available for garment bags?
Travel garment bags are available in a variety of sizes. They typically range from compact carry-on sizes to checked baggage sizes. The available sizes vary depending on the brand and model of the bag, typically spanning from 20 to 24 inches in length, 14 to 22 inches in width, and 3 to 8 inches in depth.
Are travel garment bags waterproof?
Many travel garment bags have a waterproof coating to shield your possessions from moisture and spills. When investing in a garment bag, it's important to evaluate its features carefully, particularly if waterproofing is a priority for you.
How long should I expect a garment bag to last?
The longevity of travel garment bags is largely determined by the type of fabric and quality of construction. With proper care and maintenance, these bags can last for many years.
What other features do garment bags have to offer?
Travel garment bags often have extra features, including adjustable straps, padded handles, and multiple compartments. You'll find that they come in various colors, prints, materials, and sizes. Some travel garment bags have security features like combination locks or RFID protection.
Can travel garment bags be used for purposes other than travel?
Yes, travel garment bags are useful for purposes other than travel. For example, they can be used at home to store seasonal clothing or as a protective cover for special occasion attire.
Are travel garment bags carry-on friendly?
Fortunately, many travel garment bags are carry-on-friendly, allowing you to take your suit or dress on board with you. Plus, carrying on your garment bag ensures that your clothes will arrive in good condition without the risk of mishandling or damage that can occur with checked bags. To avoid any issues with compliance, it's recommended to check your airline's specific size requirements in advance.
Why Trust Us
Our commitment to the consumer begins with product selection and ends with the last word we write in each article. Each travel garment bag is carefully vetted quantitatively through star ratings and the number of reviews qualitatively through careful examination of reviews and the features each one has to offer. Leveraging our team of bargain hunters, we're always sure to keep your budget in mind while finding the best travel garment bags on the market. Our team of experts is dedicated to accurately depicting the pros and cons of each travel garment bag, translating product specifications into information you can understand. We aim to offer unbeatable value on your travel accessories, so you can get the most comfortable and enjoyable travel experience for your buck.