The Best TV Mounts for Your Money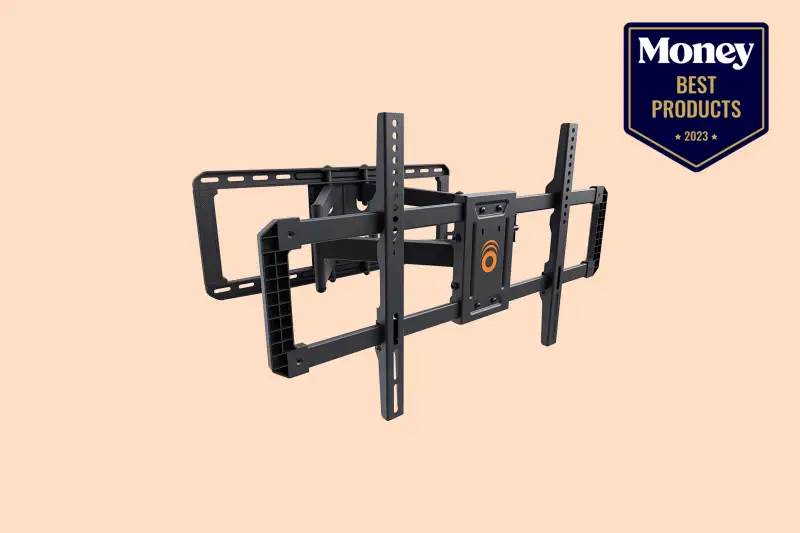 TV wall mounts are a great way to give your living room or bedroom an instantly modern and stylish upgrade. A wall-mounted television eliminates the need for bulky TV stands and entertainment centers, creating a sleek look. Plus, having your TV mounted on the wall frees up valuable floor space and makes it easier to keep your living area tidy.
But with all the different types of wall mounts on the market, choosing the one that's ideal for you can be challenging. In this article, we've researched the top-rated TV mounts of 2023 to help you make an informed decision. We've included reviews on a wide range of different types of mounts, so you'll be able to find the right one for your needs.
Best overall: Mounting Dream TV Mount
Most adjustable: USX Full Motion TV Wall Mount
Best for big screens: Echogear TV Wall Mount
Ideal for small spaces: Pipishell Full Motion Wall TV Mount
Best value: Perlesmith Tilting TV Wall Mount
Comparing the Leading TV Mounts of 2023
List Price: $32.99
Check on Amazon | Check on Walmart
The Mounting Dream TV Mount takes our best overall category due to its patented design that saves space without compromising on compatibility with a wide range of TV sizes. It has a low profile, sticking out just 1.5 inches from the wall, which offers an aesthetically pleasing and sleek appearance. This mount fits most 37 to 70-inch TVs and can accommodate up to 132 pounds, making it ideal for larger TVs. It features a VESA mounting pattern of 600 x 400mm with 24 inches of space between studs. The dual hook design secures the TV from the top and bottom for added security. It can also tilt up to eight degrees, allowing you to reduce glare and obtain the best viewing experience.
Installation of this TV wall mount is simple, thanks to its clear and straightforward instructions and included level to ensure everything is done correctly. It also features quick-release straps at the bottom, so it's easy to remove your TV if needed. This option can fit comfortably into any room and ensure viewers can enjoy their favorite shows at any angle. Between its size compatibility, weight capacity and versatile design, this TV mount is the top option on our list.
Pros
Solid, sturdy construction with low profile
Easy installation with hardware included
Ideal for large and heavy TVs
Tilting feature for adjustable viewing
Cons
Cable management is difficult
Not compatible with all TVs
List Price: $68.99
Check on Amazon | Check on Walmart
Want to be able to tilt your TV at different angles depending on where you are in the room? The USX Full Motion TV Wall Mount is an excellent choice for anyone looking for a full-motion mount that's easy to install and offers multiple viewing options. You can quickly achieve an ideal viewing angle with its adjustable view, dual articulating arms and post-installation adjustment options. It comes with a +5/-15-degree tilt and ±45-degree swivel. You can also adjust it ±3 degrees after installing it to ensure it's oriented to your satisfaction. The retractable arm extends to 16.49 inches and retracts back to 2.4 inches, offering more flexibility for positioning.
It's designed to support TVs ranging from 47 to 84 inches with a maximum weight capacity of 132 pounds. The VESA mounting pattern works with ranges up to 600 x 400mm. This TV mount is suitable for installation on a variety of surfaces such as drywall, concrete or wood and can accommodate wood studs spaced 16 inches apart. This product also features an easy-to-install design with pre-labeled bags, a bubble level, cable ties and all the standard mounting hardware required for installation. With its adjustable view and space-saving design, you can enjoy your favorite movies, shows and games without sacrificing comfort or aesthetic appeal.
Pros
Solid, durable construction
Adjustable with a full range of motion
Compatible with most VESA patterns
Mounts across two studs for bigger TVs
Cons
Images in instructions are too small
Not ideal for smaller TVs
List Price: $129.99
Check on Amazon | Check on Walmart
The Echogear TV Wall Mount is the ideal mounting solution for large flat-panel TVs. This pick can handle TVs up to 90 inches in size or 125 pounds in weight with no problem. This heavy-gauge steel mount is designed to accommodate almost any VESA pattern and is compatible with all major brands such as LG, Sony, Vizio and Samsung. It offers an extended range of motion with a full 130 degrees of smooth swivel, allowing you to pull your TV out 22 inches away from the wall and point it anywhere in the room. Its slim 2.4-inch profile has a fairly sleek look when retracted against the wall.
Installation of this TV mount is easy, too. It comes with everything you need to install the mount including a drilling template and an extensive hardware pack. Thanks to its detailed instructions, you can have your TV mounted and ready to watch in under 30 minutes. Plus, if you encounter any issues during installation, their customer service team is available seven days a week to help and answer questions. This is an excellent option for those looking for a heavy-duty, multi-viewing TV mount for big-screen TVs.
Pros
Features a strong steel construction
Extends and tilts to various viewing positions
Comes with everything needed for installation
Includes clear step-by-step instructions
Cons
Installation assistance may be needed for weight
Ease of movement can be problematic
List Price: $25.99
Check on Amazon | Check on Walmart
The Pipishell Full Motion Wall TV Mount is perfect for mounting smaller TVs or devices to improve their visibility from any angle. Constructed from high-quality steel, it's specifically designed for screens ranging in size from 13 to 42 inches and with a maximum weight of 44 pounds. This pick is compatible with brands such as Samsung, Sony, LG, Vizio, TCL, Element, Sceptre, Hisense and others. It's also suitable for computer monitors and similar devices. Its best feature is its full motion for optimal viewing. This allows tilting up to +9/-11 degrees to prevent glare and swiveling 90 degrees left or right according to the set viewing position. It also rotates 360 degrees for both landscape and portrait orientations.
At 14.59 inches extended and 2.7 inches retracted when not in use, this full-motion TV wall mount is designed to help save space while providing a secure and stable connection between your screen and the wall. Installation is easy as this product comes with step-by-step instructions and all the necessary hardware. If you're looking to achieve a variety of viewing angles for your smaller-sized TV or computer monitor in your bedroom or home office, this is a great option.
Pros
Sturdy construction and materials
Perfect size for bedroom or office space
Adjustable tilt feature for custom viewing
All necessary parts and hardware included
Cons
Doesn't work with all TV sizes
Can be difficult to adjust the tilt feature
List Price: $27.99
Check on Amazon | Check on Walmart
Want to mount your TV without breaking the bank? The Perlesmith Tilting TV Wall Mount is a budget-friendly option for any television between the sizes of 23 and 60 inches. It's constructed from heavy-duty steel and supports up to 115 pounds, making it highly durable. The low-profile design of this mount secures your TV just 1.2 inches away from the wall to provide a sleek appearance. It also features a tilt adjustment of up to seven degrees to reduce glare and improve the viewing angle. As an additional safety measure, the wall mount features a locking mechanism that helps ensure the secure mounting of your TV and can be easily disengaged with a quick-release pull-down strap.
The easy-to-install design is compatible with VESA mounting hole patterns from 75 x 75mm to 400 x 400mm and can be used with 16-inch wood studs for a secure and reliable installation. Anchors are included to mount on concrete or brick walls and other surfaces, making it a truly versatile product that's simple to install in a range of rooms and spaces. With its ease of installation, compatibility and durable construction, this TV mount is a great choice for those looking for an economical way to upgrade their home theater.
Pros
Compatible with most TVs
Excellent range of adjustable tilt angles
Very low-profile design
Great value and affordable
Cons
Not ideal for rear inputs
Limited range of motion
Buying Guide: TV Mounts
Choosing the right TV mount can be difficult with so many features to consider and a wide variety of options available. To help you select the best wall mount for your television and your desired viewing experience, there are several key factors to take into account. In this guide, we'll walk you through the various features to consider when selecting the ideal wall mount for your TV, whether it's a smart TV or one you'll use as a second monitor.
Compatibility
The first step in choosing a TV wall mount is determining if it's compatible with the specific type and size TV you have. Not all wall mounts are designed to fit every TV, so it's important to know what size can accommodate your TV before purchasing.
Video Electronics Standards Association (VESA) standards
When shopping for a wall mount, it's essential to ensure that it meets the Video Electronic Standards Association (VESA) standards for your particular television size and weight. VESA is an international organization that sets display device manufacturing and installation standards. These industry-wide guidelines define the parameters for mounting televisions successfully, ensuring they can be securely mounted to the wall without any risk of tipping over or falling off.
Weight capacity
Along with compatibility and VESA standards, it's also important to verify that the TV wall mount you choose has an adequate weight capacity for your television. Many mounts are designed for smaller or slimmer TVs, so it's essential that you know how much your TV weighs before making a purchase to avoid any potential problems down the line.
Construction material
When selecting a TV wall mount, it's a good idea to check what material it's made from and how durable it is. Wall mounts should be made from high-quality materials that hold up well over time, providing long-term stability without causing structural damage.
Installation method
Before selecting a particular TV wall mount, it's essential that you determine how simple it is to install. Ensure that assembly instructions are clear and easy to understand and that all the necessary installation hardware is included in the package upon arrival.
Swivel and tilt
Depending on the type of viewing experience you're looking for, you may want to consider a TV wall mount with a swivel or tilt adjustment option. This feature allows you to adjust the angle to provide more flexibility when finding the perfect viewing position.
Warranty and return policy
Finally, it's important to take note of any warranty or return policies offered by the manufacturer in case there are any issues down the line or you aren't satisfied with your purchase. Most reputable manufacturers will provide a warranty on their products, so make sure to read up on what kind of protection their policies offer.
People Also Ask
How do I know which TV wall mount is right for my television?
The TV wall mount you need depends on the size and weight of your television. Pay attention to the weight capacity of each mount and its VESA mounting pattern (the four-hole pattern used to attach TVs to mounts). This should match the mounting holes on the back of your TV.
What size TV wall mount do I need for my television?
You will need to measure the VESA pattern of the back of your TV to determine which size mount is suitable for your television. Most manufacturers provide this data in their user manual or you can look up your specific model online.
How much weight can a TV wall mount hold?
The weight capacity varies depending on the type and size of the mount, but most are designed to safely support TVs between 30 and 80 pounds. It's important that you read the product details carefully before purchasing a model to ensure your preferred mount can support the weight of your television.
What's the difference between tilt and full-motion TV mounts?
Tilt mounts allow you to move the screen vertically and horizontally. Full-motion mounts provide even more flexibility, enabling side-to-side swiveling and up-and-down tilting motions. The type of wall mount you should get depends on how much movement you want. If you plan on frequently adjusting its angle or swiveling it to different positions, then a full-motion mount would be best suited for you.
Is it easy to install a TV wall mount?
The installation process of a TV wall mount varies depending on your mount type. Generally speaking, you'll need to secure the mount to the wall, use an optical leveling system to ensure it's level and then attach the plate to the back of your TV.
Are there any safety considerations I should keep in mind when mounting my television on the wall?
Yes, make sure your mount is correctly secured to safely support the weight of your television, even if it gets bumped or moved around accidentally. Also, be aware that TVs should be mounted at least 18 inches away from any heat source like fireplaces or radiators to prevent overheating and damage to your television and your walls.
Why Trust Us
Our commitment to the consumer begins with product selection and ends with the last word we write in each article. Each TV mount is carefully vetted quantitatively through star ratings and the number of reviews qualitatively through careful examination of reviews and the features each one has to offer. Leveraging our team of bargain hunters, we're also always sure to keep your budget in mind while we find the best TV mounts on the market. Our team of experts is dedicated to accurately depicting the pros and cons of each product, translating technical product specifications into information you can understand. Our mission is to make sure you get the most bang for your buck…or, in this case, the finest mounted TV for your buck.