The 20 Best TV Shows of All Time — and Where to Stream Them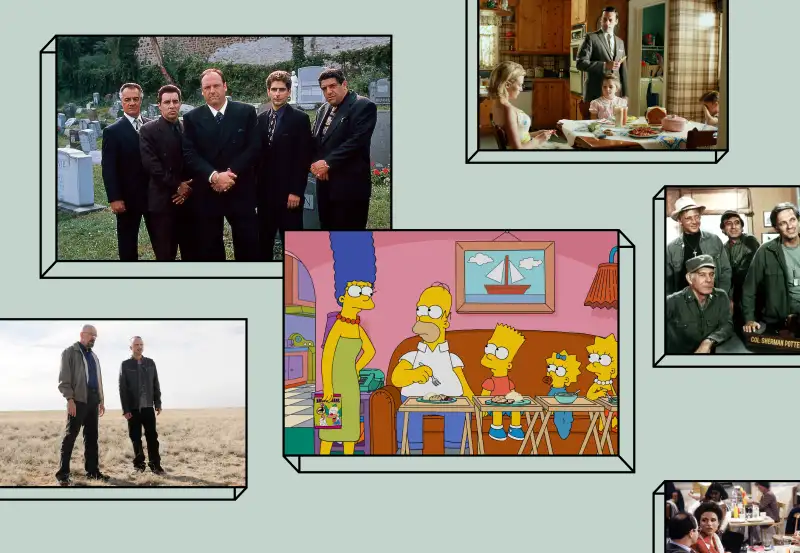 There's nothing hotter than old TV shows, it seems. As companies like NBCUniversal, Apple, and Disney are set to enter the already crowded field with new streaming services to compete with Netflix, Amazon Prime Video, Hulu, and the rest of the pack, the battle for classic television catalogs is becoming ever more fierce.
Just recently, Netflix ponied up $500 million for the domestic rights to Seinfeld, starting in 2021. Hulu previously paid $130 million for the rights to the show in 2015, which now looks like a bargain. (Amazon currently has the international rights to the show.) A few months ago, it was announced that after long runs on Netflix, NBCUniversal will host The Office in 2021 for its upcoming streaming service Peacock, and Friends will be departing the streaming giant to live on the upcoming HBO Max streaming service next year, which will combine the WarnerMedia and HBO catalogs.
The streaming world is getting increasingly crowded as of late. HBO Max and NBCUniversal won't just be competing with Hulu, Netflix, and Amazon Prime, they'll also be fighting for eyeballs against Disney's soon-to-launch streaming service Disney+ and Apple's upcoming Apple+. All of these upstart streaming services will be offering buzzy new shows produced by and starring big names, designed to attract eyeballs. But the people who run the streamers know that while programs like The Handmaid's Tale and Stranger Things might lure viewers to check out their site for the first time, it's the older hits that keep them coming back, which is why Disney Plus will have Malcolm in the Middle and HBO Max The Fresh Prince of Bel Air.
Trying to guess why people like what they like is always difficult, but as Hulu vice president Lisa Holmes once told The Los Angeles Times, "Most people want TV to be entertaining and not feel like work," adding that "nostalgia programming is [like] comfort food."
In other words, sometimes after a hard day at work, you'd rather rewatch the Seinfeld episode where Kramer plays tour guide for the enth time rather than take a chance on one of the hundreds of new shows Netflix is introducing at any given moment.
The business of television has always been based on reruns, and it was once a common axiom in the industry that once a show hit the 100-episode threshold — which at one time was considered the minimum amount necessary for a show to be packaged for lucrative syndication deals — that's when the actors and producers would start making the real money. In many ways, streaming services are just the modern-day equivalent of catching a rerun of Family Guy on your local TBS or Comedy Central affiliate.
With the battle for old shows heating up, we wanted to present a guide to where you can currently find all the best TV shows of all time and stream them for free (with a subscription, of course). But first off, a note about the methods we used. Compiling the most popular television shows of all time based on ratings isn't really a helpful option. Due to changes in entertainment options and how people get their content (be it devices like TiVo, streaming services or the once-ubiquitous DVD box set), a mid-tier hit from the '80s (when most people had three channels and knew they had to catch an episode when it aired or they'd probably never see it again) such as Airwolf had far higher single day ratings than something with a much higher cultural footprint than, say, Game of Thrones. So instead, we're trusting the experts.
Alan Sepinwall and Matt Zoller Seitz, who currently work for Rolling Stone and Vulture, are two of the most trusted television critics in the business. In 2015, they compiled TV (The Book), a ranking of the 100 greatest TV shows of all time. The two constrained themselves to just narrative shows for adults (meaning no late-night, sketch comedy or children's shows), and made their decisions based on a show's influence, innovation, consistency, and so on.
Here's what they decided were the 20 best TV shows of all time (at least as of 2015, before Game of Thrones was at the top of its game), and where you can stream them now.
©20thCentFox/Courtesy Everett Collection—©20thCentFox/Courtesy Everett Collection
Though the hardcore fans will tell you that the show hasn't been good in however many years, the adventures of American idiot Homer Simpson and his long-suffering family have been hilariously holding up a mirror to modern society for 30 years. It's always the right time to remember that "Lisa needs braces." For the past few years, you could watch every episode of The Simpsons on the FX Now app or the Simpsonsworld website if you had the right cable package, as well as the most recent season on Hulu. But starting with the November 12 launch of Disney+, you'll have to shell out $7 a month to rewatch your favorite Bart Simpson chalkboard gag. Disney will have exclusive streaming rights, and it is unclear if the popular Simpsonsworld site will be retired.
Anthony Neste—The LIFE Images Collection via G
We're still debating the ending a decade later. David Chase's groundbreaking tale of a mobster battling personal demons revolutionized the way we thought of television. Without Tony Soprano, we wouldn't have had a million articles about television is now better than film. HBO will never, ever give up control of its cherished jewels, so you can look forward to being able to rewatch "Pine Barrens" on HBO Go whenever you like. And though the differences between HBO Go and HBO Max are a bit unclear at the moment, it's a safe bet that the highlights of the HBO catalog will also be available on the more expansive (and expensive) service. Also, HBO will occasionally share a few of its titles with other services, though never exclusively, and you can also currently stream The Sopranos for free with an Amazon Prime membership.
HBO / Courtesy: Everett Collection—HBO / Courtesy: Everett Collection
If you've been alive this decade, you've probably been asked if you've watched The Wire, David Simon's sprawling and often heartbreaking tale of police, drug dealers, and civic decay. A lot of shows get compared to a novel, but The Wire had the incisive detail and richly felt character work to earn the comparison. You can finally watch it on HBO Go, as well as Amazon Prime.
©NBC/Courtesy Everett Collection—©NBC/Courtesy Everett Collection
Mike Schur, co-creator of Parks and Recreation and The Good Place, has called Cheers the greatest comedy of all time, and the crackling banter between bartender Sam Malone and his regulars remains as refreshing as a cold one. While some streaming service may one day pull rank and try go exclusive, Cheers is currently available on Netflix, Hulu, Amazon Prime, and CBS All Access, which is as generous as a nice happy hour special.
©AMC/courtesy Everett Collection—©AMC/courtesy Everett Collection
The story of Walter White's transformation from a hapless school teacher to a hardened drug lord features one of television's greatest performances, courtesy of Bryan Cranston. Breaking Bad was a modest performer for AMC when it began, but the show's creator Vince Gilligan has said that its popularity truly exploded once people discovered it on Netflix. Netflix will soon be premiering a sequel film titled El Camino: A Breaking Bad Movie, featuring Aaron Paul's sidekick character Jesse Pinkman, so don't expect the series to be going anywhere else anytime soon.
©AMC/courtesy Everett Collection—©AMC/courtesy Everett Collection
AMC's other groundbreaking drama has been available on Netflix since the early days of the streaming service, and it is still the only place to watch '60s advertising wizard Don Draper drink, smoke and cheat on his wife. Come for Don's bad behavior, but stay for his protege Peggy Olson's slow transformation into a feminist icon.
©Columbia Tristar/Courtesy Everett Collection—©Columbia Tristar/Courtesy Everett Collection
As noted above, you can watch Jerry, George, Elaine and Kramer do a whole lotta nothing on Hulu, or catch a few seasons on the TBS app if you have the right cable package. But in 2021, Netflix will swoop in like a close talker and claim the show exclusively.
Courtesy Everett Collection—Courtesy Everett Collection
The tale of a bandleader and his lovably frustrating wife was the first show inducted into the Television Hall of Fame. Rightfully so, as I Love Lucy helped establish the many of the conventions and comedic rhythms we associate with sitcoms. Starring Lucille Ball and Desi Arnaz, it was the first show to be filmed before a live studio audience, and the conveyer belt scene remains the platonic ideal of physical comedy. The rights to older television shows can often be complicated for a variety of reasons (often owing to music royalties and other contractual hang-ups, or the belief that there is a limited interest in television's history). Some older classic shows are still not available to stream in their entirety (or at all, in some cases), but you can watch a selection of I Love Lucy episodes on Amazon Prime, CBS All Access, and Hulu.
Allstar Picture Library / Alamy Stock Photo
This revisionist Western about the struggle of a South Dakota town to become part of America in the 1870s featured one of the greatest, and most profane, performances in the medium's history, courtesy of Ian McShane's Al Swearengen. You can streaming all the cursing and Timothy Olyphant smoldering on HBO Go and Amazon Prime.
Courtesy Everett Collection—Courtesy Everett Collection
Norman Lear is the King of Sitcoms, and his story of Archie Bunker and the family that puts up with him is his crown jewel. Never before had a television show explored social issues ranging from generation divides to sexism with an empathic eye, while still getting laughs amid the insights. None of the major services have scooped it up, but some episodes are available on smaller services like Philo and Crackle.
©20thCentFox/Courtesy Everett Collection—©20thCentFox/Courtesy Everett Collection
One of the longest running and most popular televisions shows to ever air, M.A.S.H. pioneered the blending of comedy and drama with its look at army doctors in South Korea, largely understood to be a sideways commentary on the then ongoing Vietnam War. The show was very experimental, being one of the first to try real-time storytelling a la 24 and the sort of dreamlike vignettes that The Sopranos would later embrace. It is available on Hulu and Philo.
Robert Phillips / Everett Collection—Robert Phillips / Everett Collection
Beyond its famous catchphrase "Let's Be Careful Out There," the police drama Hill Street Blues was famous for pioneering multi-episode, season-length serialized storytelling, and embracing moral ambiguity in its depiction of the violent squalor of 1980s' urban living. It is available on Hulu.
©20thCentFox/Courtesy Everett Collection—©20thCentFox/Courtesy Everett Collection
Starring Michael Chiklis, this tale of corrupt police officer Vic Mackey was a little early to the anti-hero trend, and is frequently considered to have one of the most perfect series finales of all time, as well as a plethora of audience shocking moments. (Let's just say that being in the orbit of Mackey often doesn't end well for people.) Plus, it is never unwise to spend time with Walton Goggins. You can stream it on Hulu.
Courtesy Everett Collection—Courtesy Everett Collection
Rod Serling's Sci-Fi anthology show is so influential that its very name has come to be synonymous with "something weird is going on," and episodes such as "It's a Good Life" and "Time Enough at Last" have become akin to American myths. The Twilight Zone has been rebooted several times, recently by Jordan Peele, but it's the original that you really want, and you can find selections on Netflix, Amazon Prime, CBS All Access, and Hulu.
©20thCentFox/Courtesy Everett Collection—©20thCentFox/Courtesy Everett Collection
(Ron Howard Voice) "Arrested Development was the story of a wealthy family who lost everything, and the one son who had no choice but to keep them all together." The self-reflexive Jason Bateman comedy accrued a loyal cult following on Fox, and one of Netflix's first moves into developing its own content was to bring the show back in 2013 for a new season, and then for two more seasons that wrapped everything up this year. After shelling out for more episodes, it seems safe to assume Arrested Development will be on Netflix for a long time, though you can find the Fox-era episodes on Hulu as well.
Alamy Stock Photo—Alamy Stock Photo
Co-created by and starring the late Garry Shandling, The Larry Sanders Show would prove hugely influential to a generation of hip comedies such as 30 Rock and The Office. A satire of the behind-the-scenes of a late night talk show, the show was one of the first to ditch the laugh track, and embrace cringe humor, and it even beat Aaron Sorkin to the walk-and-talk. You can find it on HBO Go.
Courtesy Everett Collection—Courtesy Everett Collection
While the catchphrase "one of these days, Alice, pow! Straight to the moon!" hasn't aged all that well, The Honeymooners remains a comedy classic, memorable for the comedic interplay between Jackie Gleason, Audrey Meadows and Art Carney and the depiction of working class Brooklyn through the eyes of Gleason's busdriver Ralph Kramden. The show was famously cancelled after 39 episodes, but it became one of the earliest syndication hits, and has been remade all over the world. A selection of episodes is available on Amazon Prime.
18. Louie
©FX Networks/Courtesy Everett Collection—©FX Networks/Courtesy Everett Collection
(Tugs on collar nervously, makes an "eesh" face.) So, remember that Sepinwall and Zoller Seitz published their book in 2015, a.k.a. a million years ago. Suffice to say, after the revelations of Louie CK's sexual harassment, no one wants to work with him, including streaming services. Louie is not available to be streamed, though like all of these other shows you may be able to borrow DVDs of the program from your local library for free.
John G. Zimmerman Archive/Courtesy Everett Collection—John G. Zimmerman Archive/Courtesy Everett Collection
The pioneering and Emmy-showered sitcom blended grounded, adult office politics, second-wave feminism and big punchlines. (The episode where Moore's news producer character Mary Richards struggles not to laugh at a clown's funeral was called the greatest episode of television by TV Guide.) It also featured a bench so deep that it spawned three separate spin-offs. It is available to stream on Hulu and Philo.
©20thCentFox/Courtesy Everett Collection—©20thCentFox/Courtesy Everett Collection
The stylish TV series about two FBI agents — played by David Duchovny and Gillian Anderson in most seasons — investigating paranormal and just plain weird activity was one of the defining shows of the '90s, and as episodes like the alien abduction farce "Jose Chung's From Outer Space" proved, it was often funnier than people remember. It's spawned a few movies, spin-offs and two recent revival series, as well as the career of Breaking Bad creator Vince Gilligan. And the truth is out there: you can stream it on Hulu and Philo.
We've included affiliate links into this article. Click here to learn what those are.