These Are the 15 Best Airports in the U.S., Ranked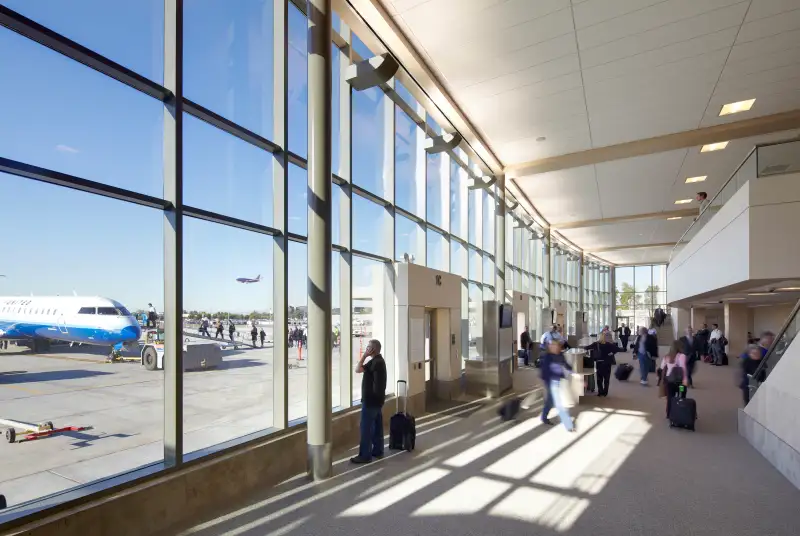 Tim Griffith—Photo ©Tim Griffith. All Rights Reserved
Long lines. Delayed flights. Security pat-downs. It's no wonder that getting through the airport is generally people's least favorite part of any trip.
You may not have noticed the shift. Unfortunately, many of the largest U.S. airports—LAX in California, John F. Kennedy in New York, O'Hare in Chicago—are still very much in the "needs improvement" category. (In fact, the three worst airports on our list are all in one big metro area.)
And yet, there are airports in the U.S. that have managed to change the way travelers feel about these travel hubs.
"To be a high-performing airport, you've got to do the basic blocking and tackling well—you've got to have decent access, good security, restrooms have to be clean," says Mike Taylor, who leads J.D. Power's airport research. "But what separates the really high performers from the good airports is the food, beverage and retail."
To find the best airports in the U.S.—those that reduce travel headaches rather than creating them—Money analyzed 80 of the nation's top airports. We took into account customer experience scores from J.D. Power, reader reviews from Travel + Leisure, on-time arrival rates, security delays, and traveler amenities such as shops and restaurants. What follows are the top 15 U.S. airports.
---
courtesy of John Wayne Airport
1. John Wayne Airport (SNA)
Santa Ana, Calif.
-On-time arrivals (as a percent of total): 84.98%
-Number of restaurants: 24
When you think of airports, the last thing that comes to mind is calm. But that's exactly what John Wayne airport is going for. "They're trying to create the feeling of serenity in the airport—something that's at a premium these days," Taylor says. The airport limits TV monitors, keeps the volume and frequency of overhead announcements low, and even repainted the terminal recently in neutral, stress-reducing tones.
That attention to detail is certainly paying off for this U.S. airport. John Wayne—which served about 10.4 million passengers in 2017— took top marks from J.D. Power, scoring particularly high in areas including airport parking and access, as well as the security processes. The airport also provides a number of amenities, including 24 restaurants and free Wi-Fi while you wait for takeoff.
---
courtesy of Portland International Airport (PDX)
2. Portland International Airport (PDX)

Portland, Ore.
-On-time arrivals: 84.46%
-Number of restaurants: 32
---
James Kirkikis—Shutterstock
3. Indianapolis International Airport (IND)

Indianapolis, Ind.
-On-time arrivals: 81.18%
-Number of restaurants: 25
---
John Swain—Sacramento International Airport
4. Sacramento International Airport (SMF)

Sacramento, Calif.
-On-time arrivals: 81.15%
-Number of restaurants: 22
---
Larry Mayer/Billings Gazette Staff
5. Bozeman Yellowstone International Airport (BZN)

Belgrade, Mont.
-On-time arrivals: 85.75%
-Number of restaurants: 2
---
6. T.F. Green Airport (PVD)

Warwick, R.I.
-On-time arrivals: 82.35%
-Number of restaurants: 11
---
courtesy of Tampa International Airport
7. Tampa International Airport (TPA)

Tampa, Fla.
-On-time arrivals: 80.44%
-Number of restaurants: 40

---
courtesy of Jacksonville International
8. Jacksonville International Airport (JAX)
Jacksonville, Fla.
-On-time arrivals: 80.59%
-Number of restaurants: 13

---
9. Southwest Florida International Airport (RSW)
Fort Myers, Fla.
-On-time arrivals: 80.49%
-Number of restaurants: 18
---
courtesy of Savannah/Hilton Head International Airport
10. Savannah/Hilton Head International Airport (SAV)

Savannah, Ga.
-On-time arrivals: 81.35%
-Number of restaurants: 10
---
11. Cincinnati/Northern Kentucky International Airport (CVG)

Hebron, Ky.
-On-time arrivals: 83.25%
-Number of restaurants: 21


---
Allen J. Schaben—LA Times via Getty Images
12. Long Beach Airport (LGB)

Long Beach, Calif.
-On-time arrivals: 80.99%
-Number of restaurants: 7


---
courtesy of Pittsburgh International Airport
13. Pittsburgh International Airport (PIT)

Pittsburgh, Pa.
-On-time arrivals:82.13%
-Number of restaurants: 33
---
14. Manchester-Boston Regional Airport (MHT)

Manchester, N.H.
-On-time arrivals: 82.63%
-Number of restaurants: 10

---
Tim Greenway/Portland Press Herald—Getty Images
15. Portland International Jetport (PWM)

Portland, Maine
-On-time arrivals: 78.94%
-Number of restaurants: 5
With additional reporting by Sergei Klebnikov