The Best Vitamix Blenders for Your Money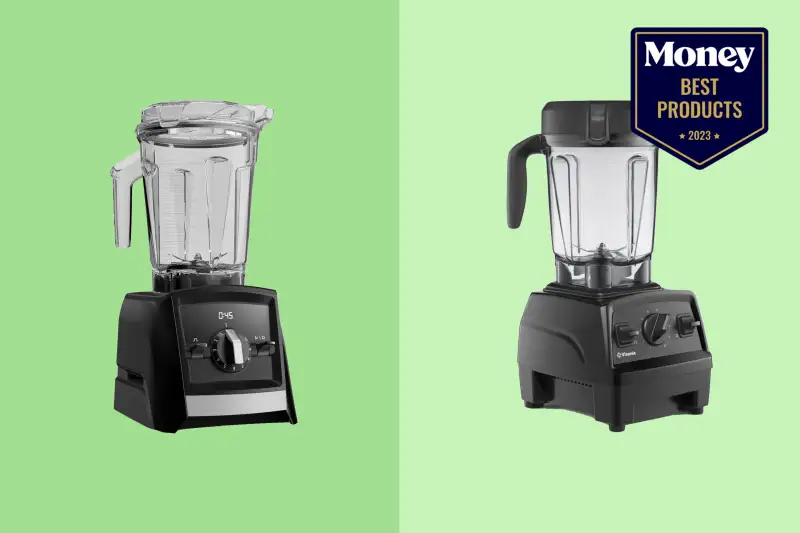 Do you love smoothies and juices? Not a fan of cutting fruits and veggies into smaller bits when you're making them, though? If that's the case, you should upgrade your kitchen appliance collection with a Vitamix blender. These blenders are known for their power and durability, so you can be sure that you're getting a quality product that can help you make a lot more than just smoothies.
These blenders are equipped with state-of-the-art technology and powerful motors that can blend and pulverize practically any ingredients you throw in them. From at-home models to professional-grade options, Vitamix has a range of blenders for every budget. We've taken a look at some of the premier Vitamix blenders of 2023 to help you make everything from soups, sauces, shakes, smoothies and more.
Best Overall: Vitamix Explorian Blender
Most Durable: Vitamix 5200 Blender
Great Value: Vitamix 750 Professional Series Blender
Most Intuitive: Vitamix VM0197 Explorian Blender
Smart Features: Vitamix A2300 Ascent Series Blender
Comparing the Top Vitamix Blenders of 2023
List price: $289.95 - $381.99
The Vitamix Explorian Blender is a professional-grade appliance that can help you take control in the kitchen. With its ten variable speed settings, you can conveniently control the texture of the ingredients you're blending, allowing you to make restaurant-style smoothies, purees and soups in the comfort of your home. It's large enough for bulk mixing, yet it's not so big that it won't fit on your counter or underneath your cabinets. Plus, its blades are made of hardened stainless steel that can handle the toughest ingredients without bending or becoming dull.
Cleaning this Vitamix blender is extremely easy, as its container and lid are both dishwasher-safe. Plus, all of its parts are BPA-free, so you won't have to worry when mixing up drinks for you and your family. Its pulse feature also allows you to layer different ingredient textures on top of each another, making it great for salsa and hearty recipes. To top it all off, this blender comes with a three-year full warranty, so you can rest assured that you'll be investing in a high-quality product. Thanks to its rugged construction, easy cleanup and versatile functionality, this Vitamix blender is unquestionably our top pick.
Pros
Pulse feature to blend tougher ingredients
Variable speed settings for versatile blending
Hardened, rust-resistant blades
Comes with a tamper and recipe book
Cons
Might feel a bit bulky
Quite loud at max speed settings
List price: $389.00 - $427.90
The Vitamix 5200 Blender is an excellent choice for anyone looking for a powerful, durable and user-friendly appliance. Its variable speed control allows you to easily adjust the blending speed (even mid-blend) depending on your desired texture, while the hardened stainless steel blades can make quick work of tough ingredients. What's more, its pitcher is big enough to blend medium to large batches for the whole family. It also features a radial cooling fan to keep the motor from heating up, while its thermal protection system can ensure that you're able to enjoy efficient blending for years to come.
Another great thing about this Vitamix blender is that its pitcher boasts an impressive shape and design that folds ingredients and cycles them around the blades for smoother, quicker blends. You can even make your own baby food by toggling blending power to satisfy your tot's tastebuds, while the appliance's six-foot power cord should be long enough to reach an electrical outlet no matter where you set it up in your kitchen. Because it's strong and durable, this blender can offer consistent results, even when used regularly.
Pros
Self-cleaning 64-ounce pitcher
Features aircraft-grade stainless steel blades
Speed control knob for easy adjustments
Backed by a 7-year full warranty
Cons
The lid is a bit flimsy
May create a burning smell
List price: $573.99 - $629.95
The Vitamix 750 Professional Series Blender offers you a powerful, efficient solution for blending and puréeing even the most stubborn of ingredients. It comes with five pre-programmed settings and 10 speeds, helping you enjoy smoothies, shakes, and anything else just the way you like them. This variable speed control lets you change up your mix's texture, while the pulse function can be great for any chunkier recipes you want to make. The blades spin fast enough to generate higher friction heat, blending ingredients thoroughly and taking them from cold to hot in approximately six minutes.
This Vitamix blender's 64-ounce, low-profile container can help you whip up large batches of tasty treats while remaining easy to stash under most kitchen cabinets. It's equipped with hardened stainless steel blades to blend and grind all kinds of ingredients into a smooth texture, and it features a powerful motor that won't heat up no matter how often you use it. With your purchase, you'll receive a cookbook containing recipes that are both delicious and nutritious, along with a low-profile tamper that can prevent ingredients from getting lumped together.
Pros
Pre-programmed mixing settings for added convenience
Laser-cut blades for increased efficiency
Comes with a tamper to remove lumps
Cons
Might make a gurgling noise during use
Prone to movement while mixing
List price: $299.95 - $431.99
If you want to take your culinary creations to the next level, look no further than the Vitamix VM0197 Explorian Blender. This professional-grade blender offers variable speed control, which allows you to make everything from smooth purées to hearty soups while avoiding any annoying lumps. It's also equipped with a powerful motor that can turn heavy powder, tough veggies, and even frozen fruits into a smooth blend no matter how many times you use it. Its pitcher is the ideal size for blending medium-sized batches, with its three-inch cutting blades offering consistent results that you can be proud of.
This Vitamix blender's radial cooling fan and thermal protection system ensure that it won't overheat as you tend to your ingredients. For added convenience, there's the handy self-cleaning feature that you can take advantage of after each use; all you need to do is blend a drop of dish soap and warm water for about 30 to 60 seconds to get the container ready for next time. It also comes with a mini tamper so that you can push ingredients into the blades for a smoother blend, allowing you to enjoy drinks and mixtures that are lump-free.
Pros
Metal drive system for enhanced blending
Mini tamper included to avoid lumps
Comes with a cookbook
Cons
Not very stable during use
Lid can come off easily while blending
List price: $449.95 - $499.95
The Vitamix A2300 Ascent Series Blender is a professional-grade appliance designed to simplify culinary creations and kitchen tasks. Its pitcher boasts enough space for preparing large batches, so you can make sure everyone who wants a smoothie gets one. Its motor base automatically adjusts its maximum blending time depending on the size of your container, and you can pair it with the Vitamix Perfect Blend app to find out all that the appliance can do and unlock more than 500 delicious and nutritious recipes. Plus, with its sleek and stylish design, it's sure to blend in with almost any kitchen decor without being an eyesore.
This Vitamix blender also features variable speed control and a pulse mode that allows you to change up the texture of whatever you're blending. Additionally, its built-in digital timer can ensure your ingredients are blended for the appropriate amount of time. What makes this blender stand out from other options on our list is its wireless connectivity, which allows you to conveniently control this blender from your tablet or smartphone.
Pros
Self-detect container technology for added convenience
Intuitive digital timer for quick operations
Can be controlled from your smartphone
Cons
Not ideal for single servings
Not very powerful
Finding Your Next Vitamix Blender: A Buyer's Guide
If you're searching for an appliance that's powerful enough to pulverize even the toughest ingredients so that you can enjoy lump-free drinks, then look no further than a Vitamix blender. But, unfortunately, it's not that easy; choosing the ideal model from the wide range of options available can be hard. To help you out, we've put together this comprehensive buying guide to help you make an informed decision when shopping for a Vitamix blender in 2023.
How To Choose a Vitamix Blender
Power/speed settings
Most Vitamix blenders offer a range of power and speed settings that can be adjusted to blend ingredients into various textures and consistencies. You should choose a model that provides the right balance of power and speed for your needs.
Container size
Container size is an important factor to consider when selecting a Vitamix blender, as it will determine how much food or liquid it can hold. If you'll be using the blender primarily for personal use at home, a smaller container will likely suffice. If you'll be using it to prepare meals or drinks for larger groups of people or in a professional setting, though, you'll want to opt for a model with a larger container.
Blades
Blade design is a key factor to consider when choosing the right Vitamix blender for your needs, as it affects how well the blender can perform its functions. Blades should be made of stainless steel and be able to endure the wear and tear of frequent use. They should also be sharp enough to effectively blend ingredients together for consistent results. You should look for models with unique blade designs that can handle more difficult tasks, such as pulverizing nut butter or crushing ice cubes, with ease.
Motor type
Vitamix blenders come with either standard motors or commercial-grade motors that offer more power and durability. A commercial-grade motor is typically more powerful and will last longer than a standard motor, making it better suited for frequent use or when making larger batches. If you plan on using your blender frequently, consider investing in one with a commercial-grade motor; this will help it get the job done faster, and there will be less chance of it overheating or breaking down over time.
Versatility
Look for a Vitamix blender that's capable of crushing ice, blending smoothies, pureeing vegetables, grinding spices and making nut butter, all in one device. Versatile machines are great if you plan on using them regularly throughout the week, as they offer more value than those built exclusively for one function, like crushing ice cubes or only making juice drinks.
A versatile Vitamix blender can also be useful for incorporating small batches of ingredients into recipes without having to use a large countertop appliance every time you want to do this. You can find many models that come with interchangeable attachments so that you can do a lot more than just blending.
Durability
Vitamix blenders are designed with strong materials (like stainless steel) that can stand up to frequent use over time. Check out customer reviews and ratings to get an idea of the durability of certain models, and look for features like stainless steel blades or metal drive sockets that indicate a higher level of quality construction.
Noise level
Nobody wants loud kitchen appliances disrupting their peace and quiet. When choosing a Vitamix blender, make sure it has a low noise level so that you don't have to worry about making a racket while blending ingredients at high speeds. Look for models with sound-absorbing technology, which reduces the blender's noise output during use.
Controls
Make sure you consider controls when selecting the right Vitamix blender for your needs, as this determines how easy your appliance is to use. Most Vitamix models come with adjustable dials and digital displays that allow you to conveniently adjust settings (such as speed and power levels) during use.
Keep an eye out for models that come with preset functions; these will let you quickly select pre-programmed options with the touch of a button instead of having to manually adjust the blender's settings each time you want to use it.
Ease of use
Find out how easy a Vitamix blender is to put together and use before making your purchase. Many blenders come with preset functions and one-touch operation for added convenience when blending smoothies or other beverages.
Additionally, some models may feature LCD screens that display useful information, like preset modes and remaining time for each cycle. It's a good idea to look for a Vitamix blender that is user-friendly and makes blending simpler so that you don't have to waste time fumbling around with complex controls every time you want to make a smoothie or soup.
Additional features
Some high-end Vitamix blender models come with additional features such as pulse and heat settings, which are helpful when making thicker soups or sauces that require extra processing power or controlled heating capabilities. Think about the type of food items you'll be preparing before you finalize your purchase so that you know which additional features would be useful for you.
Benefits of Using Vitamix Blenders
Blenders from Vitamix are excellent kitchen gadgets, and you certainly get what you pay for. Each model of these blenders is carefully made and designed to quickly mix and cut through even the toughest ingredients, allowing you to awaken your inner chef and simplify your meal prep.
You should only buy a premium blender if you will use it every day to chop, puree or blend different foods. If you can't start your day without your favorite smoothie or shake, consider buying the most powerful Vitamix blender you can find. If you only make shakes and smoothies occasionally, though, you're probably better off with a less expensive model.
A Vitamix blender's durability is another reason to invest in one. These blenders are made to last years and not show any signs of wear and tear, even after regular use. Almost every model comes with a plastic or metal tamper that lets you adjust or press down on your ingredients without lifting the lid or turning off the power, which means you don't always have to add a lot of liquid to make things move and blend.
Another great thing about Vitamix blenders is that you can easily get your hands on smart options that come with all the bells and whistles. Smart blenders can be a great choice if you want to use your phone or other gadgets to control your blender while sitting on the couch.
People also ask
What type of attachments do I get with a Vitamix blender?
You can improve your experience with your Vitamix blender by using the different attachments and accessories that come with it or are available for purchase separately. Whether you want to make a smoothie for yourself or blend ingredients for a large batch of soup, you should look for Vitamix blenders that come with extra containers of different sizes.
Some models also come with holders for the tamper, which can usually be taken off for easy storage. You can also get a blender with a container that has an aerating disc, which makes it easy to whip and mix different ingredients. Also, a grain container simplifies the task of turning whole grains into fine flour. Some blenders even come with a food processor attachment, which makes it a versatile appliance that can help you blend, whip or chop ingredients in a flash.
How much does a Vitamix blender cost?
Vitamix is a high-end brand, and its blenders usually have a high price tag attached. They range in price from around $400 to $600, depending on the model and its features. Think about the features you need and how much you're willing to spend to get the most value for your money. If you want to save money, choose a simple model with manual controls. You can also find refurbished Vitamix blenders for sale, which cost much less than brand-new ones.
Can I use my Vitamix blender to chop up food?
Most Vitamix blenders don't come with the slicing and shredding disc that most food processors do, so you can't use them to shred cheese or slice vegetables into thin pieces. They can often handle other everyday tasks, though, like making chunky salsas and dips at low speeds so that the ingredients don't get too small.
Some Vitamix blenders also come out with different food processor attachments, which resemble a traditional 12-cup food processor bowl and feature two discs that can slice or shred, along with a blade that can do both. With that said, these attachments only work with more advanced models.
How do I clean a Vitamix blender?
Vitamix blenders are pretty easy to clean, as their containers are self-cleaning for the most part. Just put a drop of dish soap and some water in the blender jar and turn it on high speed to thoroughly clean it and scrape off any gunk. You can also set up a cleaning cycle that will clean the blades and jar completely, after which you can use a damp cloth to clean the bottom of the jar. Additionally, there are special brushes available that are designed specifically for cleaning the inside of the container, as well as any other hard-to-reach areas inside the unit.
Why do so many people use Vitamix blenders?
The reason Vitamix blenders are so popular is easy to explain: they're powerful, versatile and can be used in many different ways. When you pair exceptional quality with impressive power, it's easy to see why so many people talk about these blenders.
Are there any safety concerns when using a Vitamix blender?
Yes, there are. Just like any other kitchen appliance, there are safety concerns when using a Vitamix blender, such as potential burns from hot liquids or sharp blades slicing into the skin if not handled properly. If you've purchased a blender that's not stable during use, make sure to hold it while it's blending to avoid a mess. You should also make sure you don't overload the container by starting with small batches and using the built-in tamper feature to push ingredients down for proper blending. Also, be sure to always read the user manual before using your Vitamix blender to find out important safety instructions and tips on how to avoid injury while operating it.
Why trust us
Our commitment to the consumer begins with product selection and ends with the last word we write in each article. Each Vitamix blender is carefully vetted quantitatively through star ratings and a number of reviews qualitatively through careful examination of reviews and the features each one has to offer. Leveraging our team of bargain hunters, we're also always sure to keep your budget in mind while we find the best blenders on the market. Our team of experts is dedicated to accurately depicting the pros and cons of each Vitamix blender, translating technical product specifications into information you can understand. Our mission is to make sure you get the most bang for your buck…or in this case the most blend for your buck.
More Blenders: