The Best Walking Shoes for Women for Your Money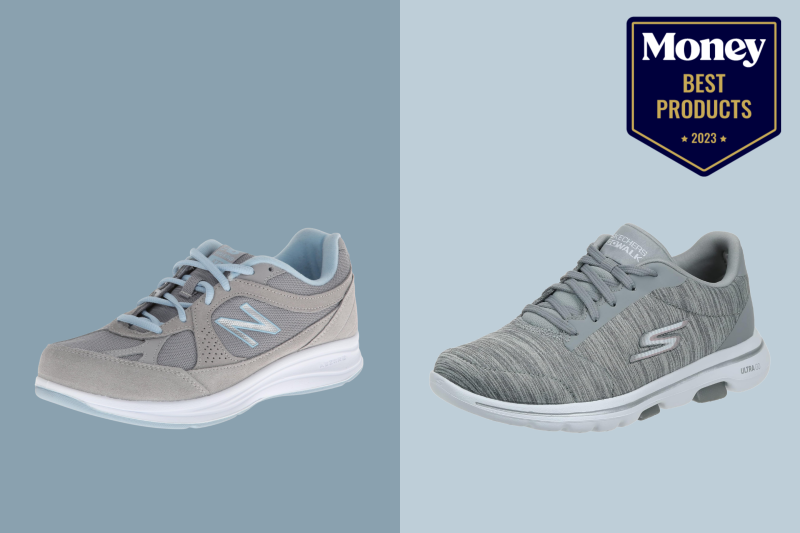 Striding fearlessly into the day requires not just confidence but also the right shoes. Walking shoes for women are more than just an accessory; they are an essential tool for getting active and achieving your fitness goals in comfort and style. This type of shoe is designed to help you maintain the optimal stride and prevent injuries. Whether you're trying to hit a daily goal for steps or simply want to stay comfortable while exploring a new place on vacation, having the right pair of walking shoes is a must.
For the active and stylish woman, we've selected the top walking shoes for women of 2023 to keep you moving. From options available in versatile sizing to ones designed to withstand the harsh elements, there's a pair of walking shoes for everyone. So, let's read on and uncover the finest footwear to make your walks more enjoyable.
Best Overall: Akk Womens Walking Shoes
Most Supportive: Ryka Womens Devotion Plus 3 Walking Sneakers
Easiest To Clean: Skechers Womens Go Walk 5-True Sneakers
Best Size Selection: New Balance Womens 877 V1 Walking Shoes
Most Affordable: Reebok Womens Walk Ultra 7 DMX Max Shoes
Comparing The Best Walking Shoes for Women of 2023
List Price: $45.99
Step into a world of ultimate comfort and style with the Akk Women's Walking Shoes. Being on your feet all day can be tiring, but not with these shoes. Crafted meticulously for active women, these shoes are light as a feather at only about 0.8 pounds and are packed with features that ensure a snug fit and all-day comfort. The built-in memory foam insoles provide a comforting cushion while the breathable fabric lining keeps your feet cool. So, whether you're rushing to work or going for a leisurely walk, you can say goodbye to sore, sweaty feet.
These walking shoes for women feature non-slip MD soles to ensure you have plenty of grip while walking on slipper surfaces. The outsoles are also flexible and durable to ensure they can withstand the rigors of walking in both indoor and outdoor environments. With no shoe-lacing required, the one-piece knit upper and slip-on design further enhance the convenience factor, making them easy to wear and take off. These shoes look as good as they fit, too. Available in 38 colors, there's an option for every woman's personal preferences. Thanks to their lightweight, supportive, and convenient design, these women's walking shoes are the best overall option on our list.
Pros
Comfortable and stylish knit design
Easy to slip on and off
Lightweight and supportive fit
Cons
Sizes may run small
Light colors stain easily
List Price: $62.71 - $99.95
The Ryka Women's Devotion Plus 3 Walking Sneakers are an absolute game changer if you're searching for a supportive pair of shoes specially designed for an active lifestyle. They're an updated version of a top-rated favorite, featuring a narrower heel, a roomier toe, and softer foot cushioning. The eight-piece rubber sole is all about increased traction and durability, ensuring these walking shoes can hold up for many miles. The soft, Lycra-lined tongue and collar have a built-in cushion for enhanced comfort.
With a weight of 8.7 ounces per shoe and a heel-to-toe drop of 11 mm, the Devotion Plus 3 is not only light and comfy, but it also offers premium support for long-distance walking and injury prevention. Ideal for walking on pavement, a treadmill, or the track, these shoes feature RE-ZORB® responsive cushioning for shock absorption and impact protection. The anatomical molded EVA insole provides extra arch and heel support. They're also made from breathable engineered mesh, with iridescent overlays that complement their utility with a dash of style. From navy and pink to bright white, this pick comes in 14 different designs so you can choose one that best suits your tastes.
Pros
Cushioning provides shock and impact absorption
Ample toe room and excellent support
Available in bright and subtle color options
Cons
May have an odd odor upon arrival
Costs more than some other options
List Price: $42.06 - $44.99
Lace-up and prepare to take on the world with the Skechers Women's Go Walk 5-True Sneakers, designed with comfort and convenience in mind. With a range of features for breathability, the heathered knit mesh upper and air-cooled Goga mat insole are not only soft but will keep your feet cool and dry on hot days. This insole is also moisture-wicking and designed for high-impact activities to withstand the stresses of long walks. The dual-density rubber soles ensure stability and traction on a range of surfaces, whether you're walking on pavement or a trail.
Skechers' Comfort Pillar Technology and responsive Ultra Go midsole offer excellent support and flexibility. These women's walking shoes are machine-washable for easy cleaning, so you don't have to worry about hand-scrubbing them to keep them looking (and smelling) nice. While this product only comes in five color combinations, it's available in 31 sizes — including half and wide options.
Pros
Comfortable and true to size
Machine-washable construction for easy cleaning
Stylish design and great support
Cons
Not a slip-on design
Some customers complain cushioning doesn't last long
List Price: $69.96 - $79.95
If you're searching for the perfect fit, consider the New Balance Women's 877 V1 Walking Shoes. Designed for ladies with feet of virtually all shapes and sizes, this product is available in 54 size options. Ranging from five to 12, you can choose from full and half sizes in standard, narrow, wide, and extra-wide fits. Ensuring your comfort doesn't end there, though. This pair of women's walking shoes is made from 100% suede and mesh for breathable, flexible comfort, keeping your feet cool and snug.
The rubber sole offers reliable traction and grip on various surfaces, making these shoes versatile for indoor and outdoor walking. Additionally, the 11 mm heel-to-toe drop helps maintain more natural ankle and foot positions with each step's impact to ensure a comfortable stride. This product may also be eligible for Medicare reimbursement and is assembled in the USA. It's available in silver/light blue and black/pink styles.
Pros
Excellent range of sizes
Wide toe box without increasing shoe width
Suitable for people with foot issues
Cons
Rounded shoe laces are very long
Additional insole may be worthwhile for extra comfort
List Price: $39.99
For under $40, the Reebok Women's Walk Ultra 7 DMX Max Shoes deliver long-lasting comfort at a budget-friendly price. Equipped with MemoryTech foam, these walking shoes for women are ideal for your afternoon stroll or long days running errands around town. Trust us, your feet will thank you for the exceptional soft insole and DMX cushioning, which work together to support every part of the foot. But it's not just about the comfort — durability is also a crucial feature in this pick.
The robust rubber outsole is designed to provide sufficient traction, whether you're pounding the pavement or exploring diverse terrain. The leather and textile construction combines durability for long-lasting wear and flexibility. The mesh upper enhances breathability as well. These affordable women's walking shoes are available in seven neutral colors, making them an excellent choice for ladies who prefer a subtle style or are on their feet all day at work.
Pros
Durable construction for long-term wear
Affordable price for comfort-oriented features
Simple style for versatile use
Cons
Laces are very long
Narrow fit could be uncomfortable for some individuals
Buying Guide: Walking Shoes for Women
Walking is a simple, effective way to exercise and stay healthy. Whether you're a casual stroller or a power walker, the right walking shoes can enhance your experience and protect your feet from discomfort and injury. Walking shoes are designed specifically for the unique biomechanics of the walking stride. They aim to provide comfort, support, and durability to make walking more enjoyable and beneficial. With countless options available on the market, choosing the right pair can be a daunting task. By understanding each product feature, you can make an informed choice that matches your needs and preferences. In this guide, we'll walk you through each factors to consider when selecting the best walking shoes for women.
Comfort
Whether you're walking for exercise, commuting, or leisure, comfort is paramount. Look for shoes with excellent cushioning, sufficient arch support, soft lining, and a roomy toe box. The shoe should fit well but not too tightly, allowing space for the natural swelling of the feet that can occur during a long walk.
Material
The shoe's material can make a significant difference in terms of breathability, weight, and longevity. Leather offers great support and durability but may lack ventilation, while synthetic materials might provide better breathability but may wear out faster. In terms of insoles, memory foam is a popular choice for providing plushy comfort. Mesh features, whether used in the upper or side paneling, are ideal for hot weather due to their superior breathability.
Support
The right support can help prevent foot and leg discomfort. Shoes with proper arch support are important for ensuring comfort and injury prevention, especially for those with specific foot conditions like flat feet or high arches. A firm heel counter can also offer added support, keeping your heel stable as you walk. It's also good to choose a pair of walking shoes for women with sufficient ankle support to help improve balance and prevent ankle sprains.
Sole
A good sole is vital for stability and shock absorption. The outsole should provide a good grip to prevent slipping and be constructed from durable materials to withstand the outdoor elements. The midsole should offer enough cushioning to provide optimal comfort, especially for long walks. Opt for a flexible shoe that bends at the ball of your foot for a more natural stride.
Weight
Lighter shoes can help prevent fatigue during long walks, especially if they're less bulky, but they should not sacrifice support and cushioning. As a general rule, an individual walking shoe should weigh less than 14 ounces. Striking the right balance between shoe weight and necessary features is key in choosing the most comfortable pair for your needs.
Size
Getting the right size for your walking shoe is crucial. It should neither be too tight nor too loose. Since feet can swell during the day or on long walks, it's best to try on shoes during these times for a more accurate fit. If provided, we recommend using the manufacturer's sizing chart and instructions to ensure you choose the right fit for your feet. Some women's walking shoes may need to be sized up or down, so it's a good idea to read customer reviews to learn about personal experiences with sizing.
Style
Although a shoe's style does not affect its performance, a good-looking shoe can boost your confidence and make your walks more enjoyable. Select a pair of women's walking shoes that comes in a wide range of colors and designs, so you can find one that matches your personality and wardrobe.
Price
While expensive shoes often offer better quality, this isn't always the case. Remember that cost doesn't automatically equate to quality, so you should weigh each product's features against its price to ensure you're getting a good deal. You can typically find a good pair of women's walking shoes for between $50 and $120. Set a budget and find a shoe that offers the best value for your money without compromising on crucial features.
People Also Ask
How do I choose the right size for my walking shoes?
To choose the right size, measure your foot length and width using a ruler or a measuring tape. Refer to the size chart provided by the manufacturer. It's also advised to size accordingly based on the thickness of the socks you plan to wear for walking to ensure a comfortable fit.
How should walking shoes for women fit?
Women's walking shoes should fit comfortably without being too tight or too loose. There should be enough room in the toe box so your toes can move freely. The heel should fit snugly, without slipping, and the shoe should grip your foot securely to prevent rubbing or blisters.
What is the best way to clean my walking shoes?
Cleaning a pair of women's walking shoes depends on the material of the shoe. For most walking shoes, remove loose dirt with a soft brush, then clean with a damp cloth and mild detergent. Allow them to air dry; never place them near direct heat or in a dryer since this could alter their shape.
Why are my walking shoes wearing out quickly?
Shoes can wear out quickly due to heavy usage, tough terrain, or improper care. Walking shoes should be replaced every 300-500 miles. If they wear out faster, it could be due to a misalignment in your stride or an improper fit, so you might need to consult with a podiatrist.
Can I wear women's walking shoes for running?
While it's not ideal, you can use walking shoes for occasional, light running. However, running shoes are specifically designed to handle the impact and stride of running. If you plan to run regularly, investing in a pair of women's running shoes is recommended.
Can I wear orthotics with women's walking shoes?
Yes, most walking shoes for women have removable insoles that you can replace with custom orthotics or insoles. Just ensure that the shoes still fit properly with the orthotics inserted.
How can I break in my new walking shoes?
It's best to avoid wearing new shoes for long walks until they're broken in to prevent blisters and discomfort, so this step is essential. Start by wearing them around your home for short periods. Gradually increase the amount of time and distance you walk in them.
Why Trust Us
Our commitment to customers begins with a carefully curated product selection process, ensuring we provide high-quality and reliable options. We meticulously vet each pair of walking shoes, analyzing quantitative aspects, such as star ratings and review count, and qualitative factors, including review content and product features. Our dedicated team of bargain hunters consistently prioritizes your budget by meticulously scouring the market and identifying the best walking shoes available without compromising on quality or performance. Our panel focuses on presenting the pros and cons of each pair and converting technical specs into understandable insights. We aim to ensure you are equipped with walking shoes that merge remarkable comfort and performance.