The Best Waterproof Phone Cases for Your Money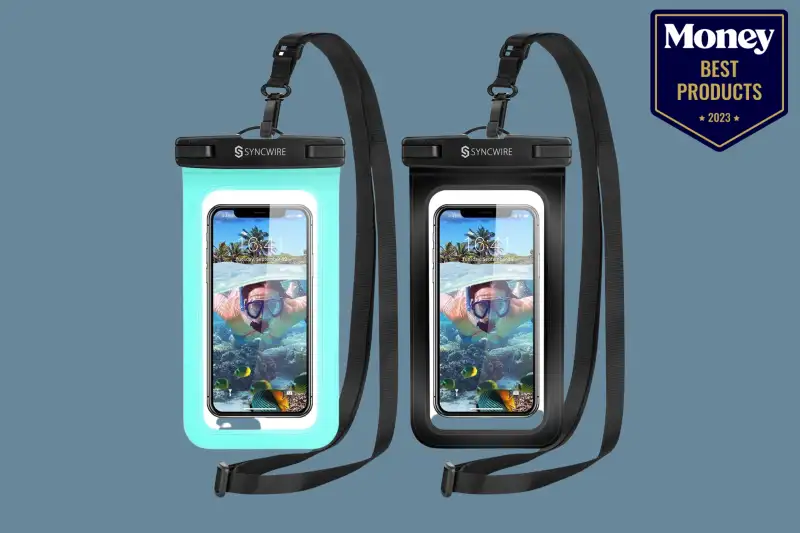 From accidental spills to ocean waves, there's no shortage of ways liquids can damage your phone. That's why a waterproof phone case is a must-have accessory. These products encase your phone and shield it from moisture, preventing water damage and prolonging your device's service life.
In this article, we'll take a close look at the leading waterproof phone cases of 2023. We'll discuss the pros, cons, and features of each option, and include a buying guide to help you choose the right one for your phone and needs. After reading this guide, you'll have all the information you need to make an informed purchase.
Best Overall: Hiearcool Waterproof Phone Case
Most Durable: Temdan iPhone 14 Pro Waterproof Phone Case
Most Convenient: JOTO Waterproof Phone Pouch
Best Design: Syncwire Waterproof Phone Case
Best Value: Rynapac Waterproof Phone Pouch
Comparing the Top Waterproof Phone Cases of 2023
List Price: $9.99
The Hiearcool Waterproof Phone Case is the best overall option for on-the-go travelers and adventurers. This pouch keeps your phone safe and dry with certified IPX8 waterproofing and triple-layer lock-down technology. Measuring 8.3 inches, this product fits most cell phones with or without a case on for an extra layer of protection.
The case's upgraded thermoplastic polyurethane (TPU) material provides excellent sensitivity and responsiveness when using facial recognition and touch-operated features. It also has high transmittance transparency technology for crystal-clear underwater photography, making it ideal for capturing memories while visiting the beach or water park, swimming, snorkeling, kayaking, and rafting.
The included lanyard offers additional convenience and can be adjusted from 14 to 21 inches, providing multiple wearing options. There are two cases in the set so it offers excellent value for your money. With its high-quality materials, durable construction, and compatibility with a range of phone models, this waterproof phone case earned the top spot on our list.
Pros
Available in multiple colors and quantities
Protection from water, snow, dust and sand
Adjustable lanyard included for convenience
Cons
Touch-operated features don't work underwater
Phone buttons may be difficult to use
List Price: $59.99
The Temdan iPhone 14 Pro Waterproof Phone Case is a durable product that reliably protects your device from moisture-related damage. It features an IP68 waterproof certification, allowing you to submerge it up to 6.6 feet without damaging your phone. Additionally, it has been tested and certified to exceed military-grade drop test standards, protecting your phone from falls up to 6 feet high.
This pick also features a 9H HD tempered glass screen that's 0.33 millimeters thick and maintains 99.99% response sensitivity while resisting scratches and abrasions. The integrated camera lens cover offers an extra layer of protection for your phone's camera lens. The case's specially designed materials also allow for clear sound quality, ensuring you can still enjoy music with it on.
This option's exterior is shockproof, featuring a dual-layered, shock-absorbing design and four anti-collision corners that disperse 99% of the force when dropped or bumped. This product also features wireless charging compatibility for added convenience. With lifetime replacement and professional support available, this is a waterproof phone case you can rely on.
Pros
Upgraded tempered glass material for durability
Impact- and scratch-resistant design
Ideal for swimming, snorkeling, and surfing
Cons
Only compatible with the iPhone 14 Pro
Difficult to clean
List Price: $17.99
The JOTO Waterproof Phone Pouch is an ideal product for anyone looking to keep their essential items safe when taking part in outdoor activities without sacrificing convenience. Its clear window on the front and back sides makes it easy to control your device's touch-screen functions, take pictures, record videos, and check emails without issue. The included neck strap provides a convenient, hands-free way to carry your items around without worrying about them being stolen.
This case also offers plenty of space to house your passport, credit cards, and other small items, so you can enjoy the beach or pool without constantly monitoring your possessions. This product comes in a set of two, offering excellent value and reliable protection. It's certified IPX8 waterproof up to 100 feet or 30 meters, making it ideal for swimming, sailing, rafting, and other such activities. Boasting a universal size, this waterproof pouch can comfortably fit all phones measuring up to 7 inches tall and 4 inches wide.
Pros
Universal size fits most smartphones
Available in multiple color selections
Neck strap keeps valuables close at hand
Cons
Doesn't support touch ID
May fade with prolonged sun exposure
List Price: $13.99
The Syncwire Waterproof Phone Case is very easy to use and attractive, making it a well-designed way to protect their phone from water damage. The pouch's design is simple yet effective, providing snap-and-lock access to the pouch while keeping out dust, dirt, snow, sand, and water. Plus, the transparent windows on both the front and back make taking photos easy and convenient while also allowing users to check their emails at any time. This product comes in five different color combinations to suit your preferences.
With its universal size, this protective case can comfortably accommodate most phones measuring up to 7 inches. Its IPX8 waterproof rating ensures its contents are safe and secure up to an impressive water depth of 100 feet. Additionally, its soft TPU material makes it highly sensitive for a responsive touch experience.
This product comes with a detachable lanyard that's adjustable between 16 and 24 inches in length for easy portability. The lanyard offers multiple wearing options, such as around the neck or across the body for hands-free convenience. Its sleek design and high-quality materials make using this waterproof phone case an enjoyable experience.
Pros
Impressive IPX8 waterproof rating
Compatible with most phones
High touch sensitivity
Cons
Limited color options
Not suitable for use in hot springs
List Price: $9.99
Whether you're shopping on a budget or just want to get the most bang for your buck, the Rynapac Waterproof Phone Pouch is an amazing and affordable accessory for your next vacation. With two cases for under $10, this product offers great value and allows you to protect your phone and a friend's or a family member's. Thanks to its universal design, it'll also fit most smartphones measuring up to 7.5 inches. If your phone is larger than this or you have a bulky case, the pouch is also available in an 8.5-inch size option.
This pick features a unique transparent polyvinyl chloride (PVC) construction that allows you to text and browse messages on the go without taking your device out of the pouch. Plus, the dual-sided clear design makes it easy to capture high-quality underwater photos and videos from any angle. For added convenience and portability, this pouch comes with a removable snap-on lanyard, which makes it easy to carry your phone and small essentials along on all of your adventures.
This waterproof phone case has an IPX8 waterproof rating, making it an ideal choice for outdoor water activities like swimming, snorkeling, sailing, fishing, and kayaking. In addition to offering excellent protection against water damage, this product also shields your phone from snow, dust, scratches, and scuffs for versatile use.
Pros
Very affordably priced for a set of two
Available in several stylish color choices
Easy to clean and quick-drying
Cons
Can be difficult to remove phone
Doesn't support fingerprint unlocking
Buying Guide: Waterproof Phone Cases
A high-quality waterproof phone case can go a long way in making your aquatic adventures more convenient and enjoyable. Not only do they safeguard your device from moisture-related damage, sand, dust, and scratches, but they also offer peace of mind by providing a reliable way to keep your belongings on you while on the go.
But not all liquid-proof phone pouches are created equally and it can be difficult to sort through all the options. That's where this detailed buyer's guide comes in. We'll walk you through the most important factors and features to consider while shopping so you can find the ideal case for your next fishing trip or visit to the beach.
Waterproof rating
When choosing a waterproof phone case, it's important to consider how much protection it provides. Look for a case with a high waterproof rating that specifies how many feet underwater and for how long it'll protect your device. Ideally, for diving, underwater photography, and other activities that involve complete submersion, you'll want to aim for a case with an IPX8 waterproof rating.
Shockproof rating
The case's shockproof rating will indicate whether it provides impact protection from drops and bumps. Some cases only offer basic protection, while others have additional features, such as corner bumpers and shock-absorbing materials, to help protect your device from impact.
Materials
A phone pouch's materials play a large role in determining its overall performance and durability. Look for cases made out of sturdy materials such as polycarbonate, hybrid rubbers, and TPU that are lightweight yet strong enough to withstand shock and water exposure. Avoid materials such as metal or glass, which may add bulk but won't provide adequate protection against shocks or moisture.
Design
A slim design is essential if you want your phone to fit comfortably in your pocket or travel bag. Look for cases that allow easy access to all the buttons without you having to remove the case to use them. Some cases also feature cut-outs along the edges for attaching a lanyard or wrist strap for extra security when carrying the device around.
Touchscreen compatibility
Look for a product that's specifically designed for use with touchscreens. This will ensure that you can continue to use your phone while it's in the case without any problems due to lack of sensitivity or responsiveness.
Durability
Durability is key when it comes to selecting a waterproof phone cover, as it must be able to withstand impact, scratches, and regular wear and tear without compromising its waterproof capabilities. We recommend reading through customer reviews to understand how well different models hold up over time.
Heat dissipation
The cover's construction materials should have thermal insulation properties to prevent your phone from overheating during use. This is especially important if you plan on using your phone outdoors in warm weather conditions or while engaging in high-performance activities.
Warranty
Many waterproof phone covers come with a warranty from the manufacturer in case it ever fails or is damaged by normal wear and tear over time. Make sure you read through the terms and conditions carefully before purchasing so you know exactly what's covered and what isn't.
Price
Price is always an important factor when shopping for any tech accessory. Decide how much you're willing to pay for a waterproof phone cover based on your budget and what features you want. Setting your search filters to only show you options within your specified price range can make it easier to narrow down your choices. Ideally, the case you choose should suit your budget and have all of the features that are important to you without sacrificing quality or durability.
Brand reputation
Researching customer reviews and ratings can give you insight into how well each brand's products perform in real-life conditions. Aim for a case that's manufactured by a reputable brand with a proven track record of excellent customer service and producing high-quality products.
People Also Ask
Can I use my touchscreen while my phone is in a waterproof phone case?
Most waterproof cases feature a touchscreen-friendly design that allows you to access all your device's features without removing your phone from its protective cover. This may not be the case for all products, however, so be sure to check the case's description and specifications before making a purchase.
What materials are waterproof phone cases made of?
Waterproof cases are typically made with materials that are designed to create a secure seal and withstand prolonged exposure to moisture without corroding or sustaining damage. Some of the most common materials used to construct waterproof phone covers include rubber, neoprene, TPU, polycarbonate, and tempered glass.
How can I tell if a waterproof phone case will fit my phone?
Most product listings include a list of compatible devices. Additionally, you can compare the size of your device to the product's dimensions to ensure the case is a proper fit. Many cases feature a universal design to fit most phones.
Can I talk on the phone while it's in a waterproof case?
Yes, most waterproof phone cases include a built-in microphone port and audio pass-through feature, allowing you to talk on your device while protecting it from water and moisture. This may not be the case for some case models, so it's a good idea to check the product description to confirm these features are included with your chosen phone cover.
Are there any special tips for keeping my waterproof phone case in good condition?
We recommended cleaning your waterproof case regularly using a damp cloth and drying it off thoroughly afterward with a soft towel. Additionally, it's important to check for any signs of wear and tear before each use to ensure its integrity isn't compromised and that it'll properly protect your phone.
Why Trust Us
Our commitment to customers begins with a carefully curated product selection process, ensuring we provide high-quality and reliable options. We meticulously vet each waterproof phone case, analyzing quantitative aspects, such as star ratings and review count, and qualitative factors, including review content and product features. Our dedicated team of bargain hunters consistently prioritizes your budget by meticulously scouring the market and identifying the best waterproof phone cases available without ever compromising on quality or performance. Our panel focuses on presenting the pros and cons of each waterproof phone case and converting technical specs into understandable insights. We aim to ensure reliable and efficient protection for your device with top-rated waterproof phone accessories.