Bitcoin's Price Is Plunging and Here's Who to Blame
Money is not a client of any investment adviser featured on this page. The information provided on this page is for educational purposes only and is not intended as investment advice. Money does not offer advisory services.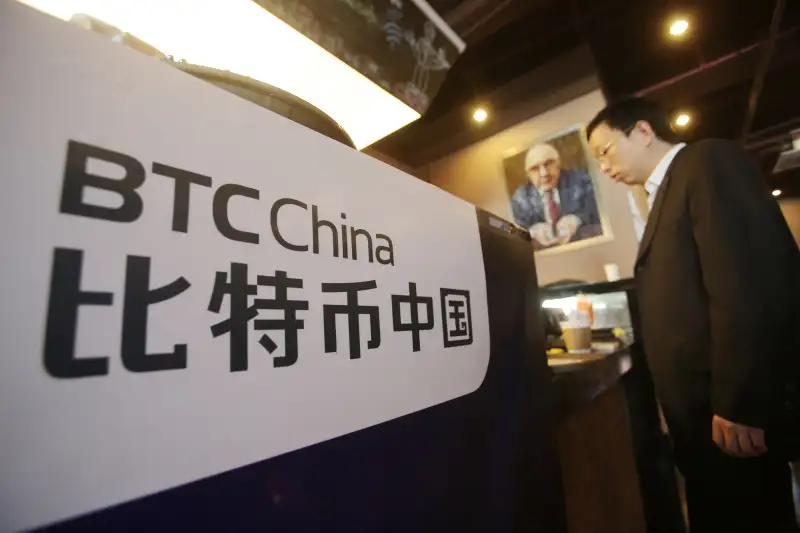 Bitcoin lost more than a quarter of its value while Ethereum fell by nearly a third on Tuesday, as yet another country has begun to crackdown on the cryptocurrency craze.
The latest government to tighten the strings: China.
Chinese authorities say they will strengthen a ban put in place late last year to prevent its citizens from using cryptocurrency exchanges, Bloomberg reported.
The new rules will block access to cryptocurrency platforms that provide trading services, including mobile apps that function like exchanges, both in and out of the country. To further curb trading, China is also cracking down on related functions such as clearing services.
China's efforts come on the heels of South Korea's crackdown, in which government officials hinted that they might ban cryptocurrency trading altogether.
The news sent Bitcoin plunging below $10,000, and the leading cryptocurrency has lost about half its value since peaking near $20,000 in late December.
Which governments are cracking down on cryptos?
Among early adopters and traders, the big appeal of cryptocurrencies is their relative lack of regulations.
But as more and more countries begin to place restrictions on cryptocurrencies, trading volumes are likely to slow, which could deflate the price of these investments.
China isn't alone in this trend of cracking down on these much-hyped tokens. Countries all over the world have instituted or discussed increasing oversight of the currencies.
So far, several countries have outright banned the trading of Bitcoin and other cryptocurrencies, including Bangladesh, Bolivia, Ecuador, Kyrgyzstan, Morocco, and Nepal.
But it's the regulators in large cryptocurrency markets that really matter.
What will Russia do?
Thus far, Russia has had a rather seesaw relationship with cryptos.
In October, the Kremlin began blocking access to currency exchanges in the country, which came only a month after a promise to legalize the market.
Eleven days after the announced block, President Vladimir Putin issued five orders that needed to be satisfied in order to allow for crypto use. This included forming strategies to tax miners that dig for new cryptocurrencies, regulating ICOs, and producing a plan to create a "single payment space," likely as a way to digitize the Russian ruble.
The Kremlin has provided few specifics on how these measures will look, but it's clear the free crypto market won't be a free-for-all in Russia.0

The U.S. fires its own warning shot
In the U.S., Bitcoin and other cryptocurrencies are already treated as property — not currencies — and are subject to capital gains taxes every time they're used.
This hinders the ability to spend Bitcoins freely, like you would dollars or euros, unless you want to track every single purchase you make with the coins.
But beyond the tax headache, the SEC recently signaled it could increase its oversight at any time.
Shortly before bitcoin futures launched on the Chicago Board Options Exchange, SEC Commissioner Jay Clayton used the example of the agency monitoring transactions using dollars, euros, and Japanese yen to gauge the impact on securities markets as a reason to track crypto spending.
"We have the same interests and responsibilities with respect to cryptocurrencies," Clayton added.
How much the SEC ends up monitoring likely depends on how large this crypto bull-run grows the infant market.
South Korea really cracks down
South Korea has the third largest crypto-trading market in the world, despite having just the 27th largest population.
Irrational exurberance over cryptocurrencies has grown so worrisome there that cryptocurrencies trade at 20%-to-40% premiums on South Korean exchanges than in other markets around the world.
In December, South Korea's government announced it planned to strengthen its oversight of cryptos, disallowing anonymous accounts. This led to regulators inspecting six major local banks to review money-laundering preventions.
Then, last week, Justice Minister Park Sang-Ki said that the government was planning to ban crypto trading altogether, which led to a nearly universal drop in the price of cryptos. The government panic was relieved hours later when South Korea's Blue House said that no trading ban had been passed.
Despite the chaos, it's clear that the cryptos have the government's attention. And more importantly, South Korean regulators have the attention of the broad cryptocurrency market.