The Best Black Friday Car Deals for 2016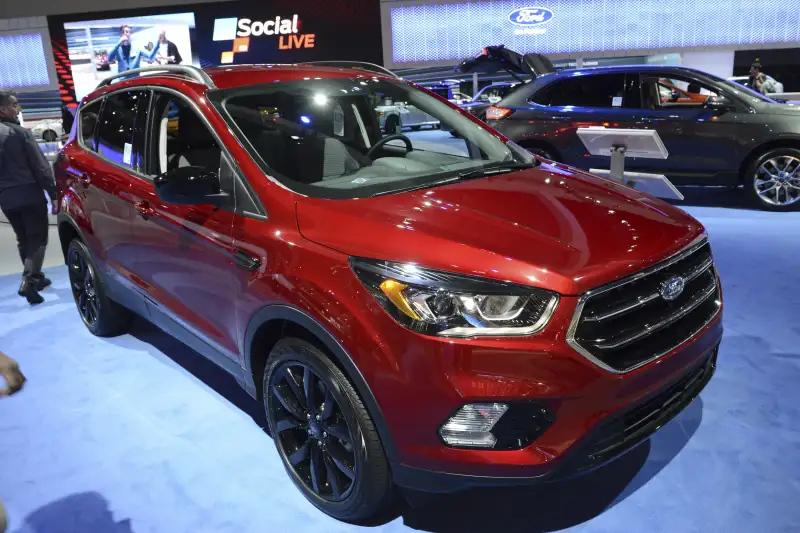 Anadolu Agency—Getty Images
The airwaves are abuzz with door-busting Black Friday deals on the latest gizmos and gadgets, but if you're looking for colossal savings, check out the offers at your local car dealerships.
Consumer Reports' analysis shows that there are hundreds of cars with savings potential measured in four figures. As you strategize how you'll spend time shopping this November, consider the benefits of spending that time buying a car:
• You could save thousands of dollars on a new car.
• If you can still find them, remaining 2016 models are heavily discounted to clear the way for the 2017 models, and dealers may even sweeten the deal further to clear their lots.
• It's the end of the month, so dealers are more willing to negotiate to meet their quotas.
• And, you'll find plenty of parking and fewer crowds at the dealership than the local mall.
To size up the buying opportunities for November, our analysts reviewed current incentives and studied the nationwide transactions, thereby presenting not just the pricing possible with rebates but revealing what the cars are really selling for. This is labeled "Market Average" in the charts below.
Many vehicles featured below are 2016 models due to the huge discounts available, but we also include some 2017s with great deals. If you're attracted to those 2016s, but find inventory is thin locally, consider the 2017 versions. They also have significant savings available, just not quite as grand. All nationwide incentives carry until at least Nov. 30, with many scheduled till the end of the year. The vehicles are listed in order of total savings available, and similar discounts can be found on other trim variations.
Detailed pricing information is available on all current vehicles from their respective model pages.
Whatever car you are interested in, do explore the options. There are definitely deals out there worth being thankful for.
See all current Best New Car Deals, or use our New Car Selector to create your own list of vehicles by sorting and filtering by the factors that matter most to you.
Hyundai Veloster
The sporty Veloster hatchback has three doors, with the right-side rear door providing access to the tight rear seat. Based on the small Accent, the Veloster's 138-hp, 1.6-liter four-cylinder delivers adequate power, and the precise six-speed manual has low-effort throws. A dual-clutch, six-speed automated manual is optional. We got 31 mpg overall from a version with the manual transmission. Moving up to the Turbo trim gets you a strong 201-hp turbocharged four-cylinder and an available seven-speed automated-manual transmission. Handling is responsive and secure. While the ride is quite stiff, it isn't punishing. Rear visibility through the split back window is decent at best.
See our complete Hyundai Veloster road test.
Read More: Top pick tires for 2016
Nissan Murano
Nissan's midsized SUV uses a punchy, refined 3.5-liter six-cylinder paired with a continuously variable transmission. The cabin is quiet and well-finished, and has an upscale feel to it. Handling is not very sporty, with overly light steering that reduces driver confidence. The ride is steady and absorbent on the standard 18-inch tires but less so on the Platinum trim's 20-inchers. Optional safety features include blind-spot and cross-traffic warnings, as well as forward-collision warning with emergency autobrake. An available 8-inch color display houses the NissanConnect infotainment system. Good crash-test results are a plus. A hybrid version is new.
See our complete Nissan Murano road test.
Ford C-Max
Based on the compact Focus, the five-passenger C-Max hybrid is a clever, quiet, spacious, and practical hatchback. It rides well and handles capably. Regenerative braking helps with fuel economy but makes the brake pedal feel touchy. The 2.0-liter four-cylinder and electric motor deliver adequate acceleration and seamless transitions between gas and electric power, and the C-Max can run in electric mode up to about 40 mph. We measured an excellent 37 mpg overall. The Energi plug-in can travel in electric-only mode for about 18 miles before switching to hybrid operation. It takes 6 hours to charge on 120-volt and 2 hours on 240-volt. Ford's new Sync 3 infotainment system is standard.
See our complete Ford C-Max road test.
Lincoln MKZ
Based on the engaging Ford Fusion, the upscale Lincoln MKZ is updated for the 2017 model year with new engines, a plusher ride, simplified controls, and a more conveniently located trunk release. Base models get a 2.0-liter turbo four-cylinder that provides ample power. In our tests the hybrid got 34 mpg overall. For more punch, a Lincoln-exclusive 3.0-liter twin-turbo V6 puts out 400 hp with all-wheel drive, and 350 hp on front-drive versions. The MKZ is delivers a comfortable ride. Inside is a quiet, luxurious cabin with comfortable seats, but it's a long reach to the pushbutton gear selector and the rear seat is snug. Forward-collision warning with automatic braking and pedestrian detection bolsters safety credentials
See our complete Lincoln MKZ road test.
Kia Optima
Kia's recently-redesigned Optima midsized sedan packs a lot of substance and value. It drives nicely, with a firm yet absorbent ride and responsive, secure handling. The mainstream 2.4-liter four-cylinder is pleasant, and returned 28 mpg overall in our testing, while the uplevel 2.0-liter turbo four packs more punch. New to the line is a 1.6-liter four-cylinder mated to a seven-speed dual-clutch transmission. At around $26,000 the EX trim features comfortable leather seats, automatic climate control, a roomy rear seat, and heating for the seats and steering wheel. The controls are very intuitive to use. Low-positioned dash vents are our only gripe. The latest version of Kia's UVO touch-screen infotainment system works with Apple CarPlay and Android Auto. A hybrid is also available.
See our complete Kia Optima road test.
Kia Forte
Kia's Forte provides generous interior room and a wide assortment of amenities. Our tested base LX sedan got 28 mpg overall with the 1.8-liter four-cylinder and six-speed automatic, but that engine has been replaced by a 2.0-liter unit for 2017, which is similar to the engine in the Hyundai Elantra. Though the ride is absorbent, it tends to feel floaty over undulations. Handling is very secure but not particularly agile. The SX hatchback continues to use a 1.6-liter turbo mated to a seven-speed dual-clutch automated manual gearbox. The spacious interior is quiet for a compact car, and the controls are logically arranged. Available features include front and rear heated and ventilated seats, and a rearview camera. The base LX comes standard with keyless entry and heated mirrors.
See our complete Kia Forte road test.
Read More: Best used cars for $25,000 and less
Ford Expedition
This imposing SUV's 3.5-liter turbocharged V6 delivers more power and better fuel economy than the V8 it replaced. Paired with the standard six-speed automatic, our Expedition returned 14 mpg overall in testing, a 1-mpg improvement. The V6 also has plenty of torque for trailer towing. Regular- and long-wheelbase versions are available, as well as eight-passenger seating. And that's where the fun stops. The aging Expedition trails the competition because of its clumsy handling, noisy cabin, and low-rent interior. For the 2016 model year, Sync 3 replaces the much-maligned MyFord Touch infotainment system.
See our complete Ford Expedition road test.
Lexus LS
The Lexus flagship sedan delivers luxurious, highly refined, and fuss-free motoring with a comfortable and serene ride. It has an exceptionally quiet cabin and is laden with features. Fit and finish is excellent. Its recent freshening made handling a bit more responsive while retaining the silky ride. The strong V8 and eight-speed automatic deliver a very smooth and responsive package. The extended-length version has generous rear-seat room. A self-parking feature and all-wheel drive are optional. The LS 600h hybrid comes with standard AWD. Despite retaining some conventional knobs and buttons, the mouse-controlled infotainment system is complicated and distracting to use.
See our complete Lexus LS road test.
Ford Escape
For 2017 the Ford Escape gets some major updates, including new 1.5- and 2.0-liter turbocharged engines with start/stop capability, and advanced safety features such as forward-collision warning. The fleet-footed Escape has impressive handling prowess, which makes it one of the most entertaining to drive models in the small-SUV class. It also has a taut, controlled ride and a quiet interior, but the rear seat is a bit low and the cushion is short. The impressive Sync 3 system is standard, replacing the old MyFord Touch infotainment system. One new feature is SYNC Connect, a smartphone app that allows owners to use their cell phone to lock and unlock their Escape, remotely start the engine, and track the vehicle location via GPS.
See our complete Ford Escape road test.
Read More: 7 best mattresses for couples
Nissan Maxima
The Maxima continues to use Nissan's smooth, powerful 3.5-liter V6, which is a highlight of the car. The continuously variable transmission works well for loafing around, but it saps any aspirations of sporty driving. Handling is mundane and the ride is too stiff for a sedan that costs $40,000. The Maxima has a plush interior, a number of high-tech safety and connectivity features, and uses a fairly straightforward infotainment system. A low roofline inhibits access and visibility. Controls are simple to use, and the front seats are very comfortable and supportive. The rear cabin, however, is rather cramped. An SR version with a stiffer suspension is available, but it lacks a sunroof.
See our complete Nissan Maxima road test.
Consumer Reports has no relationship with any advertisers on this website. This article originally appeared on Consumer Reports.