Black Friday Is Already Here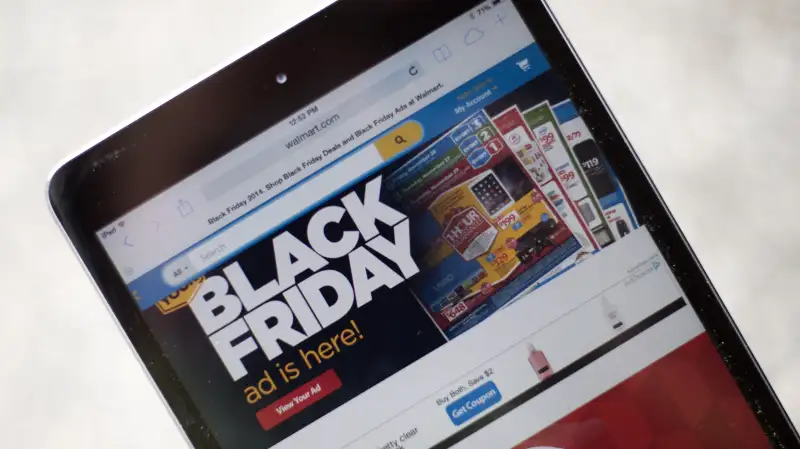 Jim Watson—AFP/Getty Images
Many people are upset that dozens of national retailers have decided to launch Black Friday sales on Thanksgiving, thereby ruining the holiday for workers who can't spend the day with their families—and also ruining the day for families whose shopping-crazed relatives will ditch them for the chance to score cheap tablets, TVs, and fast fashion at the mall. (According to surveys, millennials are particularly likely to go shopping on Thanksgiving rather than continue hanging out at home once dinner is done.)
But based on the proliferation of broad, often substantial discounts that invoke the phrase "Black Friday" days or even a full week before the actual day arrives, it appears as if Black Friday sales are in effect right now. Deal-tracking sites such as TheBlackFriday.com have rounded up long lists of retailers that have already tried to grab shoppers' attention by launching big holiday sales under names like "Pre-Black Friday Deals," "Black Friday All Week Long Sale," and "Cyber Monday Now."
One week before Black Friday, Amazon kicked off its Black Friday Deals Week, throughout the course of which the world's largest e-retailer is adding new deals as often as every 10 minutes. Likewise, Walmart launched a "Pre-Black Friday Event" on Friday, November 21, with lots of prices that seem on par with Black Friday's best bargains: LED TVs for under $150, tablets starting at $40, two-packs of women's fleece pants for $8, and so on. Similarly, Staples is trying to woo shoppers early with 50% off select merchandise and an array of quirky coupons (a flat $100 off many tablets, laptops, and desk-tops), and Target, Lowes, Sears, and many others are advertising some variation of "Pre-Black Friday" or "Black Friday Now" deals.
Some across-the-board online discounts—the kind normally offered on Cyber Monday—have also surfaced this week, such as 30% off everything at Lands' End, on top of another 40% off shoes and slippers. On Monday, Gap introduced a sale on denim and cords for $25 and under (normally priced up to $70), on the heels of a 50% off all online purchases (for Gap card members) on Sunday.
The early sales shouldn't come as a surprise considering the overarching trend of retailers attempting to expand the holiday shopping season and grab consumers' limited gift-purchasing dollars before their competitors can. Kmart launched its first holiday ad in September, and many studies show that the best deals aren't on Black Friday necessarily, but can appear weeks before or after Thanksgiving weekend, thanks to retailers' strategic efforts to boost sales during lulls.
An Adweek story quotes several retail experts of the opinion that "Black Friday" basically occupies all of November nowadays, or at least that Black Friday-type sales appear on the scene earlier and earlier each year:
Bear in mind that not all of these early deals are worth getting excited about. The Disney Store rolled out what it's calling its Black Magical Friday Sale on Friday, November 21, with discounts "up to 40% off," but most of the deals—16" dolls for $20 (originally $24.95), play sets from Star Wars, Monsters University, and Toy Story for $10 (originally $12.95)—seem like run-of-the-mill sales, not can't-pass-up bargains. What's more, some of the best early Black Friday deals seem all but impossible to buy. For example, Walmart advertised the Skylanders Trap Team Starter Kit for Wii U over the weekend priced at $37 (full price around $75), but it has been out of stock for online orders and isn't available at most stores either.
To sum up, right now many stores have some genuinely terrific, Black Friday-esque bargains. But many of the advertised deals aren't all that impressive, and the biggest discounts generally apply only to select merchandise and may not actually be available for purchase. In other words, retailers are already using amazing discounts and other tricks to get shoppers into stores—where the hope is that they'll buy plenty of lightly-discounted or full-price items while they're browsing. This is the gist of how and why retailers use Black Friday as a sales-boosting tactic in the first place, and it's a strategy that is indeed well underway.