12 Stores That Will Be Closed on Thanksgiving -- and 1 Closed on Black Friday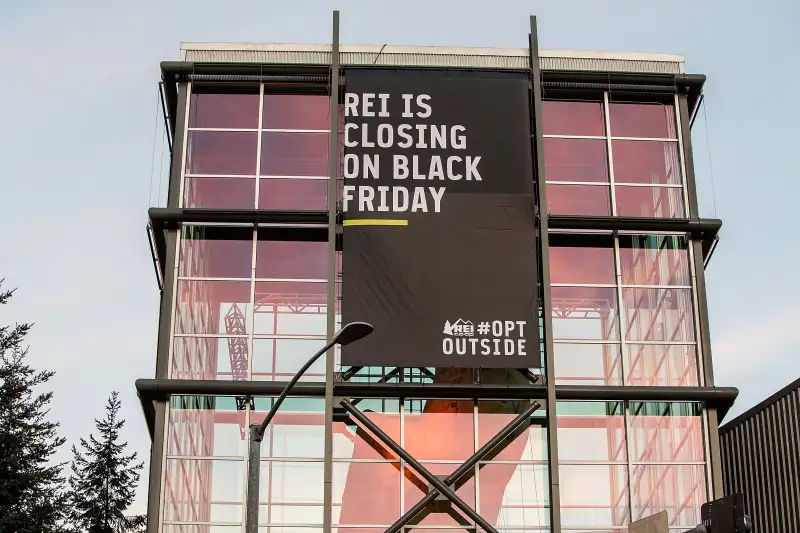 Suzi Pratt—2015 Getty Images
The majority of big box stores, including Wal-Mart, Best Buy, Target and Kohl's, will open on Thanksgiving to welcome eager shoppers, but some retailers will remain closed on the holiday — and at least one major chain has decided to forgo Black Friday as well.
Stores closed on Thanksgiving
Historically, stores have closed on Thanksgiving Day to allow their employees time to enjoy the holiday and be with family. With the Black Friday creep moving earlier and earlier into the week, though, that's no longer the case. More retailers are opening their doors to anxious shoppers on Thanksgiving Day, turning what once was a holiday for relaxation and overeating into a shopping frenzy.
Those stores that are bucking the trend and will stay closed on Thanksgiving include:
Nordstrom
DSW
Pier 1 Imports
Patagonia
Marshalls
REI
REI closed Thanksgiving and Black Friday
Recreation gear retailer REI is known for its love of the outdoors. This year, the company has announced it will pay employees on Black Friday not to work with customers, but to get outside to play. REI stores will be closed Thanksgiving and Black Friday — a first for the company.
REI's decision to go dark on Black Friday doesn't mean there aren't good deals to be found from the outfitter. REI hasn't posted any of the sales it plans to offer, but if it's anything like last year, you can expect promotions such as 30% to 50% off Big Agnes sleeping pads, Fitbit products and REI Revelcloud jackets, along with discounts on Gore-Tex hiking boots and free shipping.
Keep checking the REI website to find online or in-store sales.
Best deals for online shopping
There's no need to wait until Cyber Monday or Black Friday to score digital deals — retailers are putting their sales online as early as Thanksgiving, the Wednesday before, or even the start of the week.
Read next: Why Some Stores Are Closing on Black Friday
And if you do decide to shop from the comfort of your couch, you'll be far from alone: According to the National Retail Federation, almost half of this year's holiday shopping will be done digitally. Reports suggest that 2015 will be the biggest for online retail to date. Lots of stores are offering free shipping for online orders, and many don't require a purchase minimum.
So it may be worth checking out the online sales before digging into the pumpkin pie. Here is our list of some of this year's best online sales that last from Black Friday through the weekend:
Kohl's (online sales start Monday, Nov. 23)
Best Buy (usual shipping fee of $35 is waived)
Dell (free shipping)
Levi's (free shipping with no minimum purchase)
Target (free shipping and free returns)
Stores open Thanksgiving Day
Major retailers such as Macy's and Best Buy will open in the evening on Thanksgiving, and home goods chain Stage will open at 2 p.m. Kmart, which faced criticism last year for opening at 6 a.m. on Thanksgiving and staying open for 41 hours straight, plans to open early again this year. So if you're not the one doing the cooking, or don't mind leaving dinner a bit early, here are some of the other large retailers opening their doors on Thanksgiving:
Read next: Walmart Black Friday Sales Start at 12:01 AM on Thanksgiving