BMW M3 is a Perfect Family Sedan — If Your Family Works for NASCAR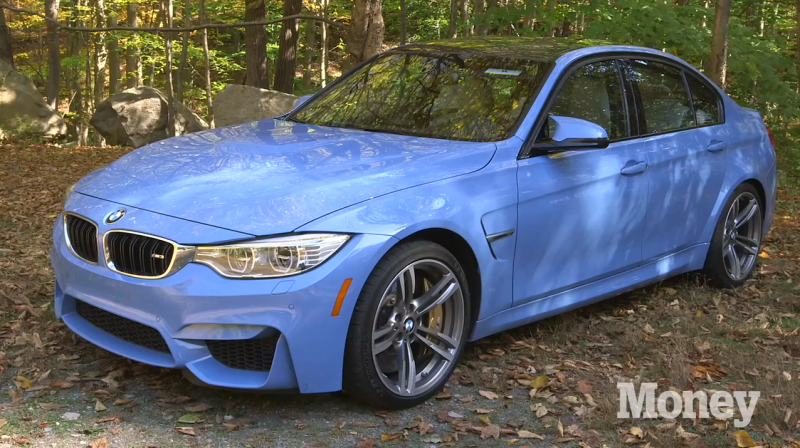 BMW's new M3 4-door is technically called a sedan, as in a family car. Which it is, if you have the kind of family that enjoys slingshotting out of curves at 60 m.p.h. The M3 is to sedans what the German four-man Olympic bobsled is to your kids' Flexible Flyer.
Understand that this is a driver's car in every aspect, which you'd expect out of a division created to produce race cars to compete on the European touring circuit. The low, sloping hood seems to bury its face into the asphalt that you are chewing up. And you can set the M3's controls for a variety of engine, steering, and Dynamic Stability Control (DSC) combinations so that you can feel everything that's happening around you any way you wish. The optional dual-clutch transmission adds three mode variables to play with. But all of the settings seem designed with one thing in mind, to urge you forward.
That begins, natch, with the power plant. There was some anxiety among Beemer buddies when the engine specs of the M3 and its coupe cousin, the M4, were revealed. BMW has chosen a 3.0 liter inline 6-cylinder number to replace a beefier 4.0L V-8. But as is typical today, engine designers are coaxing more oomph out of smaller packages, which also means less weight: the I-6 gets 424 h.p., which is a 10-horse improvement. But the torque really jumps, in part because the M3 has twin turbochargers that are configured to chime in on demand. Pair that with a seamless, dual-clutch, seven-speed automatic version and the M3 means giddy passing power at any speed.
Then there's the M Differential. Have to admit, I've been indifferent to differentials. Every car has one, but to the undifferentiated, let me explain: A differential is a thingamajig on the axle that uses a set of pinion gears (never mind) to change the rotational speed of a tire. It's necessary because when you go into a left-hand curve, say, the outside right rear tire will be going faster than the inside one because it's covering a longer distance. The differential distributes the engine torque equally to the two rear wheels, leveling the rotational speed so you aren't burning out tires or veering off kilter.
The M3's differential takes that basic tool and loads it with sensors that measure a range of variables such as yaw, torque, lateral acceleration, and driving speed, sniffing the ground to look for more speed and stability. When the M3 is doing this as you are entering a curve it is inevitably whispering in your ear, "Forget the brake; I'll handle this." And you find yourself leaving your foot on the accelerator thinking, "Yes, this makes perfect sense."
In addition to the M Diff, there's also a $1,000 option called Adaptive M suspension. You have the choice of Comfort, Sport, or Sport Plus, depending on how tuned into the road you want to be. According to the company, sensors are recalculating and regulating the dampers every 2.5 milliseconds at each wheel to apply the precise amount of damping. At the same time, the DSC automatic transmission has settings for three different driving modes: Efficient, Sport, and Sport Plus, as in fast, faster and Messerschmitt. The settings correspond to the response of the accelerator. In Efficient, it's a smoother takeoff; in Sport Plus it's more reactive. There's even a race setting called Launch Mode that allows you to hammer the throttle from an idle position to full power.
The M3 has a race car look about it, too, with flared fender skirts, a carbon roof, and, on the inside, that combination of hard-and-soft, steel-and-leather luxury.
A car loaded with this much technology has an Apple-like premium. Although the basic price on the M3 is about $63,000, the bells and whistles add up quickly. In addition to the $1,000 Active M suspension, the M Double clutch automatic adds $2,900, and the carbon ceramic brakes $8,150 more. My test car revved in at $84,000, including the $550 "Yas Marina Blue" metallic paint job that people tend to really like or really hate.
Count me on the "like" side on the paint job; as for the M3 itself, I like it a lot. A whole lot.