The Bond Market Bounces Back Thanks to Trump
Money is not a client of any investment adviser featured on this page. The information provided on this page is for educational purposes only and is not intended as investment advice. Money does not offer advisory services.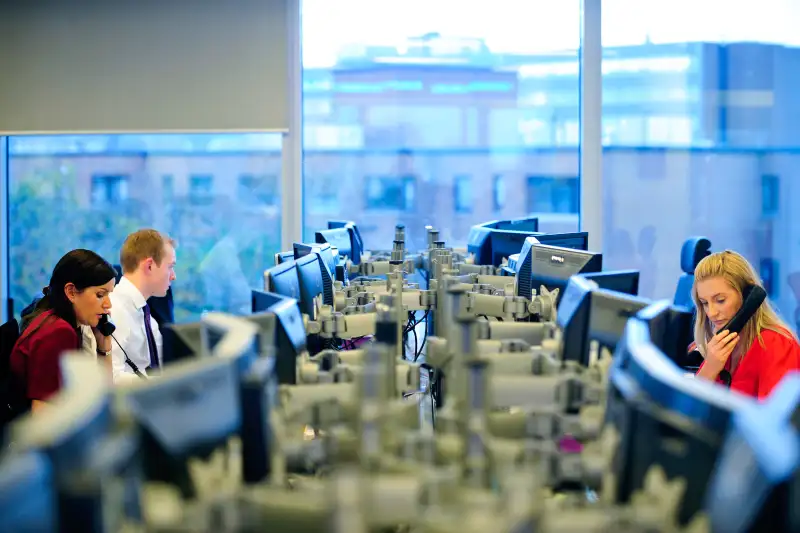 Bloomberg via Getty Images
The floodgates burst open anew in the US high-grade bond market this week after Donald Trump won the White House, led by issuers in sectors expected to benefit most under his presidency.
After a two-day hiatus for one of the most momentous elections in recent memory, six borrowers jumped back into the primary, including JP Morgan Chase and Goldman Sachs.
Just hours later the Trump transition team vowed to "dismantle" Dodd-Frank, sending bank shares rocketing higher and driving financial institution paper some 3bp-5bp tighter.
Although the Trump win came as a shock after months of polls predicting he would lose handily, the US bond markets quickly digested the potential benefits of a Trump administration.
"It is not a complete bloodbath from a fixed income or debt capital markets perspective," one senior Wall Street banker told IFR.
"Investors are saying that they are ready to buy, and issuers are saying that if (the buyside) are comfortable, they are ready to go."
Some bankers are now predicting next week to be the busiest before the end of the year, if markets remain stable.
UPSIDE DOWN
Trump's win upended the US political establishment and offered hope that banks and other regulation-heavy sectors such as coal would see brighter days ahead.
His stances in favor of more infrastructure, lesser financial regulation, tax cuts and easing the way for US companies to repatriate overseas cash could certainly help relevant sectors.
Pharmaceutical bonds tightened sharply just hours after his victory, driven by relief that Hillary Clinton - who campaigned hard to bring down drug prices - had lost.
Teva Pharmaceutical's 4.10% 2046s tightened by 16bp to a G-spread of 194bp, while Allergan's 3.80% 2025 was 8bp tighter and Mylan's 3.95% 2026s by 10bp, according to MarketAxess data.
"It's not that people think Trump will be less lenient on (makers of generic drugs)," said Matt Brill, senior portfolio manager at Invesco.
"It's the relief from fear Democrats would be very, very harsh on any drug-pricing issue."
BUILDING HOPE
And rhetoric about building a wall along the border with Mexico and being tough on crime, along with more infrastructure, made steel and prison companies solid bets, according to some analysts.
Bonds of beleaguered junk-rated coal miners rallied on expectations that Trump will fulfill his pledge to revive the sector and scale back regulation.
Peabody Energy's 6% 2018s jumped by over seven points to a cash price of 58 early Wednesday and were still quoted at 58.25 by Thursday afternoon, according to MarketAxess.
Murray Energy's 11.25% 2021s traded as high as 80.5, or up 4.75 points on the day, before retracing to 77 by Thursday.
And Trump's plans to help companies bring money back to the US spurred a rally in major telecoms and tech companies that would then likely need to raise less new debt.
Apple and Microsoft saw their bonds tighten.
Meanwhile UBS said that the top 25 holders of cash rated by S&P have issued US$168bn of US debt year-to-date - 13% of total IG issuance and 22% of total IG non-financial issuance.
"Our conversations suggest corporates with overseas cash piles would prefer to draw on cash to engage in buybacks/domestic M&A and cut (debt) issuance," the bank said.
As such, demand for US bonds is expected to remain high as none of Trump's policies, though potentially inflationary, are seen limiting the current foreign bid for US credit.
"The election result should be, broadly speaking, positive for US corporate credit sectors, which may now operate in a more business-friendly environment," said Rick Reider, BlackRock's chief investment officer of global fixed income, in a report.
"We continue to like rates markets ranging from the front end of the yield curve to its belly, and we are still positive on long-end investment-grade corporates."
Average bond spreads of some 17 out of 19 high-grade sectors in the Bank of America Merrill Lynch Master Index were trading flat to a few points tighter one day after the election.
Bankers also said they were seeing increased demand for US dollar bonds from foreign investors as Treasury yields moved higher. Ten-year Treasury yields jumped to 2.14% Thursday from 1.86% before the election result.
NOT ALL WINNERS
But despite this early positive move, some feel the market should be cautious from betting too hard on just campaign promises.
Investors should also include in their assessment the impact from Trump's potential immigration and trade reform which could prove to be destabilizing factors, one banker said.
And not all sectors stand to benefit from a Trump presidency.
Trump's pledge to repeal the Affordable Care Act sent hospital shares and bonds plunging on expectations that more patients visiting their facilities will lose insurance coverage.
Junk-rated bonds of hospital operators Community Health Systems and Tenet Healthcare dropped by seven and five points respectively on Wednesday, while their shares dropped over 20%.