Why The Billionaire Co-Founder of the Boston Beer Company Drives an Old Ford Car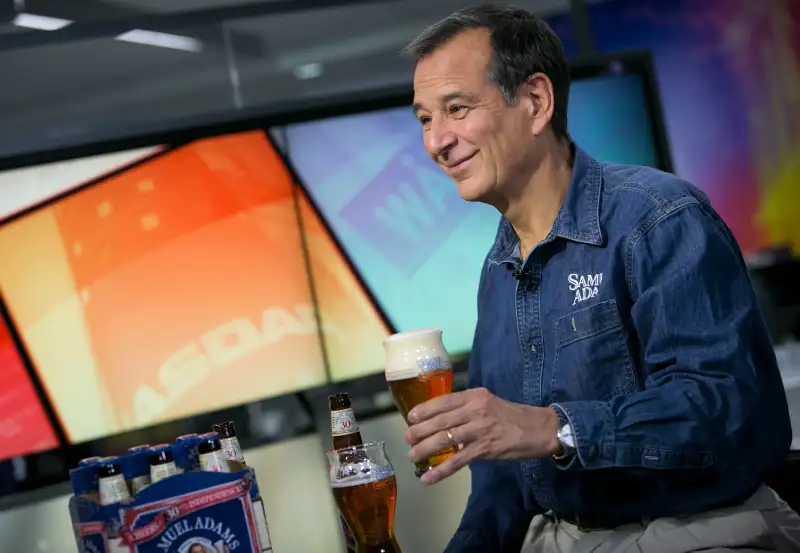 Bloomberg—Bloomberg via Getty Images
Next time you knock back a cold Sam Adams beer, you have one man in particular to thank for it: Jim Koch.
The co-founder of Boston Beer Company comes from a long line of brewers, and culled the original Sam Adams formula from his great-grandfather's old recipes. But it was Koch who built the company into the premier craft brewer in the nation, taking on the big boys like Anheuser-Busch.
For the latest in Reuters' "Life Lessons" series, the 67-year-old sat down to toast a life that has gone from cold-calling Boston bartenders to sitting astride a $2-billion success story.
Q: Growing up in southern Ohio, who exactly were you learning from?
A: My grandparents lived on a farm, my mother was an elementary school teacher, and my dad was a brewmaster. So from my grandparents I got good values, from my mom I learned about the importance of education, and from my dad I got an appreciation of beer. So I guess it was in my blood.
Q: Was your first job in a brewery?
A: I was too young for that, so I actually started cutting lawns. That business grew until I could buy a small tractor: I had a whole lawn-service business during the summer, which was pretty brutal in southern Ohio. Believe it or not, with that job I paid my tuition at Harvard, which was only $2,000 a year at the time.
Q: Where did you learn to become a leader?
A: From being an Outward Bound instructor. In the wilderness if you screw up badly, people get killed - literally. I was an instructor in places like the interior of British Columbia, and learned about things like team-building, inspiration, and keeping people motivated. None of that came from business school.
Q: You started Boston Beer Company by raising money from family and friends. Did that give you extra motivation to make it work?
A: I told them, don't invest anything you can't afford to lose. I also said, it may not be a great investment, but at least you will get good free beer for the rest of your life. That was my pitch.
The irony is that those investment returns ended up being around 4,000-to-1, for the people who had the confidence and patience to invest from the very beginning. One of those original investors, by the way? My old friend and co-worker, (hedge-fund manager) John Paulson. He says it was the best investment he ever made. Talk about a patient investor. He has held those shares for 32 years.
Read: The Battle Brewing to Become the Coors Light of Craft Beer
Q: Once you achieved some success, how did you manage your wealth?
A: I was wealthy, but it was all on paper and tied up in the firm. I had no liquidity; everything was in the Boston Beer Company. My feeling was, I'm not necessarily a good investor, but I'm a good brewer, so I'll just keep it in the company. To this day, 32 years later, that is still the vast majority of what I have.
Q: Did your lifestyle change as a result?
A: I have everything I need: I have a house, I drive a four-year-old Ford, my wife has a 10-year-old Honda pickup. My kids went to public schools. I don't have a private jet or anything like that. A good definition of wealth comes from Stewart Brand of the Whole Earth Catalog: He says being wealthy means living below your means. I have always liked that.
Q: How do you direct your philanthropic efforts?
A: As a company, we ask ourselves, 'How can we add value?' That was the origin of our "Brewing the American Dream" program. So far we have coached around 8,000 small businesses and given loans to over 1,000 of them, including many craft breweries.
We help them with issues like how make a sales call, how to decide when to hire or fire somebody, how to get publicity. These are real issues for small businesses, and when I was starting out, I had no idea about things like that.
Q: What was that moment like, when you found out you were a billionaire?
A: My daughter was working at her job scooping ice cream, and someone at the shop said that we were billionaires. They asked her, 'So why are you working for $7 an hour?' I said, 'So what did you tell them?' She answered, 'Because I need the money!' I thought that was a great answer.