Britney Spears Stayed in a $30 Million AirBnb for Valentine's Day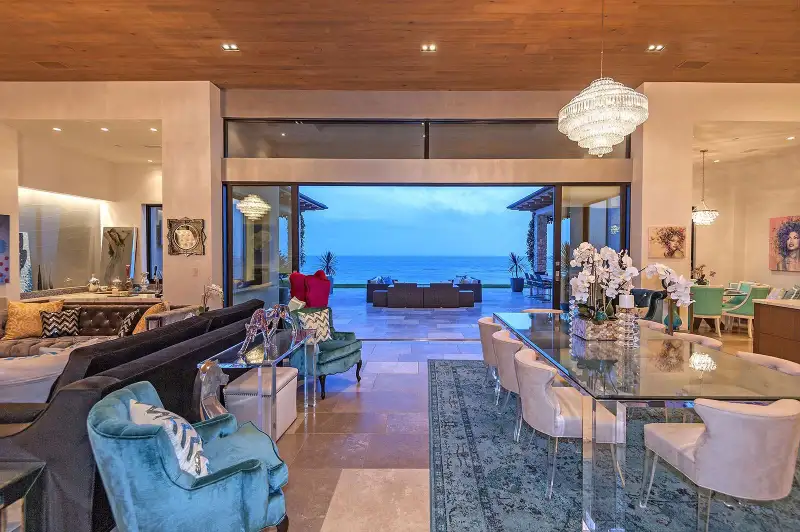 Britney Spears and her new boyfriend, Sam Asghari, are having a "Slumber Party" for Valentine's Day.
The couple have been staying with her sons, Jayden and Sean, in a $30 million villa in Malibu, courtesy of Airbnb, where the family will be spending the most romantic day of the year.
Following her latest Piece of Me Vegas dates, Spears, 35, has been relaxing at the sprawling five-bedroom, six-bathroom Mediterranean-style villa, even giving fans a mini home tour on Instagram.
"‪A touch of heaven," she captioned a video on the 11th. That same day, the mother of two posted a photo of her and her kids enjoying the jacuzzi, writing: "Family time."
With spectacular views of the Pacific Ocean from nearly every room in the house, Spears and her loved ones have enjoyed amenities such as a theater room and gym, with the best indoor-outdoor living money can buy.
The living room and bar open to the outside where there is a TV, music, grill, patio table and infinity pool, which Spears featured in her bikini-clad Instagram shoot.
Spears and Asghari's romance blossomed after they met on the set of her "Slumber Party" video shoot, but it was nearly a missed connection. The Princess of Pop dug up his phone number out of her bag nearly "five months later," she revealed in a January radio interview.
These days, they've been inseparable — getting cozy at date night dinners, attending friends' birthday parties, cuddling on New Year's Eve and even sharing sweet photos of one another.
If you want to stay at Spears' Valentine's Day abode, you'll have to pay up $7,500 per night for a four-night minimum stay.
This article originally appeared on People.