Billionaire Warren Buffet on Raising Taxes on the Rich: "I'm Fine with It"
Money is not a client of any investment adviser featured on this page. The information provided on this page is for educational purposes only and is not intended as investment advice. Money does not offer advisory services.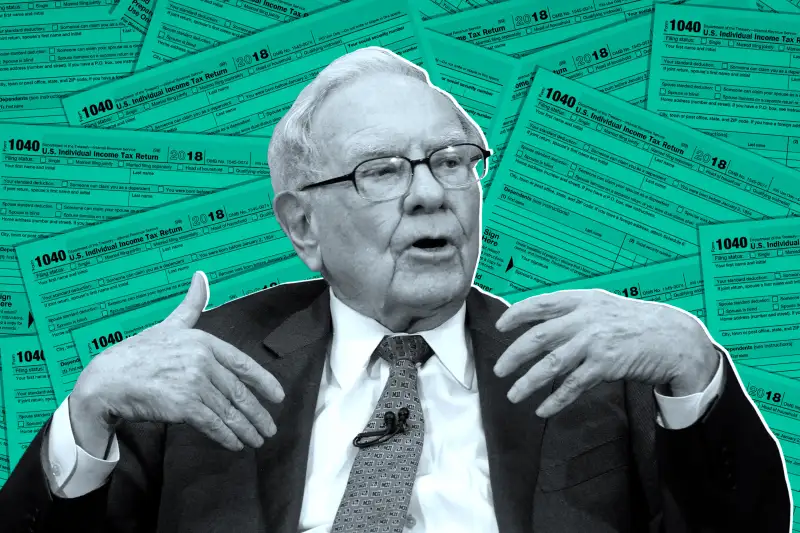 Photo illustration by Sarina Finkelstein for Money; Getty Images (1); (1040 form) Courtesy of the IRS
Legendary investor Warren Buffett said on Monday that rich Americans, including himself, are not paying enough in taxes. "The wealthy are definitely undertaxed relative to the general population," the Berkshire Hathaway Chairman told CNBC in an interview.
Indeed, Buffett has supported the idea for a while. In 2011, he wrote an op-ed in The New York Times entitled 'Stop Coddling the Super-Rich,' where he called for higher rates on taxable income above $1 million, with an additional increase for those who make more than $10 million. To prove his point, Buffett has also pointed out that he pays a lower tax rate than his secretary.
Over the last few decades, wealth inequality in the U.S. has gotten worse, with the gap between the rich and poor continuing to balloon out of control. The richest 1% of American households now own 40% of the country's wealth – that's more than at any time in the past 50 years, according to a 2018 study by economist Edward Wolff, who uses data from the federal Survey of Consumer Finances.
"I think the income tax credit is the best way to address that," Buffett told CNBC. "That probably means more taxes for guys like me, and I'm fine with it," he said Monday.
Buffett has previously favored expanding the Earned Income Tax Credit. In 2015, he penned an Op-Ed in The Wall Street Journal titled "Better Than Raising the Minimum Wage," touting the idea.
Taxing the rich has certainly become a hot political topic in recent months. Several lawmakers, including Alexandria Ocasio-Cortez and Elizabeth Warren, have proposed higher taxes on the wealthy in an effort to bridge the widening gap between rich and poor. Ocasio-Cortez called for a 70% marginal tax on incomes over $10 million, while Warren introduced a plan for a 2% tax on those who have assets $50 million or more – with an additional 1% added to wealth over $1 billion.
Buffett hasn't endorsed either candidate, however, and, indeed, hinted on Monday he may favor a far more moderate choice. Buffett told CNBC that he'd actually support fellow billionaire and former New York City mayor Michael Bloomberg if he were to announce a presidential bid. "He knows how to run things… I think he would be a very good president," Buffett described.