Clinton and Trump Figurines With Pants Down Go on Sale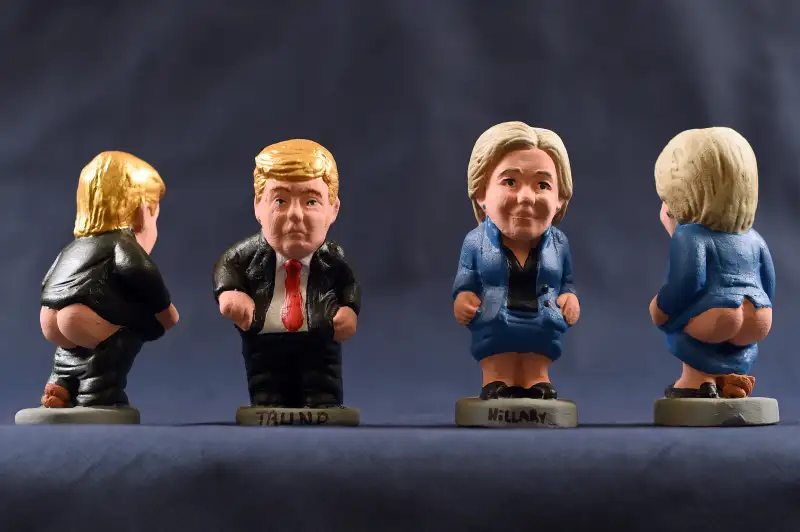 LLUIS GENE—AFP/Getty Images
It seems a Spanish company has caught both Hillary Clinton and Donald Trump with their pants down.
A Catalan company, Caganer, makes ceramic figures of the same name, which typically depict a peasant with his pants at his ankles to reveal a bare backside. It's made similar figurines of former U.K. Prime Minister David Cameron, Pope Francis, and musicians Bono and Elton John, among others.
Now as the U.S. presidential election heats up, the company has created versions of the figurine for both presidential candidates, the Associated Press reported.
Curiously, the intent of these figures isn't supposed to be mocking. The Caganer statuettes are traditionally placed alongside Mary, Joseph, and baby Jesus in Catalonian nativity scenes, and are seen as a symbol of good fortune in the coming year.
Read More: Donald Trump Gets Tax Breaks. You Can Too
Caganer said it decided to create the products in response to customer demand for figurines that catered to the U.S. presidential race. It already had been working on a version of Hillary Clinton, but it gave the figurine a slight makeover before releasing it along with that of Trump.
If you'd like to purchase a figurine of Clinton and Trump, featuring the potential future of the United States with a bare backside, it will run you 16 euros each, or almost $18.
It remains to be seen how well the Clinton and Trump figurines will sell compared to their similarly disrobed counterparts. Currently, the top sellers on Caganer's website are Santa Claus, a Catalonian president, and U.S. President Barack Obama.