California Just Took a Big Step Toward Ensuring Retirement Security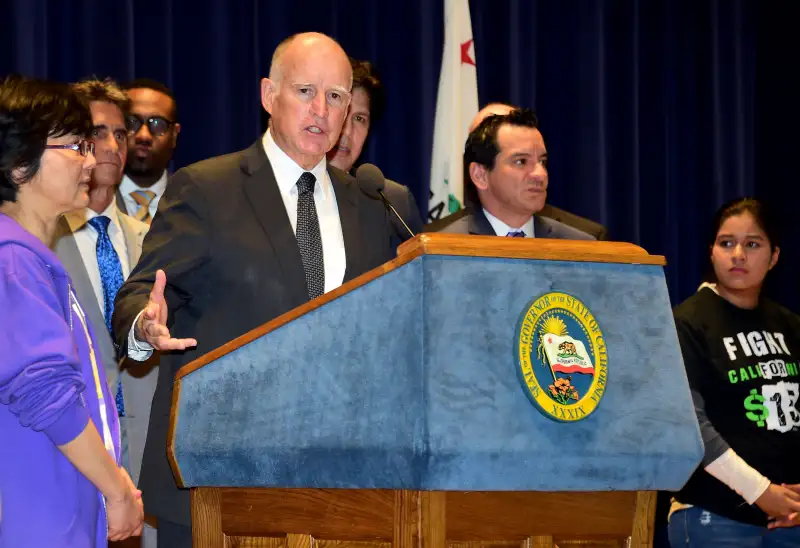 FREDERIC J. BROWN—AFP/Getty Images
The movement to require employers to offer retirement plans to their workers just took a big leap forward.
California Governor Jerry Brown signed legislation last week launching the state's Secure Choice plan - a government-sponsored retirement savings vehicle that would be offered to employees of most companies that do not have their own workplace retirement plan.
California is the seventh state to enact a plan, and it will be the largest by far in the nation. The green light marks a major expansion of government-sponsored retirement plan coverage in the United States - the plan is expected to cover 1.6 million workers in the first year alone; ultimately, 6.8 million will be eligible.
The states taking action are alarmed at the prospect of large numbers of their citizens headed toward retirement with little or no savings - in part because roughly half have no access to a workplace retirement plan.
But California's move also could also give a major boost to the Obama administration's efforts to expand coverage for workers at the national level. Late last year, the administration launched the myRA platform as a federally sponsored starter IRA for workers just beginning to develop the retirement savings habit. In August, the California legislature agreed to add language to the legislation that adds myRA as an option for consideration by the Secure Choice board.
The idea would be to use myRA for up to three years while the state tackles the myriad challenges of launching its own platform, said Dan Reeves, chief of staff for Kevin de León, president pro tempore of the California State Senate, who sponsored the California legislation.
A key task will be selection of a private sector financial services firm to administer the accounts. A U.S. Treasury department representative confirmed the department has been talking with California about its possible use of myRA.
A partnership between California - the most populous state in the nation - and the federal government would mark a huge expansion of myRA, which currently has just 15,000 account holders, according to the Treasury representative. California's initial 1.6 million accounts are expected to accumulate more than $3 billion in assets during the first year of operation, expected to be 2018.
California Secure Choice will begin by enrolling workers at companies with more than 100 employees, gradually phasing in workers at smaller firms (those with more than five workers) over a three- or four-year period. A total of 6.8 million workers will be eligible - 55 percent of the state's private-sector workforce.
The plan will be an IRA - most likely a Roth. Employers are not required to contribute; employees would contribute through payroll deductions to Secure Choice accounts. The plan's investments would be professionally managed, and geared to produce conservative returns tied to Treasury bond rates. The default contribution rate is expected to be 3 percent of wages.
The myRA platform could be used while California shops for a private sector vendor to administer the program. When that happens, myRA accounts would be transferred to the new platform, which most likely will consist of target date fund investments.
Watershed moment
California was the first state to investigate starting its own mandatory retirement plan, passing a law in 2012 authorizing study of the idea. It now joins Illinois, Maryland, Connecticut and Oregon, which have already enacted similar IRA programs; two other states (Washington state and New Jersey) have created non-mandatory programs where workers can shop among plans in a marketplace.
"California definitely marks a watershed moment, given its size," said Sarah Mysiewicz Gill, senior legislative representative for AARP, which has been a strong supporter of state plans. The next big shoe to drop, she thinks, could be New York state, where legislation is being considered both at the state level and in New York City. A New York state plan would add 3.6 million workers.
If the movement by states keeps gaining momentum, a tipping point could be reached where opposition to a national mandatory plan fades. Two key opponents withdrew their opposition to the California plan this year - the American Council of Life Insurers and the California Chamber of Commerce.
A California partnership with Treasury also would signify growing federal-state cooperation. The Obama administration, unable to get its own national auto-IRA past Republican opponents in Congress, instead launched myRA as a workaround.
Read: How a Bowl of Cashews Changed the Way You Save for Retirement
Essentially, it is a Roth IRA with payroll deduction features. There are no fees, funds are invested conservatively in government securities and principal is guaranteed by the Treasury. Balances cannot exceed $15,000 - at that point, accounts must be transferred to a private provider.
The administration also has embraced the state plans of late. Most notably, the Department of Labor last year issued a rule guiding states on how to create their plans without running afoul of requirements of the Employee Retirement Income Security Act.
But momentum is building for a national solution. A recent report on retirement system reform by the Bipartisan Policy Center (BPC) called for a new mandatory national Retirement Security Plan targeting employers with fewer than 500 workers.
And some financial services leaders think that if enough states pass their own plans, a critical mass will be attained and even current opponents on Wall Street will support a national plan.
Action at the state level is good - but a national mandatory plan is what we ultimately will need.