'Free' Games Like Candy Crush and Counter-Strike Are Wrecking People's Finances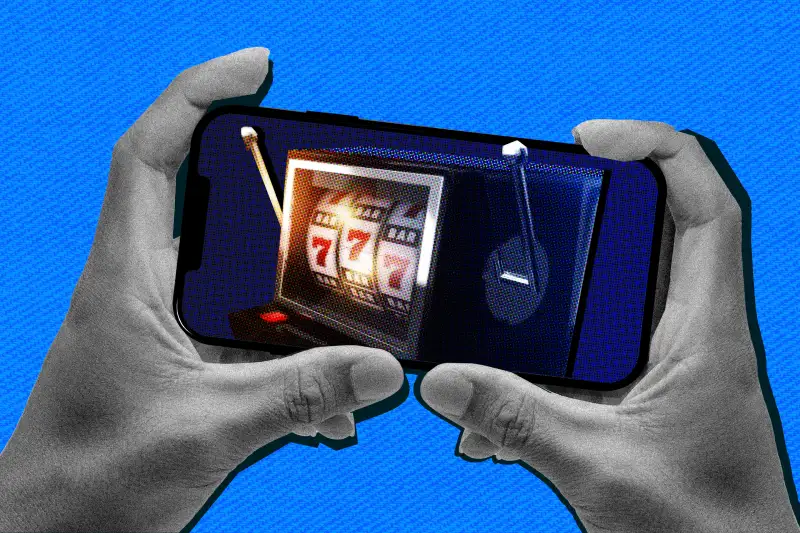 Eddie Lee / Money; Getty Images
The first-person shooter game "Counter-Strike" is one of the most popular video games in the world.
It's been around for more than two decades, first as a hardcopy PC game, then as one for Xbox. Now in its fourth iteration — "Counter-Strike: Global Offensive" — the game is available for free online, and is played by more than 5 million people every month. Even more impressive: in March, it made an average of $3.2 million per day.
"Counter-Strike" belongs to a massive market of so-called "freemium" content; a growing industry of apps and games that let you download and play them for free, then entice you with premium subscriptions and other in-app upgrades once you're in.
In "Counter-Strike's" case, these purchases are largely cosmetic "skins" — outfits or paint finishes for weapons players wield in-game. It's the same story for "Fortnite," a battle royale-style game that reaped over $20 billion in its first four years through cosmetics alone. Popular games on the mobile market, like Candy Crush Saga — which saw $1 billion in revenue in 2022 — offer extra lives and power boosts in exchange for cash.
These games follow in the footsteps of giants outside their industry. YouTube lets paying subscribers watch its videos ad-free. The New York Times, one of the few legacy media companies that actually grew its revenue last year, doles out unlimited content to paying subscribers; everybody else gets 10 free articles a month. The success of Zoom, DropBox and LinkedIn is further proof that you don't need to charge an entry fee to make a profitable product.
Soon, everything will be freemium. For gaming companies embracing it, success hinges on a very specific niche: the small portion of users footing the bill for everybody else.
Who's paying for freemium content?
Most people interact with freemium content without paying a dime.
Any time you use a product or service for free (chat with friends on a Zoom call, say, or read a story on the New York Times website) without paying for the extra bells and whistles the company tries to throw at you (longer video chats; no paywall limits) you've got the small minority of people who do pay for those upgrades to thank.
Researchers call these people "whales." Progressively smaller spenders are categorized as "dolphins" and "minnows," and those who don't spend money are called "remoras" ("suckerfish") or "barnacles," depending on their stubbornness toward converting to paid users.
Whales make up the brunt of companies' revenue, says Imam Salehudin, an assistant professor of economics at the University of Indonesia and co-author of the 2021 study, "No Such Thing as a Free App."
Salehudin and his research partner, Frank Alpert, an associate professor of marketing at the University of Queensland, took a close look at "Pokémon Go," a 2016 phenomenon that saw 15 million players and over $200 million in revenue in its first month.
The app took a new spin on the Pokémon video game franchise, letting players walk around the real world collecting Charizards and Squirtles in order to collect badges. Gamers can spend money on extra storage and experience boosters to help level up their Pokémon fleet.
Even if you were caught in the "Pokémon Go" frenzy at its onset, you probably didn't spend money on it. (A follow-up study by Salehudin and Alpert shows that only about 5% of users spend money on in-app purchases.) But the "Pokémon Go" fans who did spend money on the game spent a lot of money: According to Salehudin and Alpert, the average paying "Pokémon Go" user spent a whopping $267 in July of 2016, the month it debuted.
Today, about 70% of all freemium app revenue comes from just the top 10% of spenders, Salehudin says. And while these users are more willing to spend on in-game purchases than most, it's not because they're rolling in dough.
The biggest spenders, Salehudin says, tend to be the ones who can't control their in-app spending, regardless of how detrimental it might be to their finances. For some, playing (and paying for) video games looks a lot like gambling addiction.
Game developers have found it much easier to exploit the tendencies of these players than to convert stubborn free users. Some have introduced aggressive monetization tactics, like "free" games that literally can't be won without making in-app purchases, and algorithms designed to maximize the impulse toward spending, Salehudin says.
Others target vulnerable groups, like children and teenagers. Roblox, a wildly popular, free-to-play game beloved by its largely 16-and-under fanbase, made $2.2 billion in revenue last year on the back of its in-game currency ("Robux") and other freemium features.
This is still a legal gray area, but companies both in and outside the gaming world have faced lawsuits for their freemium-style monetization tactics.
Intuit, which owns the online tax preparer TurboTax, was just found to be intentionally hiding its free services, and guiding low-income customers toward freemium upgrades. It's now paying a $141 million settlement as a result.
"The overwhelming pressure for growth and profitability tempt businesses to aggressively monetize the model at the expense of user well-being and enjoyment," Salehudin says.
What comes next?
Ultimately, Salehudin says, the success of freemium games has been a net positive for users — especially those who don't want (or can't afford) to buy an Xbox or other gaming console.
"Freemium eliminates the barrier to participating in playing a game," he says.
Still, Salehudin cautions users to tread carefully when interacting with freemium products. Even if there's no required buy-in, the companies behind them — be they mobile game developers or online tax providers — are still trying to pull as much profit from you as they can.
Some companies don't have to try all that hard. When Valve, the game developer behind Counter-Strike, announced the upcoming release of a sequel in March, the game brought in record-high revenue that month. That is, fans spent more money on in-game purchases than they ever had, just in anticipation of a new release.
For Counter-Strike, the freemium model has only gotten more lucrative with time. As more and more brands get wise to its money-making potential, more and more content will follow the same blueprint. So long as enough "whales" keep ponying up for it.
More from Money:
Men Shop to Treat Themselves Just as Much as Women — and Spend More Doing It
Amazon Is Giving Some Prime Members $10 to Pick up Their Own Orders
Is Your Money Safe in the Bank? Shockingly, Republicans and Democrats Disagree