September Car Sales Fell Less Than Expected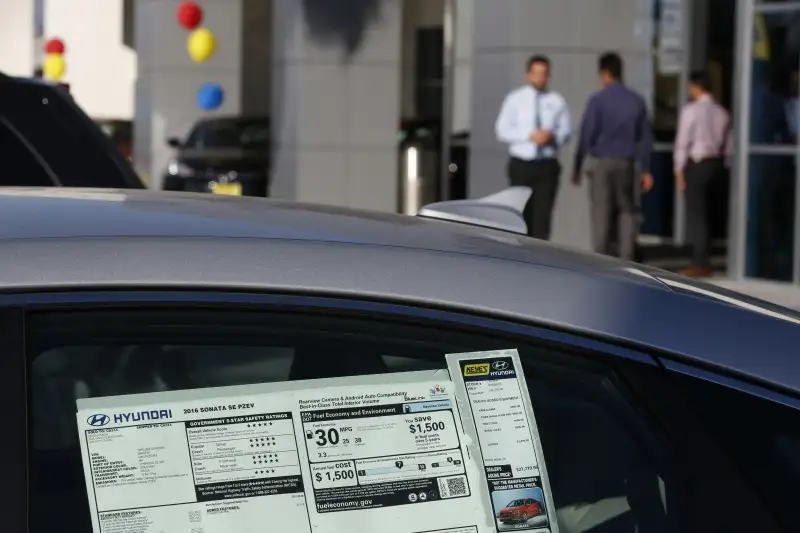 Bloomberg via Getty Images
Major automakers posted September U.S. sales on Monday that were slightly lower than a year ago, despite big consumer discounts, as pickup truck volumes fell for both General Motors and Ford.
Research firm Autodata showed total industry sales at 1.44 million vehicles, down 0.5% for a seasonally adjusted annualized rate of 17.76 million from 18.05 million in September 2015.
GM, the top-seller in the United States, posted a 0.6% decline. Ford reported an 8% drop, and Fiat Chrysler Automobiles was down 1%.
Shares of the three Detroit automakers rose, led by GM with a 0.8% gain.
Sales of Toyota grew 1.5%; Honda had a decline of 0.1%; and Nissan showed a 5%.
Mark Wakefield, head of North American automotive practice at consultancy AlixPartners, said in a telephone interview that demand for pickup trucks remained strong in part because of low gasoline prices, despite the September dip for the biggest sellers. He also noted that September 2015 sales had been extremely strong, at an annualized rate of 18 million vehicles.
Wakefield said the market has shifted to one of "push" from manufacturers rather than "pull" from consumers, with discounts of just over 10 percent of the average selling price of new vehicles for the last several months.
While Ford said that September was the best month in 2016 for its F-Series pickup truck, sales were still down 3% from a year earlier.
GM said pickup sales fell 15.5% for its Chevrolet Silverado and 8.5% for its GMC Sierra.
Spokesman Dan Flores said in a telephone call that GM was holding tight reins on discounts, also called incentives, for Silverado and Sierra. It has 89 days of supply for those trucks, which he said put it in a good position heading into the fourth quarter, historically the strongest for pickups.
Fiat Chrysler's Ram 1500 pickup truck showed a sales increase of 29 percent.
Fiat Chrysler spokesman Ralph Kisiel, responding by email to a Reuters query about rivals' claims that Ram pickup trucks were highly discounted, said the company has offered "good deals" on 2016 model trucks to make way for the new 2017 models.
Most analysts forecast a decrease in 2016 from last year's record sales of nearly 17.5 million vehicles.
The fourth quarter of 2015 was strong, so the next several months will present difficult comparisons, Wakefield said.
Industrywide spending for discounts rose $430 per vehicle from a year ago, Mark LaNeve, Ford's vice president of U.S. marketing, sales and service, said on a conference call after the company reported sales.
J.D. Power, in a research note last week, estimated record September industry incentive spending.
In contrast to most analysts' expectations, Toyota and GM executives said on Monday that a new record this year was within reach.
"Industry sales in 2016 remain in line with last year's record levels," said Bill Fay, head of the Toyota brand in the U.S. market, told reporters on a conference call.
GM Chief Economist Mustafa Mohatarem said in a telephone interview on Monday, "I don't see any downturn in the U.S. economy any time soon."