7 Ways to Save on a Caribbean Vacation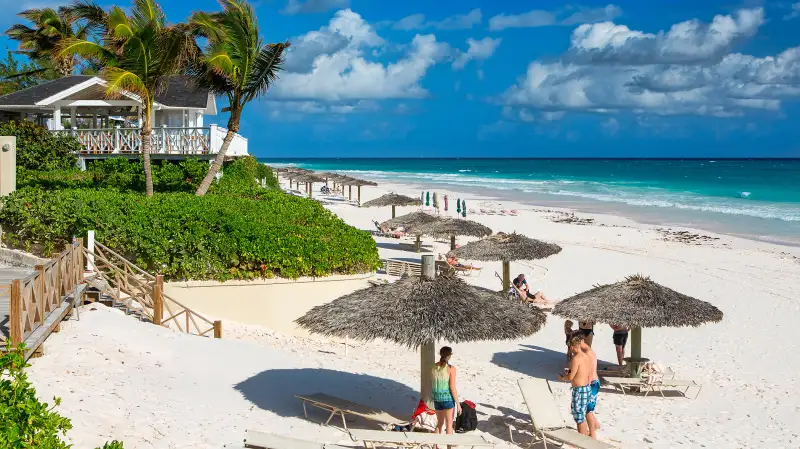 Sugar-soft beaches doused in sunlight. Towering palms that sway in the sea breeze. Perhaps a pina colada — or two, or three — as you lounge by the hotel pool, terrible mystery novel in hand.
If this sounds like the vacation you're after, then the Caribbean is your soon-to-be spot in the sun. But vacations to this island region can be expensive. From finding cheap flights to uncovering the best accommodations, Hopper has seven ways to save on your Caribbean vacation!
Choose Your Island Wisely
Due to proximity, airline availability, and differences in demand, some Caribbean islands are simply less expensive to fly to than others. If you're on a budget, you should definitely consider the cost of flying when you choose which Caribbean isle to visit.
Because of its nearness and sheer number of non-stop flights, San Juan, Puerto Rico, is one of the least expensive Caribbean airports to fly to. On average, Americans pay about $372 to fly to San Juan, but many airports, especially in Florida, offer prices closer to $200. Santo Domingo, Dominican Republic, is both popular and inexpensive at $381; Nassau, Bahamas, ($393) and St. Thomas in the picturesque U.S. Virgin Islands ($400) are also good deals.
Another favorite tip: Consider Bermuda. It's often considered part of the Caribbean, but this distinctly British-flavored isle is actually in the North Atlantic, just off the coast of North Carolina. Non-stop flights from New York City and Boston are inexpensive and quick (Bermudians like to say it's three hours door to door, which is much faster than the Hamptons or the Cape!).
Keep an Eye on Airfare
Flights to the ever-popular Caribbean can be heart-stoppingly expensive. Depending on the time of year, price increases can be dramatic. So how do you know you're getting the best deal? Simple: By knowing what an average flight to the Caribbean should cost from your airport and how far in advance you should book. If you know what a "good price" from your airport is, you'll know if the flights you're finding are good buys.
In summer generally, flight prices rise (it's when everyone takes their family vacations, after all). How much do flights go up? On average, flight prices increase about 21% for the most visited destinations in the world each summer. However, flights to the Caribbean increase, at most, about 8.5%. And in some markets, prices fall. Most East Coasters should expect to find Caribbean airfare for around $400 or less ($300 or less if you're in Florida). If you're buying Caribbean flights for much more than that, you're overpaying and are either booking too early or way too late."
Choose the Right Days to Fly
We are now going to share with you the easiest way to save money on your Caribbean flight: Simply fly out and back on the right days! We looked at billions of pieces of data and found that the average cheapest day to depart for the Caribbean is Tuesday, saving up to $25. And the cheapest day to return? It's Wednesday, saving up to $37. Boom, you just saved $62 per person without having to lift a finger. And your actual savings could even be higher, depending your route and airline.
Visit in the Off-Season
Winter, when many Americans and Canadians are buried under snow, is high season for the Caribbean. Expect hotel and flight prices to skyrocket around the winter holidays and February, when even the most basic accommodations become the Ritz (at least in price). Luckily, this expensive period tapers off around mid-April, and prices stay low until December.
This is the time to go to the Caribbean, if you're looking to save.
While weather can be extra-humid, hot, and rainy, you're likely to find big savings on hotels. Check for summer rates or low-season packages — you can often find discounts of 40% or more. Flights will generally be cheaper, bottoming out at a countrywide average of $424 in the fall.
One caveat: You'll likely want to invest in travel insurance, in case of severe weather (like hurricanes). Check with your credit card company or existing insurance policies to see if travel-specific insurance is offered. And know that some Caribbean islands, like Aruba, are largely outside the hurricane belt.
Consider a Vacation Rental
Vacation rentals from HomeAway and Airbnb are ever-popular for budget-minded travelers heading to big cities. After all, apartments are inexpensive and allow you to experience the destination like a local. (Plus you can save money by dining in your temporary home!) While rental inventories tend to be lower on Caribbean islands due to lower home stock, you can often find well-priced, well-located vacation rentals, especially during the off-season. We uncovered some great rental options starting well under $100 per night in the Virgin Islands, Puerto Rico, Aruba, and elsewhere.
Keep in mind that groceries can be expensive on some Caribbean islands, but many vacation-home owners include supplies like fruit and water, while others stock their own snorkeling equipment, towels, chairs, and even bicycles for guests!
Don't Rule Out All-Inclusives
Don't let the sticker shock, well, shock you too much. All-inclusives can seem more expensive at check-out, but remember, those prices generally include your room, meals, drinks, activities, and any other neat inclusions the resort throws in (like airport transfers). When doing your hotel research, honestly ask yourself which inclusions and amenities you will need and need to pay out of pocket for and which are automatically included by the resort. If you know you're going to want three square meals a day plus water activities, consider that all-inclusive! And again, check for off-season rates, which can reduce prices by up to 40%.
Pack Essentials
On this writer's very first trip to the Caribbean, she neglected to pack sunscreen. Imagine her surprise when she stopped in a shop and found that a tiny bottle of lotion cost well over $30! Don't make this rookie mistake. Instead, pack everything you need so you don't have to buy on-island.
First, check to see what toiletries and supplies your accommodations include. Check TSA-approved travel-sized toiletries if you want to avoid checked-bag fees (Consider packing a few three-ounce sunscreen bottles to last for your entire stay.) Don't tote along snorkeling equipment if the hotel provides it gratis. Contact your hotel or vacation rental and ask whether beach towels, hair dryers, and other necessities are included.
You will quickly find that most tourist-focused stores, souvenir shops, and hotel boutiques are extremely pricey, so save by being a conscientious packer first.
More From Hopper:
This article originally appeared on Hopper.com. Hopper is a travel app that tracks and predicts airfare prices.
More From Hopper: