Happy Birthday, Carrie Fisher! Here's How Much The OG Princess Leia Is Worth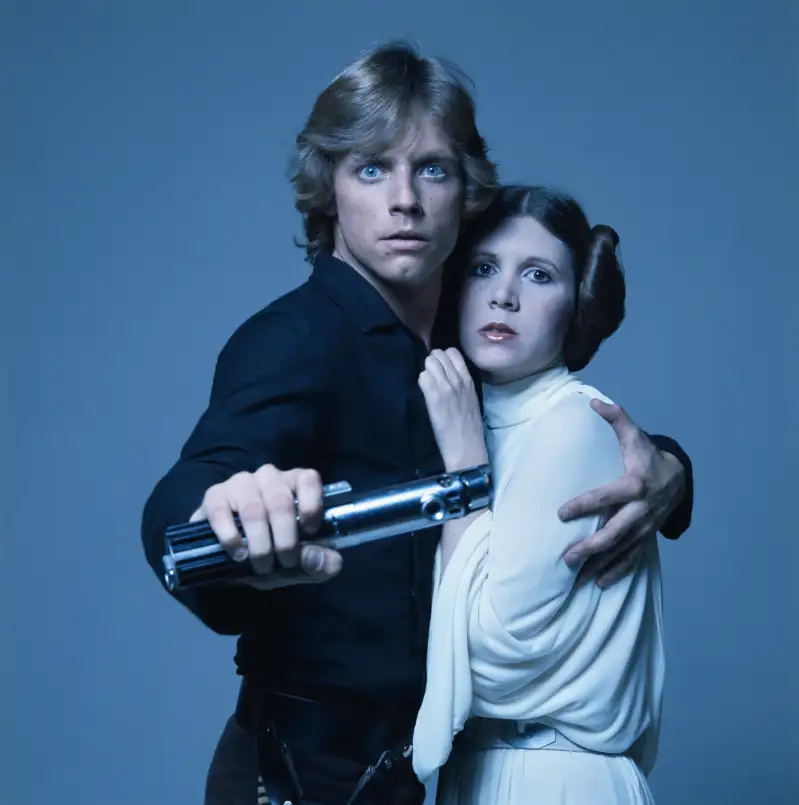 Terry O'Neill—Getty Images
Many of Stars Wars' biggest fans might find it hard to believe that their beloved Princess Leia is about to turn 60 years old. Well, at least the woman who played Princess Leia is turning 60.
Carrie Fisher, who has been acting for decades, will celebrate her 60th birthday on Oct. 21. Fisher got her big break in the original Stars Wars trilogy in the 70s and 80s and decades later reprised the role in "Star Wars: The Force Awakens," which hit theaters in 2015. Take a look at Fisher's fortune as the famous actress turns 60.
Carrie Fisher Net Worth: $25 Million
Carrie Fisher's net worth stands at $25 million, according to CelebrityNetWorth.com. And much of that cash comes from her films in the Star Wars franchise.
Along with other "Star Wars" leads, Fisher agreed to take a percentage of the movie's profits, as well as money from TV screenings and re-releases. It was a great business decision, especially considering just how large the Star Wars empire has become.
Read: 15 Most Ridiculous Star Wars Merchandise
Fisher did, however, make the mistake of signing away her likeness, meaning she doesn't profit from the sale of Star Wars merchandise. Of the Star Wars actors, she still has the second-largest net worth, behind Harrison Ford, whose net worth stands at $230 million, according to CelebrityNetWorth.
Star Wars Success and Role
Fisher first played Princess Leia Organa in the 1977 film that started it all, "Star Wars: A New Hope." As her name suggests, Leia is princess of the planet Alderaan, and the film sees her pitted against Darth Vader, who as all Star Wars fans know, is actually her father. Along with her long-lost twin, Luke Skywalker, and love interest Han Solo — played by Mark Hamill and Harrison Ford, respectively — Leia fights the Galactic Empire in "The Empire Strikes Back" in 1980 and "Return of the Jedi" in 1983. In 2015, Fisher returned as Leia to wage war on a new enemy, the First Order, in "Star Wars: The Force Awakens."
Read: 10 Most Valuable Stars Wars Merchandise
Fisher's portrayal of Princess Leia helped the character become an icon, celebrated for her feminist power and cinnamon bun hairstyle. Moreover, each of the Star War movies that featured Fisher earned a significant sum, led by "Star Wars: The Force Awakens."
According to BoxOfficeMojo.com, gross earnings for the films were as follows:
"Star Wars: the Force Awakens" — Boasts a $247.9 million opening weekend, with $936.7 million gross earnings in the U.S. It also made $1.13 billion overseas, earning a total of $2.07 billion worldwide.
"Star Wars: Return of the Jedi" — Earned $23 million its opening weekend and $309 million gross in the U.S.
"Star Wars: The Empire Strikes Back" — Earned more than $10 million in the wide opening weekend and $290 million gross in the U.S.
"Star Wars: A New Hope" — Made $6.8 million in the wide opening weekend and $460 million in gross earnings in the U.S.
Carrie Fisher's Early Film Career
Although Fisher was only 19 when she filmed "Star Wars," the actress had already made her onscreen debut. Two years earlier, Fisher appeared in "Shampoo" along with Warren Beatty, Julie Christie and Goldie Hawn. The film racked up close to $50 million in gross profits. Additionally, she appeared in "The Blues Brothers" (1980), which boasts $57 million in gross profits, and "Hannah and Her Sisters" (1986), which has brought in about $40 million.
Fisher had a particularly good year in 1989. She appeared in a major supporting part in "When Harry Met Sally…" which has amassed gross profits of more than $92 million. She also starred opposite Tom Hanks in "The 'Burbs," which has taken in more than $36 million since its opening.
Additionally, Fisher has appeared in small roles and cameos in a host of popular movies, including "Charlie's Angels: Full Throttle," "Austin Powers: International Man of Mystery," "Scream 3," "Jay and Silent Bob Strike Back," "Heartbreakers" and "Hook."
Carried Fisher's TV Roles
Fisher has also enjoyed a successful television career. On the small screen, she has appeared in "Sex and the City," "30 Rock," "Entourage," "The Big Bang Theory," "Weeds," "Smallville" and "Catastrophe." The actress was also the voice of Angela, Peter Griffin's boss in "Family Guy."
Fisher isn't only famous for her on-screen roles. Her semi-autobiographical novel, "Postcards from the Edge," was published in 1987 and became a bestseller. The book depicts a fictionalized account of real events from the star's life, including her drug addiction. It was later turned into a film, which starred Meryl Streep, Dennis Quaid and Shirley MacLaine and brought in more than $7 million on its opening weekend in 1990 and a gross of $39 million.
Carrie Fisher's Charitable Work and Causes
Fisher has put her financial success to good use by contributing to numerous charitable causes and organizations, some of which have recognized the star for her efforts.
This past spring, Fisher was honored with a Lifetime Achievement Award from the Humanist Hub in Cambridge, Mass., for her openness about her mental illness and efforts to aid sufferers. During the ceremony, which included Stormtroopers, Han Solo and a Wookie, Fisher talked about her experiences with bipolar disorder, rehab and body image.
Read: 20 Best Animal Charities to Donate to
The star has also been honored with a Golden Heart Award from the Midnight Mission, a Los Angeles-based nonprofit that works to offer a bridge to self-sufficiency for homeless people through counseling, education, training and job placement. Fisher is an avid supporter of the cause.
Additionally, Fisher joined other celebrities this past summer to petition for an end to the annual dog meat festival in China.
According to the online publication, "Look to the Stars," Fisher vocalized her stance against the festival, saying, "There is so much animal suffering in the world, and much of it you feel helpless to end. But stopping the Yulin dog meat festival and ending all that suffering is easy. All the Chinese authorities need to do is declare it shut down, and the killing stops. These poor dogs need us to fight for them. Every single one of them is as precious as my dear Gary, every one of them is someone's best friend."
This article originally appeared on GoBankingRates.