8 Celebrity Homes You Can Rent on Airbnb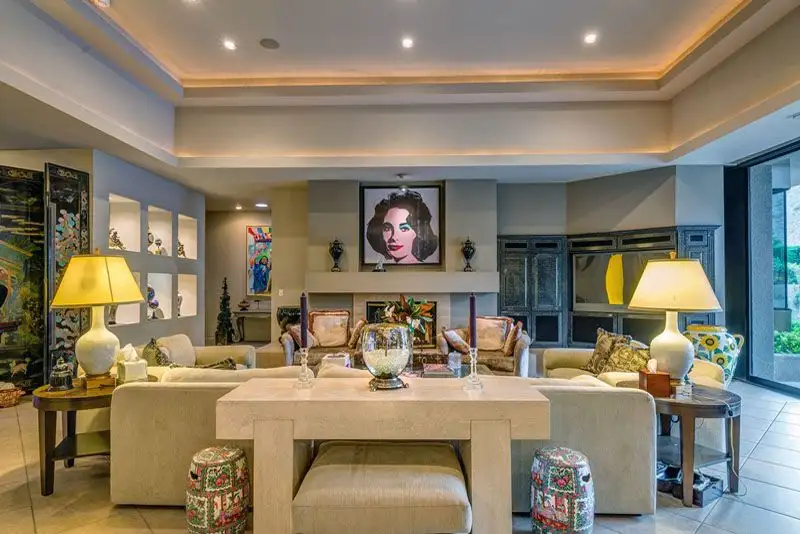 Elizabeth Taylor's living room. Photo courtesy of Airbnb
Travelers wishing to experience the glitz and glamor of the celebrity set, rejoice! Airbnb, the website that allows users to list, find, and rent a place to stay, offers properties that once served as home to the stars.
Airbnb boasts 60 million guests in 34,000 cities in 190 countries since its 2008 founding. It secured $100 million in funding at a $25.5 billion valuation in November, just five months after raising $1.5 billion. The company says it will achieve profitability next year.
Not everyone is thrilled with the company. In early November, voters in its home turf of San Francisco went to the ballot box to vote on Proposition F, which sought to impose strict regulations on the company and its short-term rentals. Despite the pleas of activists who accused it of making the city's homelessness problem worse, Airbnb emerged victorious, with 55 % of voters opposing the measure.
While criticism of Airbnb continues, business remains bustling, and many of the hosts use their properties' association with celebrities to keep it that way. Here's a look at some of those properties, which once served as home to the stars.
Mickey Rooney
Actor Mickey Rooney passed away last year after a film career that spanned hundreds of movies, nine decades and eight marriages. The man may be gone, but you can still stay in the 2-bedroom Topanga Canyon apartment he once called home for a mere $220 per night.
The apartment accommodates four people and is less than a 15 minute drive to Malibu and Santa Monica. The listing also promises a front porch chime that captures "the soul of the wind" and nights that "host an entrancing symphony orchestrating frogs and crickets, conducted by owls."
Ava Gardner and Artie Shaw
One was a sultry, smoky brunette from the Hollywood of yesteryear. The other was a purveyor of big band jazz. They were Ava Gardner and Artie Shaw, and their marriage was a tempestuous union that lasted only a year. However, the home that they occupied still stands, and you can rent it for just $85 a night.
Nestled in Burbank's Rancho Equestrian area, the house was built in 1938. Its 15' x 12' guest room boasts a walk-in closet and the dining room can accommodate 12. Guests with musical instruments can retire to the detached cabin that serves as a dedicated space to play them without disturbing others. And it's only a 10-minute drive to Forest Lawn Memorial Park, the final resting place of Fred "Rerun" Berry of "What's Happening!!"
Bing Crosby

Bing Crosby passed away in 1977, but he remains a cultural giant, with 41 number one hits and an iconic reading of "White Christmas" that's sold 100 million copies. Now, true devotees can stay in his former home in Palm Springs for $675 a night.
The 1934 Hacienda – all 3200 square feet of it -- has been restored, while still maintaining its classic feel. The outdoor pool area can accommodate up to 30 people, and those who want to take in a Hope-Crosby classic movie can do so by firing up the living room's 8'x15' screen, complete with surround sound.
Captain & Tennille
Love may not have kept them together, but in happier times, the easy listening stars known as Captain & Tennille once lived in this palatial 3-bedroom spread in Malibu with their pet chimpanzee. They weren't the only famous occupants either – previous residents include actor Denzel Washington and Led Zeppelin guitarist Jimmy Page.
The house offers spectacular views of mountains and oceans, and it accommodates up to eight people. The listing proclaims it perfect for those "seeking a romantic and restful holiday," and it features a detached gym and oceanfront Jacuzzi. The property is available for $490 per night.
Elizabeth Taylor
Elizabeth Taylor was the personification of old school Hollywood glamor. She passed away in 2011, but those wishing to soak up some of that glamor for themselves can do so by renting her former home in the Las Palmas neighborhood of Palm Springs.
The 4-bedroom residence -- which is $625 a night -- offers guests numerous extravagances, including mountain views, a swimming pool and a spa. The listing suggests using it as a wedding venue, a fitting tribute to a woman who was married eight times, twice to the same man.
John Steinbeck
For those interested in experiencing a bit of American literary history, $175 will buy you a night in the intimate, one-bedroom studio where author John Steinbeck would dream up his masterpieces. It's no retreat from civilization, however – this Pacific Grove studio has plenty of modern amenities, including cable television and wireless Internet.
It measures 350 square feet, and it's good for guests of slight build, as the listing advises tall guests to "mind their heads" as they walk through the short doorways. Those wanting to rent slightly roomier Steinbeck-related real estate can rent his cottage instead, which resides on the same property as the studio, for $195 per night.
Jimi Hendrix
In 1970, rock guitar virtuoso Jimi Hendrix was in Hawaii to film the concert movie "Rainbow Bridge." When he was there, he took up residence at this private home in Hawaii, where guests can now stay for $165 per night. Known as the Gingerbread House, this 1930's cottage has been remodeled, but thanks to its presence on gated property, the privacy it affords its guests remains.
The home has only a modest kitchenette and no bedroom to speak of, but it's intended more as a getaway destination for couples than a place to bring a large family anyway. The owner rents out the property for a minimum of three nights, but between the plentiful fruit trees and tree canopy over the outdoor patio, it's hard to imagine that anyone would ever want to leave. The owner of the property also performs weddings.
Merv Griffin
Media mogul and entertainer Merv Griffin may have passed away in 2007, but the legacy that he left behind, which includes the game shows "Jeopardy!" and "Wheel of Fortune," ensures that he lives on. The property on which he lived was no less colossal than his impact on popular culture, and it can be rented to interested parties for the staggering price of $6690 per night.
As costly as that sounds, renters get a lot of bang for their buck. The property, fittingly known as the Merv Griffin Estate, is a Moroccan-inspired 13-bedroom home that sits on 39 acres in La Quinta, California. And it's not just one house – in addition to the 5,400 square foot main house, there are four guest "pods" and two guesthouses, comfortably accommodating you and 16 other people.
Daniel Bukszpan is a New York-based freelance writer.
This article originally appeared on Fortune.