Get Ready for Cellphone Calls on Airplanes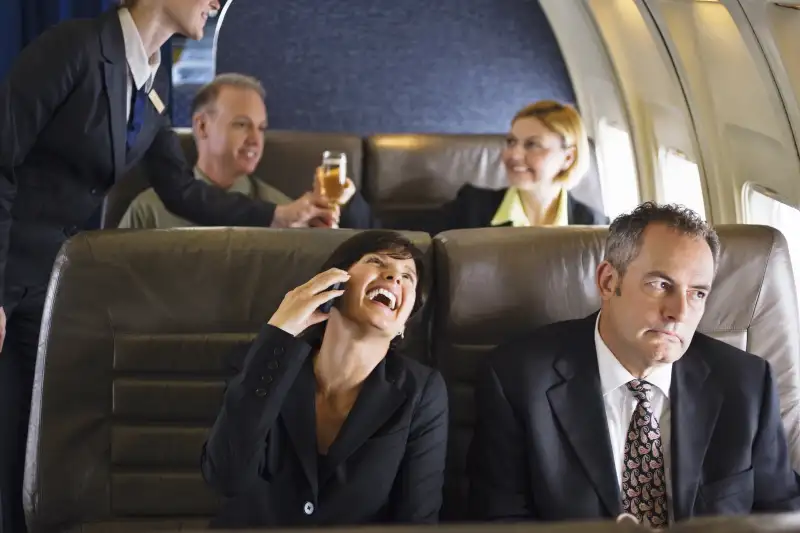 Justin Pumfrey—Getty Images
As if airplanes weren't unpleasant enough, you might soon get an earful from your seatmate. Two different federal agencies are now considering revising the rules about inflight calls, and bureaucrats will meet Wednesday to debate the issue.
While the Federal Communications Commission currently bans inflight calls, last December the agency proposed a new rule that would allow passengers to use cell phones above 10,000 feet. Airlines could choose whether to install the necessary technology and allow calls on flights. The FCC has not made a final decision.
Meanwhile, the Department of Transportation announced that it was working on its own proposal — and the rumor is that DOT wants to institute a new ban on inflight calls. DOT has yet to release its proposed rule, but its advisory group, the Advisory Committee on Aviation Consumer Protection, is hosting Wednesday's discussion.
Given that experts agree there is now little technological reason to limit cellphone use on airplanes, the big question is: Are the American people really mature enough to make discreet personal calls, in a cramped space, without disturbing their fellow passengers?
Members of Congress say no — and there's bipartisan agreement on that point.
"Arguments in an aircraft cabin already start over mundane issues, like seat selection, reclining seats, and overhead bin space," Rep. David B. McKinley (R-W.Va.), Rep. Dan Lipinski (D-IL) and more than 73 other elected representatives wrote to the FCC. "The volume and pervasiveness of voice communications would only serve to exacerbate and escalate these disputes." (Read their full letter.)
If you feel strongly, tune in to the webcast Wednesday morning, when representatives from the DOT, the FCC, the cellphone industry and the Association of Professional Flight Attendants will debate the issue.
Until then, tell us what you think: