As Hopes Fade for a Second Stimulus Check, These Programs Are Still Providing Financial Relief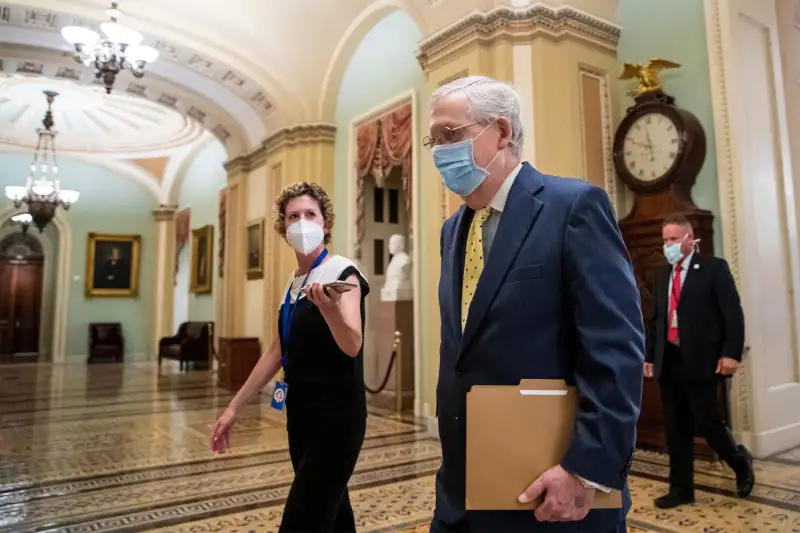 Congress remains deadlocked over a second coronavirus relief bill this week after lawmakers returned to Washington from their summer recess.
Meanwhile, many families are having trouble making ends meet after crucial programs — including the $600 weekly boost to unemployment benefits and the Paycheck Protection Program for small businesses — expired earlier this summer, and the stimulus checks that were distributed this spring are long gone. If you're one of the millions of Americans struggling right now, there are a few coronavirus-specific programs that can provide some much-needed relief as politicians gear up for what will likely be a long battle over a second relief package.
Senate Majority Leader Mitch McConnell (R-Ky.) introduced new legislation for a vote on Thursday, but the proposed bill, a super-slimmed down version of the CARES Act featuring tax credits for school choice scholarships yet no stimulus checks, was blocked by Senate Democrats during this first go-round.
Here are some programs that might be able to help in the meantime:
Eviction Moratorium
On Sept. 4, the Centers for Disease Control and Prevention announced a nationwide moratorium on residential evictions through the end of 2020 in order to combat the spread of COVID-19. This is welcome news for the estimated 30 to 40 million households predicted to be at risk for eviction in the coming months.
However, the moratorium comes with five specific requirements that renters must say apply to them under penalty of perjury. Residents who would otherwise be facing eviction must:
Have done their best efforts to access any and all forms of government rental assistance.

Expect to earn less than $99,000 if filing individually or $198,000 if filing a joint tax return. If you don't qualify this way, it's still possible to be eligible if you did not need to report any income in 2019 or received a stimulus check this year.

Be able to prove that they've experienced substantial financial hardship due to the pandemic.

Make their best effort to make partial rent payments in a timely manner that's as close to the full amount as possible.

Prove the eviction would likely lead to homelessness or force renters to move somewhere they'd be in close or shared quarters, putting them at higher risk for contracting COVID-19.
As some have pointed out, terms like "best effort" and "timely" are fairly subjective, and disputes between landlords and tenants could potentially have to be settled in court. Additionally, under current rules all of the unpaid rent will be due come Jan. 1, 2021, although many tenants' organizations are fighting for less burdensome alternatives, like the California law that will treat the money due as consumer debt that cannot be used as grounds for eviction.
Student Loans on Pause
On Aug. 8, President Donald Trump announced a memorandum on student loan repayments through the end of the year. Originally set to expire at the end of September, provisions in the CARES Act that halted all federal student loan payments were extended to avoid unprecedented levels of delinquencies and defaults. The extension also includes stipulations that allow this period to count toward forgiveness for income-driven repayment plans and Public Service Loan Forgiveness, though there have been some legal questions surrounding whether or not the president actually has the authority to do so.
Lost Wages Assistance
After Congress allowed the additional $600 weekly unemployment payments to expire at the end of July, the Federal Emergency Management Agency, or FEMA, stepped in to provide states with funding for an extra $300 in weekly unemployment benefits retroactive from Aug. 1 until money for this program runs out (the funding is only guaranteed to cover the first three weeks of August). In order to qualify for these additional payments, recipients must:
Have been eligible for unemployment benefits during the first three weeks of August.

Receive a weekly unemployment benefit that's at least $100.

Have become unemployed or seen their hours reduced due to COVID-19.
To find out more about further requirements in your state and when to expect the money, check out our ongoing rundown.
Free School Lunch
Every dollar counts in a crisis, and parents can now breathe easier knowing that their children will be able to receive free school meals for the rest of 2020, as long as funding remains. The Department of Agriculture, which oversees the National School Lunch Program, announced at the end of August that summer meal programs will be extended through the end of the year.
This will allow students to easily access nutritious meals each day under all circumstances, even if they are doing distance learning. The Summer Food Service Program and Seamless Summer Option will continue to provide meals in all areas and at no cost. Parents will also still be able to pick up lunches for their children and take them home with them.
State, Local, and Non-Profit Aid
It's also a good idea to check and see what aid your state and local government provides. Not only do states sometimes provide more assistance than the federal government mandates, but also during the pandemic, state legislators and even county officials have made moves to get large sums of cash into the hands of residents.
Another option is to look into community and non-profit organizations that have been providing grants and assistance to those who qualify. Back in April, Money provided a robust list of industry-based assistance programs, but there are even more available to people in specific locations that can be found on sites like candid.org.
This story was updated to reflect the Senate's vote on Thursday, September 10.
More from Money:
Extra $300 Unemployment Benefits: Here's When Every State Is Sending out the New Weekly Bonus Payments
Looking for Work? Here's Who's Hiring During the Coronavirus Outbreak