Money's 2023 Changemakers: Meet the Advocates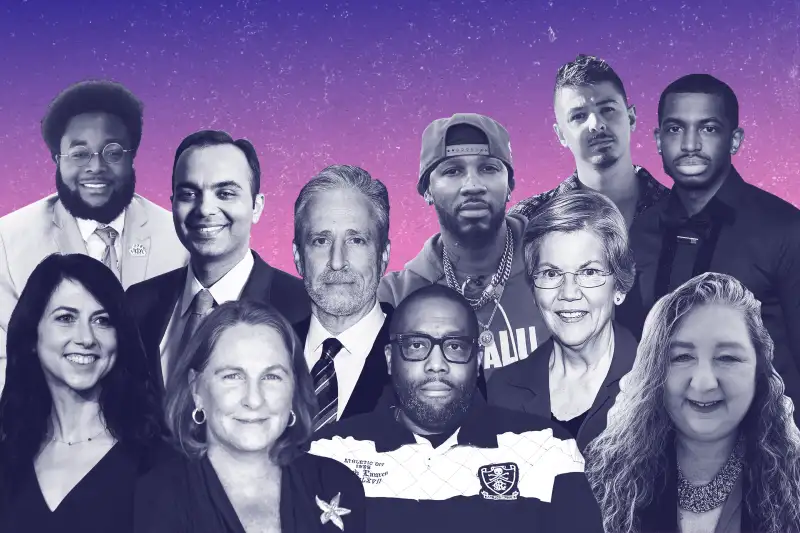 Money recently published its inaugural list of Changemakers, the 50 people impacting Americans' wallets. Our 2023 Changemakers include a wide variety of innovators making meaningful, positive change in personal finance. They fall into six categories: advocates, creators, educators, experts, leaders and trailblazers.
Meet the advocates below, and check out the entire Changemakers project here.
Mayotte, the founder and president of The Institute of Student Loan Advisors (TISLA), has "nerd-level knowledge" of all things financial aid. That's an especially important perspective to have right now, as the Supreme Court weighs the legality of a proposal by President Joe Biden to forgive certain student loans. Mayotte holds one-on-one consultations with borrowers and is a mainstay on Reddit, where she once helped a user get over $900,000 of erroneous debt discharged. For free.
"The way I look at it, life brought me to this point where I attained a certain weird little set of skills," she says. "I sort of had no choice. This is what I was supposed to do."
Unions became cool again in 2022, and that's in no small part due to these three organizers. Smalls and Palmer were behind the historic union drive at an Amazon warehouse on Staten Island, New York. Amato helped get a similar movement off the ground at a Starbucks across the state in Tonawanda. They're pushing for better pay, improved benefits and a safer work environment for employees — all while advancing the broader labor cause.
"We have a lot of work to do," Palmer says. "I'm just proud to be in this position to motivate workers to unionize and make sure the labor movement is in a good spot."
Mitchell was paralyzed in a hit-and-run at age 16. Years later, he's a Tennessee-based independent living specialist passionate about ABLE accounts, short for Achieving a Better Life Experience. ABLE accounts allow people with disabilities to save money without jeopardizing other benefits. Previously, ABLE accounts were restricted to Americans who became disabled before age 26, but a recent law expanded that to 46 — thanks in part to testimony from advocates like Mitchell, who spoke before a House committee on the subject in 2018.
"An accident can happen at any age," Mitchell says.
There's no denying the link between money and families' decisions about whether to have a child. Warren, a Democratic senator representing Massachusetts, has made that a cornerstone of her advocacy, especially since the U.S. Supreme Court struck down Roe v. Wade last summer. Her crusade for abortion rights has been part storytelling — of how unplanned pregnancies in a pre-Roe America derailed women's careers — and part policy solutions.
"You can't separate the economic well-being of families from the freedom to start a family on your own terms," she said. "Abortion is a kitchen-table issue."
Collins started her term as national taxpayer advocate just as COVID-19 started to shut down the U.S. in March 2020, which triggered a spike in unemployment and the urgent need for stimulus checks. Throughout the pandemic, she's been a crucial voice for everyday Americans, pushing legislators and the IRS to improve its systems in order to better serve taxpayers. Next up? A better IRS website, greater transparency and updated technology, to start.
"The IRS touches more individuals and more businesses than any other government agency," she says. "It is so important that we get this right."
Though you probably know Stewart from The Daily Show, he's also an outspoken advocate for the military and emergency responders. He argued for health care coverage for 9/11 first responders and, more recently, has used his platform to support service members who were exposed to burn pits in the Middle East. The sharp-tongued Stewart appears equally at home on set for his new show, The Problem, as he is making passionate speeches on Capitol Hill.
"They lived up to the agreement. They lived up to their end of the bargain," Stewart said. "You fought for the country, and the country has to hold up its agreement to you."
There's no star who advocates louder, harder and more often to expand Black Americans' economic prosperity than Run the Jewels' Killer Mike, whose real name is Michael Render. From launching a barber shop franchise to give Black men careers, to stopping by public comment sessions at Atlanta city council meetings, the rapper is a devoted activist for the working class. He's also a key part of the team at Greenwood, a banking platform that empowers Black and Latino customers to take back control of their money.
"I felt good about getting behind something that would allow people the autonomy to grow their own power, in terms of their own personal finance and as a community," Render says.
After spending years married to Amazon founder Jeff Bezos — one of the richest men in the world — Scott has turned her focus to giving away her fortune. She's a reclusive philanthropist who is dedicated to approaching charitable giving in a thoughtful, methodical way. She's supported groups like Big Brothers Big Sisters of America, Chicago Public Schools, GLAAD, the National Alliance on Mental Illness, the Translatinx Network and the Women's Refugee Commission. And she's not done yet.
"I have a disproportionate amount of money to share," she said.
As head of the Consumer Financial Protection Bureau, Chopra has helped overhaul how medical debt affects Americans' credit, reduce "junk fees" charged by banks and tighten rules for consumer reporting agencies that compile and sell dossiers of sensitive financial data. Going forward, he envisions the CFPB as a financial first responder, with the ability to act quickly and decisively in response to economic changes.
"What keeps me up at night is constantly making sure we are prepared and ready to respond," Chopra says.
More from Money:
Money's 2023 Changemakers: Meet the Educators
Money's 2023 Changemakers: Meet the Trailblazers