How to Get the Most Bang for Your Charitable Giving Buck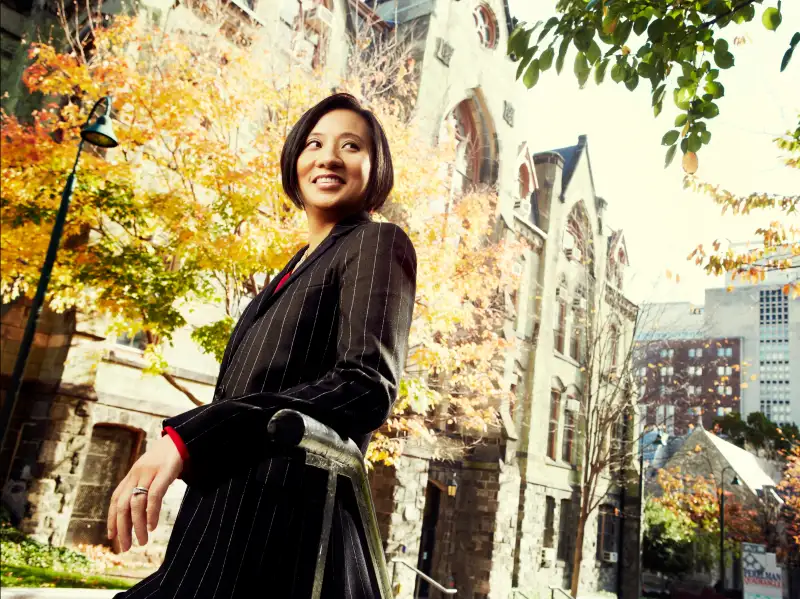 Katherina Rosqueta, 47, is executive director of the Center for High Impact Philanthropy at the University of Pennsylvania. She has led the center, which provides analysis and educates individuals on how to maximize the social impact of their charitable donations, since its founding in 2006. Money senior writer Donna Rosato interviewed Rosqueta for the December 2014 issue, from which this Q&A is adapted.
Should I change how I give to charity?
Maybe. It depends on your motives. If you want to make a big impact, it's not about the money you give. It's about how well you give that money. The biggest misconception people have is that good intentions and a lot of money mean a lot of impact.
You need to move away from the focus on financial inputs, like how much money a charity has and what its overhead costs are. Instead, focus on the change you want to create, the actual impact. Is it helping people who have lost everything in a major disaster? Getting a child to read at grade level? Ask yourself where you can get the most bang for your buck. Be clear on the results you're trying to achieve. Then sup­port organizations that are doing that.
Still, I don't have Bill Gates' money. Can I really make an impact?
Funders with more resources than you are often addressing bigger, more capital-intensive problems, like developing a new vaccine. But you can make a meaningful difference with a lot less money. It costs $150 to provide home-based health care to poor families in rural India. To help just one newborn, it's $7. You could be saving a child's life. The key is finding organizations that are using your money to the maximum effect.
How can I find a charity that is getting results?
There's no one-stop shop. Sites such as charitynavigator.org, give.org, and guidestar.org let you know whether charities are legit and how much they spend on operations. Other sites, such as myphilanthropedia.org, focus on particular issues and help you judge which organizations have the most impact and cost-effectiveness.
At our center, one thing we do is research which practices lead to the most change. We then identify organizations that use those practices in specific areas such as hunger and urban revitalization. For example, we found that community groups can make a difference with simple landscaping and maintenance of vacant lots. In a program in Philadelphia, gun-related crimes fell 7% and property values rose 17% in neighborhoods where lots were cleaned, greened, and maintained—all for about $1,100 a year per lot.
So have these sites solved the problem of judging effectiveness?
No. There are more than 1 million nonprofits registered in the U.S.  What we do is very labor-intensive. No one has the capacity to evaluate the ongoing results of every nonprofit.
In that case, how should I evaluate a small local charity like a theater group or an animal shelter?
First, do a search on charity-screening sites and Google to check that it's a registered nonprofit and to see whether there are concerns about fraud or misuse of funds. As for results, ask why this organization exists. Is the group's goal to enhance the quality of arts and culture in your town? Go to a show and see how many people attend. If you count 10 people, that's not much of an impact. Or get involved directly. Volunteer to walk dogs at the local shelter. Spend time within a nonprofit to observe its work and see how well it's run.
Many people spread their giving around. Is it more effective to focus on one charity?
There are always tradeoffs, but spreading out your donations can be quite helpful. If you're new to an issue, donating to several charities involved in that cause is a smart way to learn how different organizations work. You can decide later if you want to concentrate your giving on one.
What about giving to my college? Why should I if a super-wealthy class­mate is writing huge checks?
Often people give to their college because they feel gratitude for what they got from the school, not because of the impact their donation will have. Giving to your alma mater just serves another purpose.
Let's talk about a crisis in the news: the Ebola epidemic. How can I help?
There are two types of organizations to consider for a crisis of this scale. The first are large international aid organizations that bring really specialized skills, like Doctors Without Borders. They are first responders who have the networks and experience to work in really tough settings. But they alone can't solve it. You need organizations working in the region that know the local culture, geography, and language. You need both a top-down and bottom-up approach.
How do I find these bottom-up organizations?
Most of the time you can't do it yourself. You have to rely on folks like those in our center and others with local connections. But if you yourself know people who work in an affected region or have personal ties to it, they can be a good source of information on what is working.
How should I respond to the next major natural disaster?
Often the best thing to do is send money. When there is a natural disaster, one impulse is to send donated items—food, blankets, or clothes. But needs change quickly. By the time these things arrive, there may be more urgent concerns.
If you know there's a need in your local community for a specific item and you have an efficient way to get the goods there, you should do it. If you don't have direct knowledge, what you donate may take up precious space, create transportation costs, and use up volunteer time moving and storing items that aren't needed.
Many people give to the Red Cross after a natural disaster. A recent report, however, alleged serious problems with the group's response to Hurricanes Isaac and Sandy in 2012. So what should people do now?
I don't know enough to say whether you should stop donating to the Red Cross. But you shouldn't give to an organization you don't trust. If the only information you have about an organization is that it isn't using money well, then don't give.
Disaster relief can be an especially difficult area for giving. Some of that is due to the inherent chaos in the immediate aftermath of any disaster. Organizations that are seen as a "go-to" in times of disaster have increased responsibility to earn donors' trust by providing a high level of transparency and accountability.
At this time of year, people think a lot about charitable donations. What advice do you have for getting the most out of seasonal giving?
Plan your giving before the busyness of the season takes over. Treat it like an investment decision rather than an impulse buy.
We just published our annual year-end giving guide, which identifies six high impact giving opportunities and provides advice on how to make your giving have a bigger impact throughout the year.
Is there an amount that makes us feel good about giving?
There's not a particular number. But a lot of research finds that people who give and volunteer are happier and more successful.
Listen to more of Rosqueta's advice about effective giving: