5 Cheap Gas Factoids That'll Get Your Motor Running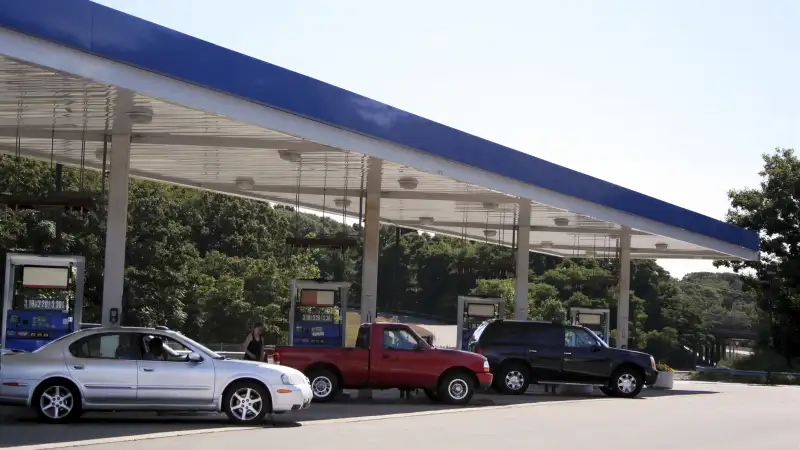 Sharon Meredith—Getty Images
Not long ago, that fill-up probably cost more like $50. Here are a few more factoids to help wrap your brain around just how cheap gas has gotten in recent months—and how much money drivers can expect to save if prices remain low.
Prices are falling by 1¢ daily.
As of Monday, according to AAA, the national average for a gallon of regular was $2.13, down from $2.20 the previous Monday. Over the last three weeks, the average has dropped 27¢, and one month ago, the average was $2.60. Prices at the pump have decreased for more than 100 consecutive days, and recently prices have been falling by an average of more than 1¢ per day. If we stay on the pace of a 1¢ daily drop—which is a complete and total impossibility, of course—gas would be free in 213 days, just in time for road trips in August.
Only 1 state averages over $3 per gallon.
Unsurprisingly, it's Hawaii, where the average is $3.42. Alaska is usually the other persistently high outlier for gas prices, and the average there dropped under $3 recently, measuring $2.93 on Monday. Bear in mind that sub-$3.50 gas is very cheap for the Aloha State, where the average was $4.16 for 2014 overall. Average Hawaii gas prices were as high as $4.67 in 2012.
19 States (and counting) are averaging under $2.
They are: Alabama, Arkansas, Colorado, Iowa, Idaho, Indiana, Kansas, Louisiana, Michigan, Minnesota, Missouri, Mississippi, New Mexico, Ohio, Oklahoma, South Carolina, Tennessee, Texas, and Missouri—which is the cheapest state of all, averaging just $1.77 per gallon. Meanwhile, Arizona, Montana, Nebraska, South Dakota, Virginia, and Wisconsin are all averaging $2.05 or less, and they are likely be the next states to break the $2 barrier.
One gas station is charging $1.49 per gallon! It's in Texas, as GasBuddy pointed out in a post that also noted that 45% of all gas stations in the country are charging under $2 per gallon. Remember that as recently as December, it was considered an extraordinarily big deal that any gas station was bold enough to cut prices below the $2 mark. We've reached the time when sub-$2 gas more or less seems standard—and when the average of one month ago ($2.60) seems high, even though that's roughly $1 cheaper than the year-long average in 2012.
Americans could save $75 billion on gas this year.
AAA analysts predicted that, compared to fuel costs in 2014, American drivers would collectively save "$50-$75 billion on gasoline in 2015 if prices remain low." That forecast was made at the end of 2014, when the national average was $2.26 per gallon. Based on the continue swift decrease in prices, and by indicators such as the Saudi prince who said "we're never going to see $100" as the per-barrel price of oil ever again, it wouldn't be surprising if we wind up on the high side of AAA's predictions. Another 2015 gas price forecast, from GasBuddy, predicted recently that the national average would bottom out at $2.23 in January. We're already 10¢ below that mark nationally.
Granted, the plummeting price of gas isn't entirely good news for consumers. Studies—not to mention logic—indicate that cheap gas equates to more driving, and more driving is correlated to more traffic accidents and deaths on the road. What's more, cheap gas provides an incentive against utilizing more environmentally-friendly, fuel-efficient hybrids and alternative-fuel cars, such as the Toyota Prius, which doesn't save drivers as much in gas costs when gas is inexpensive.
Finally, the drop in gas prices has helped push the argument that gas taxes should be raised in order to fix America's roads and address other infrastructure needs. Over the weekend, a New York Times editorial noted that in light of gas prices falling 40% since June, now is "the perfect time for Congress to overcome its longstanding terror of offending the nation's motorists and raise the tax on gasoline and diesel fuel."