5 Spring Break Hot Spots That Are Cheaper This Year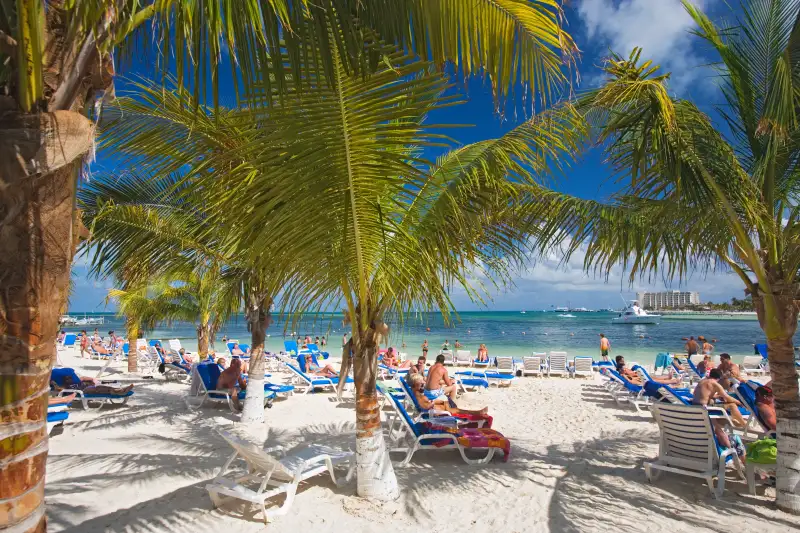 Franz Marc Frei—Getty Images
Finding great travel deals during peak season isn't easy. So Hopper did it for you.
Our data-science team dug into massive amounts of spring-break prices to pinpoint a handful of hot spots that actually offer decent deals on flights. Meanwhile, we searched the web for budget-friendly hotels, free or cheap attractions, and other expert tips and tricks to maximize your savings.
Below, find five spring break destinations that just may be cheaper than you think.
Cancun
Fly: It may be one of the most popular spring-break haunts (and the fifth-most-watched destination on Hopper), but Cancun is still a relatively affordable flight away. All the major legacy airlines (American, Delta, and United) as well as Southwest, Spirit, JetBlue, and Virgin America fly there, so service is frequent — and frequently cheap.
Hot Tip: Cancun's all-inclusive mega-resorts can get ridiculously pricey. Yes, you can gorge on late-night buffets and unlimited frozen daiquiris, but the per-day costs can be extreme, adding up to hundreds per day. Consider forgoing the all-inclusive plan and instead staying outside the main drag. Grand Residences, an elegant condo-style resort in nearby Puerto Morelos, offers a la carte dining, fully fitted gourmet kitchens for money-saving meals in-room, and plenty of peace and quiet along the rowdy Riviera Maya. Yet downtown Cancun is still just 20 minutes away.
James Farley - 2012—Getty Images
Miami
Fly: Welcome to Miami (for 2016, anyway). This year, it's about 19% cheaper to fly to the Magic City, with average airfares from across the U.S. hovering just around $200 apiece. But you can often find flights for much less during frequent fare sales. Plus, if you wait until April or May to fly, you'll avoid the November-to-March high season, when ticket prices peak.
Hot Tip: While the thumping nightclubs come with hefty covers, Miami's food and culture scene, spread across many bustling neighborhoods, still offers great deals. Seek out super-authentic Cuban eats in Little Havana or head to Little Haiti for Caribbean-flavored seafood. Sunny Isles has a funky mid-century charm plus Newport Fishing Pier, if you feel like catching your own dinner. And while it's home to some of Miami's priciest designer shops, the Design District also boasts more than 100 art galleries and antiques dealers to browse for free.
Hawaii
Fly: If you're flexible on a Hawaii island (and you should be because they're all picture-perfect), compare airfare for Honolulu, Kahului (Maui), Kona, and Lihue (Kauai). Honolulu may be the most popular point of entry, but that doesn't necessarily mean it's the cheapest from your departure city. Also, avoid flying to Hawaii on a weekend. Not only are airports packed, you're also going to see peak prices on Saturdays and Sundays.
Hot Tip: Think Hawaii properties are all pricey? Think again. Local chains like Aston Hotels offer well-priced digs with the same incredible views. The Aston Waikiki Beach is a hip hotel with a funky surfer vibe whose oceanview rooms look down directly on Waikiki Beach. Its sister property on the Big Island, Aston Kona by the Sea, is an all-suite oceanfront resort with budget-friendly amenities like washer/dryers and Wi-Fi (plus private sunset-facing lanais). Think of all the money you'll save for surfing lessons.
Orlando
Fly: Plenty of airline competition has made Orlando one of the cheaper places to fly in the U.S., and for spring break, that trend continues. In fact, average airfares to Orlando are about 23% cheaper for spring break 2016 than for the same time period last year. Direct service from low-costers like Spirit, Frontier, and Sun Country sweeten the deal.
Hot Tip: The truth of the matter is, it's not exactly easy to save on Disney World passes. If you want to go, you might just have to set aside a big chunk of your budget for park admission. Still, don't forget to take advantage of any applicable AAA, military, or local-resident discounts, and check Disney's Special Offers page for potential package deals. Of course, there is more to this city than Mickey and friends. Save by buying single-park or two-day passes and see Orlando's other sights, including a surprisingly buzzy downtown, International Drive, and Lake Eola Park.
Puerto Rico
Fly: Flying to the Caribbean often involves costly connections and long layovers. Yet Puerto Rico is usually the cheapest Caribbean entry point for U.S. travelers, with non-stop service across the U.S. You'll want to check flights into San Juan (SJU), of course, but don't forget to search for service to Aguadilla (BQN) and Ponce (PSE). Depending on your departure airport, you may find a much better deal to those alternate airports.
Hot Tip: All across Puerto Rico, from the capital city to some of its most remote and people-free beaches, you can find an Airbnb that offers good savings over resort options. During a quick browse, we found tiny pastel-painted beach cottages for just $65 per night; colonial-era flats with sweeping views of downtown San Juan for just $100 per night; and luxe villas with semi-private beach access from $125. Rentals fill up fast for spring break, though, so you'll want to start doing your research early.
This article originally appeared on Hopper.com. Hopper is a travel app that tracks and predicts airfare prices.