Get Car Wash-Level Shine at Home with 25% off Car Cleaning Essentials from Chemical Guys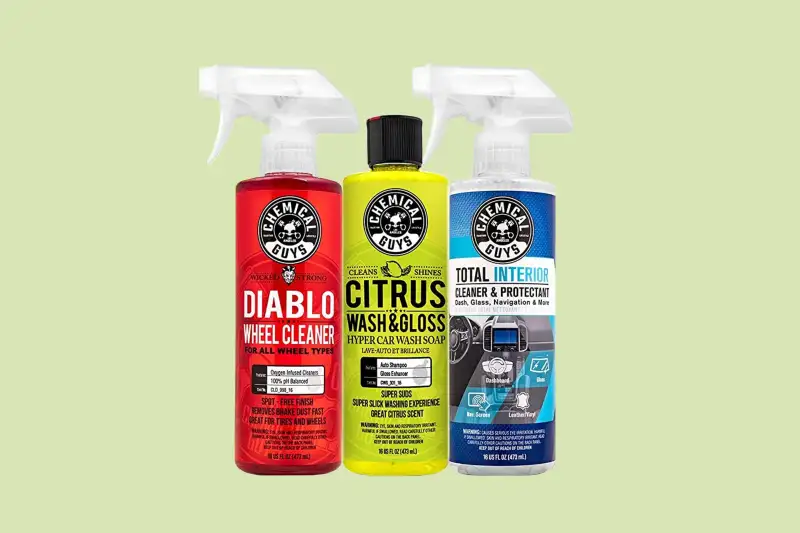 If you want your car to look its best without spending a fortune, cleaning products from Chemical Guys are the way to go. With up to 25% off their top cleaning essentials, you can get a car wash-level shine right at home. Chemical Guys has a wide selection of products to help you get that glossy finish that you've been looking for. They're easy to use and are formulated to provide a long-lasting shine for a year-round, detailed-like result.
Whether you're looking to get rid of stubborn dirt and grime or just want to give your car a quick refresh, Chemical Guys has something to help. Plus, with their current discounts, you can achieve the results you want without breaking the bank. So don't wait — get the same car wash-level shine at home with Chemical Guys' cleaning essentials and save money while you're at it!
Clean & Shine Car Wash Starter Kit: $33.15 (was $39.99)
This 7-piece set comes with everything you need to give your vehicle a deep clean and polished luster. The included car detailing chemicals are designed to remove dirt and grime while restoring a showroom shine. The kit also includes a wheel brush, a wheel and tire brush, a wheel and tire cleaner, a microfiber wash mitt, and a microfiber drying towel to make sure every inch of your vehicle is spotless.
One-Step Scratch & Swirl Remover Compound Polish: $35.09 (was $41.98)
Restore the shine to your vehicle with the Chemical Guys one-step scratch and swirl remover compound polish. This powerful formula is designed to safely remove scratches and swirls while restoring a new-car finish. The bottle comes with a hand applicator pad kit that includes four applicator pads for easy use.
Compound, and Scratch & Swirl Remover Bundle: $73.07 (was $99.97)
Give your vehicle a fresh-looking finish with this six-piece set that includes polish, compound, and scratch and swirl remover that can be used to restore your car's deep shine. Get your vehicle looking like new with this bundle that's 26% off for a limited time only!
Leather Cleaner & Leather Conditioner Kit: $31.41 (was $36.98)
Keep your leather looking rich with this powerful kit. It includes 16 oz bottles of cleaner and conditioner that can be used to safely clean and condition leather apparel, furniture, car interiors, and more. Right now, you can get the kit for 15% off, so don't miss out on this deal!
Lightning Fast Carpet & Upholstery Stain Extractor: $40.78 (was $48.98)
Remove tough stains with this lightning-fast carpet and upholstery stain extractor. This powerful cleaning solution is designed to quickly and effectively remove stains from carpets, upholstery, and other surfaces. The container comes with a spray bottle for easy application and is safe to use around pets.
Speed Wipe Spray Gloss & Quick Detailer: $38.23 (was $50.98)
Keep your vehicle looking like new with the Chemical Guys speed wipe spray gloss and quick detailer. This powerful detailing solution is designed to restore a deep shine to your vehicle's finish. The non-toxic and biodegradable formula is also safe to use on paint, glass, chrome, and more.
Mr. Pink Foaming Soap & Blaster Bundle: $73.16 (was $89.98)
Make washing your car easier and more effective with the Chemical Guys foam blaster bundle. This set includes Mr. Pink foaming car soap and a wash gun. The soap is designed to cling to your car to safely remove dirt and grime, while the foam gun can be attached to a garden hose to quickly and easily apply the formula to your vehicle.