10 Ways to Keep Your Home Cleaner in 2023 That Barely Require Any Effort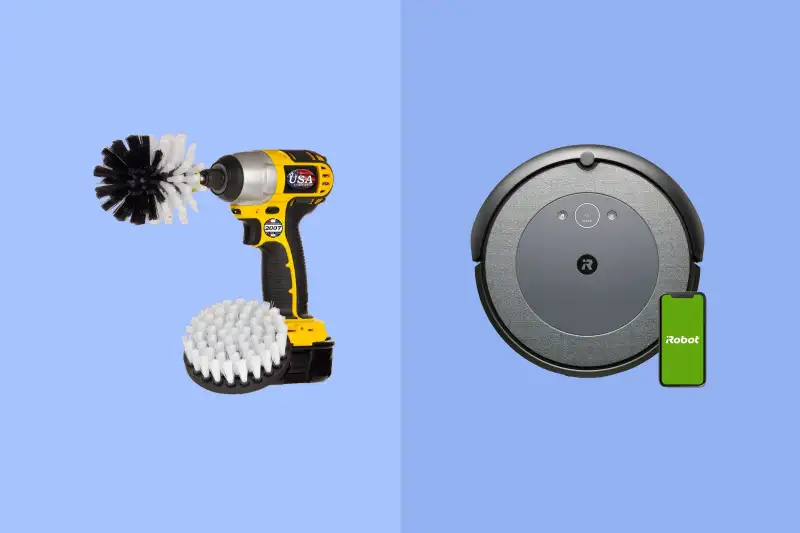 Homes with children, pets, or both can present a unique challenge when it comes to keeping them clean and organized. It seems like no matter how much you clean and tidy, it's never enough to maintain that pristine level of cleanliness. That's why we've put together this list of 10 easy-to-implement tips for keeping your home cleaner and more organized in 2023 without too much effort.
From simple solutions like these gel toilet cleaning stamps to a robot vacuum that cleans floors for you, we've got some amazing ways that you can save time and money on chores this year. Follow these tips and your home will be tidier, more organized, and better smelling in no time.
Clean your toilet with every flush
The Scrubbing Bubbles fresh gel toilet cleaning stamp is the perfect way to keep your bathroom smelling fresh and squeaky clean for up to 12 days. The easy-to-use design makes cleaning effortless - all you have to do is stamp one of the toilet cleaning gel discs under the rim, and no touching, scrubbing, or anything else is necessary.
An added perk is that it helps keep away toilet rings and limescale build-up. The refreshing Rainshower scent will make sure your bathroom stays pleasant and fragrant with every flush.
'Hands-Free' cleaning
The Fluidmaster flush n sparkle is the ideal solution for keeping your toilet sparkling clean with minimal effort. It provides scrub-free and hands-free cleaning without damaging toilet parts. The toilet bowl refill cartridge lasts up to 3 months and provides a powerful bleach-based cleaning solution that deodorizes and cleans the bowl, leaving it crystal clear.
Switch to robot vacuum
Make your daily cleaning easy with robot vacuums that do the job for you while you tend to other things. The iRobot Roomba is an intelligent and powerful robot vacuum designed to take care of the dirt and messes in your home. The best part about this vacuum is its smart mapping feature, which allows it to learn the layout of your home and gives you control to set it to clean specific rooms or on a schedule.
Mop as you walk
These mopping slippers are arguably one of the smartest inventions of the century. They feature a detachable sole which makes them easy to clean, as well as a strong water absorption feature, anti-skip, and quiet design, and a super soft outer shell which makes them highly durable. These mop slippers are perfect for hardwood, laminate, or tile floors in kitchens, bedrooms, or bathrooms and are sure to offer years of reliable service.
Clean spills with ease
The FitFabHome oven liner mats are the perfect solution for keeping ovens clean by creating a barrier between food and messes. This 3-pack is large enough to cover the entire area of most ovens and can be easily cut to size, allowing users to customize the product for their specific needs.
These liners are heat resistant up to 500 degrees Fahrenheit and are reusable many times over to ensure longevity. They are ideal for people who love to cook but hate the cleanup afterward. The liners are easy to install and can be reused multiple times.
Make dish-washing a breeze
The OXO soap dispensing brush is a revolutionary tool that makes cleaning dishes easier and more efficient. Featuring a sturdy handle with a comfortable grip, it is perfect for scrubbing pots and pans. The one-touch button allows for a precise amount of soap to be dispensed and eliminates the need for squeezing or pumping.
Whether you're washing dishes, pots, or pans, this soap dispensing brush is an excellent choice for anyone wanting an efficient, effective, and long-lasting cleaning solution.
Wet and forget!
The Wet & Forget shower cleaner is the perfect solution for a deep clean without the need for scrubbing. This product uses a bleach-free formula to gently remove soap scum, grime, and body oils from the shower and tub. All you have to do is apply it with a sprayer once a week, and wait 8-12 hours before rinsing it off with warm water. Get your Wet & Forget shower cleaner today for the perfect deep clean all year round!
A brush that does it all
The Drillbrush cleaning tool is an impressive piece of equipment that is guaranteed to help with any scrubbing project you have. The kit includes the white soft original drillbrush power scrubber, a 4-inch diameter flat brush, and a 2-inch scrub brush for tight spaces.
Say goodbye to pet hair
This pet hair remover glove is an amazing product and a great choice for pet owners looking to reduce loose fur in their homes. The glove features five fingers with a flexible design and adjustable wrist strap, so it is perfect for cats and dogs with both long and short fur. It's definitely worth considering if you're looking for an effective grooming solution for your pet!
Clean bottles without the scrubbing
These convenient cleaning tablets are designed to give water bottles, containers, and hydration packs a fresh and clear appearance. They're free of any harmful added ingredients, so you can be sure that the nature surrounding you remains pristine. Whether it's for a stainless steel bottle or mug, a hydration reservoir, or a hard-to-clean plastic container or bottle, Bottle Bright will make your gear shine like new without any scrubbing!