Climate Change Just Caused the Biggest Home Insurer in This State to Stop Accepting Applications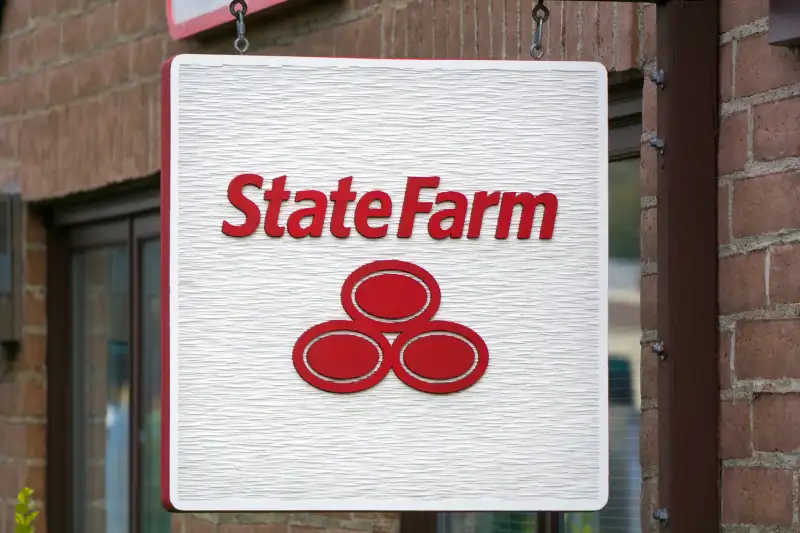 The wildfire season is just beginning in the West, and already the biggest insurer in the most populous state has pulled out of writing new property insurance because of the growing financial risk posed by fires. The move is the most dramatic example yet of how climate change is reducing the insurance choices for Americans who live in areas deemed to be "high risk" by insurers.
State Farm says that, effective May 27, it's no longer accepting new applications for homeowners insurance in California, due to a rise in "catastrophe exposure" caused by fires, along with an increased cost to rebuild homes in the state. The California Department of Insurance (CDI) says current State Farm policyholders will not lose their existing policies. However, there's no word on how high premiums might become upon renewal. State Farm continues to offer new car insurance coverage in California.
Insurance companies have become increasingly wary of issuing policies in California in the last several years, due mostly to dire climate predictions. An estimated 4.5 million houses in the state are at high risk of wildfire, and climate scientists expect California's wildfires to grow even more severe and frequent due to climate change. State Farm's move follows decisions to stop writing new California home insurance by fellow insurance companies American International Group and Liberty Mutual.
A changing climate has been complicating insurance well beyond California. Louisiana and Florida are suffering similar turmoil due to the devastating impact of hurricanes. Claims worth over $40 billion from hurricanes Ida, Laura, Delta and Zeta have caused companies to drop tens of thousands of policies in both states.
With June marking the start of both the wildfire and hurricane seasons, here's more about climate and insurance, including where homeowners can turn if climate change is reducing the number of familiar names in insurance where they live.
The costs of California wildfires
The last five years have brought some of the deadliest and most destructive wildfires ever recorded in California. As the state's largest insurer, State Farm unsurprisingly accounts for the highest incurred losses by a single company in the state, with over $4 billion spent in paying claims in 2021 alone.
That figures accounts for 65% of State Farm's total wildfire claims across the country. California wildfire claims filed with State Farm average $207,000 apiece, the company says. "It's necessary to take these actions now to improve the company's financial strength," State Farm says in its statement. It's not just that claims are more numerous, the company adds, they're more expensive to settle as well. That's due to "historic increases in construction costs," which are now "outpacing inflation."
Obviously, State Farm's withdrawal from writing new policies in California further reduces the insurance options for new homeowners in the state. State Farm added in its announcement that it will work with state regulators at the CDI to help build market capacity in California, although the company's spokesperson declined to comment on the details of this partnership when asked by Money.
To combat the flight of insurers from the state, California Insurance Commissioner Ricardo Lara began in 2019 to implement a series of moratoriums which shielded homeowners in certain wildfire-stricken ZIP codes from non-renewal and policy cancellations.
The moratoriums have shielded over two million policyholders since then, the CDI says. However, the state's move does not prevent companies from choosing not to write policies for new customers in the state.
The shrinking choices in insurance
Californians are not alone in having to navigate a diminished insurance marketplace. As companies become increasingly risk-averse with their homeowners insurance business, more Americans are finding themselves unable to find affordable policies to protect their properties.
The root of the problem is a gap between past premiums charged and current claims being paid, says an industry expert. "The cost of covering damage caused by weather related events...is much higher than global capital providers have assumed in their pricing through the last decade," says Bill Martin, CEO of Plymouth Rock Assurance. Martin goes on to explain that because of these discrepancies between cost and price, insurers are being pushed to remove coverage in high-risk areas in order to protect affordability in lower-risk ones.
Such retrenchment has not been possible for regional insurers who have collapsed due to sharp rises in climate-related claims, leaving homeowners holding policies with insolvent companies. After several consecutive and unusually destructive hurricane seasons in Florida and Louisiana, the industry associations in those states that cover the obligations of failed member companies have been forced to borrow heavily to make homeowners whole on unpaid claims. The borrowing, the first by both associations in more than 30 years, is expected to reach a combined $1.35 billion.
The effects of climate change on homeowners coverage isn't the only trend that's squeezing insurance customers on price and availability. Auto policyholders who own Kias and Hyundais have found themselves in a similar predicament; major insurers have mostly either increased premiums or ceased writing auto policies for Kia and Hyundai owners after a viral social media trend led to a rise in thefts of those specific makes.
Even after a class-action settlement was reached, and Kia and Hyundai began retrofitting more sophisticated anti-theft measures in their vehicles, many owners still report difficulties in getting new policies for their vehicles.
Where insurance customers can go
The insurance options for American homeowners — including those in California and Florida — aren't gone, say experts, but are merely narrowing.
The CDI emphasizes that there are still lots of insurance providers in California — 115 in all, the agency says — that continue to write residential policies throughout the state. As a last resort, there's also the state-led FAIR Plan, through which Californians who can't find a private policy can insure their homes against wildfires. Though, this plan often comes with much higher premiums and stricter limits on coverage than private policies.
Similarly, Florida and Louisiana residents can turn to their own government-controlled insurance programs, like Louisiana Citizens. As is the case with California's FAIR Plan, though, these policies tend to be far more expensive than those offered by private insurers, largely because they are in locations so risky that for-profit insurers have passed on covering the properties.
"For the moment, Californians and other homeowners whose homes have not been updated to match today's climate risks and building costs may have to find refuge in more expensive insurers," Martin says. "These same insurers, however, are also more financially sound and have less exposure to [the financial impact of] extreme climates and increasing costs."
And the jump in premiums when moving to these state insurers of the last resort is typically enormous. On average, premiums in the highest-risk areas of the country average about $3,379, compared to $1,387 in lower-risk ones.
Homeowners who live in areas of normal risk will not be spared higher insurance premiums. In 2023, premiums nationwide are expected to grow in cost by an average of 9%, according to insurance marketplace Insurify.
More from Money:
What Is Flood Insurance and How Does It Work?
Drivers Are Shopping Around for Cheaper Car Insurance as Premiums Soar
Owning a Home Now Costs an Average of $17,500 a Year — Not Counting the Mortgage