The Best Credit Cards, Bank Accounts, and Retirement Accounts for Service Members and Veterans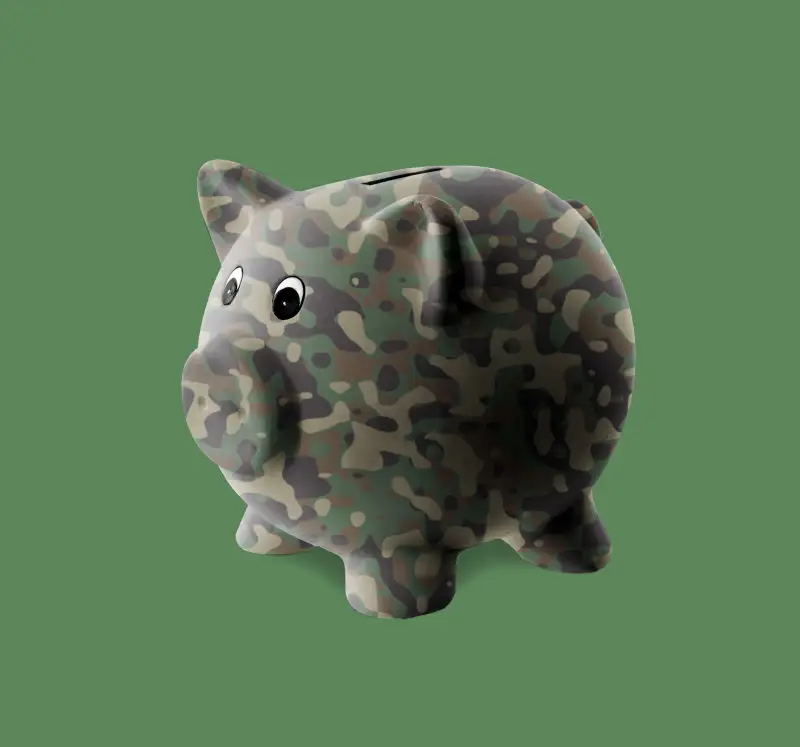 Though many financial institutions offer special credit cards and bank accounts to those in the military, veterans and active-duty service members alike are usually better off with the very best banks and credit union accounts open to the general public.
That's because the terms offered by these institutions tend to be better than the special deals offered to members of armed forces (including the Air Force and Navy) and workers at the Pentagon.
That said, a few options available only to members of the military do stand out. Here they are:
1. Best Credit Card: PenFed Platinum Cash Rewards
This card offers users cash back every time they fill up their tanks.
Pentagon Federal Credit Union, open to active members of the military, offers two versions of the card: Standard and Plus. The Standard option earns you 3% cash back on all gasoline purchases, but comes with a $25 annual fee (waived for the first year). The Plus card has no annual fee and nets you 5% cash back on gas—an unusually high return—if you also have another PenFed account. The easiest way to meet this requirement is to open a money-market CD, which requires a minimum investment of $1,000 but returns a competitive 1%.
(In addition to members of the military, American Red Cross blood donors are also eligible for PenFed products.)
2. Best Checking Account: Navy Federal Credit Union Flagship Checking
This account, which waives its $10 fee with a minimum balance of $1,500 or more, is available to any former or current member of the military and offers among the best interest rates out there for people who don't keep a lot in checking.
Balances of less than $10,000 earn 0.35% interest, which handily beats the 0.10% on the same amount offered by Money's Best Checking Account winner Ally (though Ally regains the lead on balances above $15,000, with an interest rate of 0.60%).
Other perks of the Flagship account include up to $10 in rebates each month for using out-of-network ATMs.
3. Best Certificate of Deposit: Navy Federal Credit Union Special EasyStart Certificate
Among big retail banks, the best interest rate we could find on a 12-month CD was up to 1.10% from Synchrony Bank's Optimizer Plus account—but the NFCU's 12-month CD blows that rate out of the water with a 3% annual yield.
The catch? There's a $3,000 maximum balance, so you'll be able to net only $90 maximum. Still, that's three times better than you'd do with the best civilian CDs.
4. Best Savings Plan: Department of Defense Savings Deposit Program
If you're an active member of the military serving in a combat zone, you are eligible for a 10% annual return on up to $10,000.
While this rate far exceeds anything you can get from a civilian account, the eligibility requirements are strict and the interest applies only to combat pay.
5. Best Retirement Account: Thrift Savings Plan
The inspiration for President Obama's MyIRA, the Thrift Savings Plan—open to federal employees only—is not a 401(k) but works in a similar way to help you save money for retirement.
The biggest perks? Super low costs and a streamlined menu of index and target-date funds. While the average 401(k) investor loses about 0.74% to fees every year, funds available through the TSP charge less than 0.03%.
If any of these options don't quite fit your needs (or have too-restrictive eligibility requirements), check out Money's credit card and bank account matchmaker tools to find the best options for you.