Gamify Your Finances to Reach Your Money Goals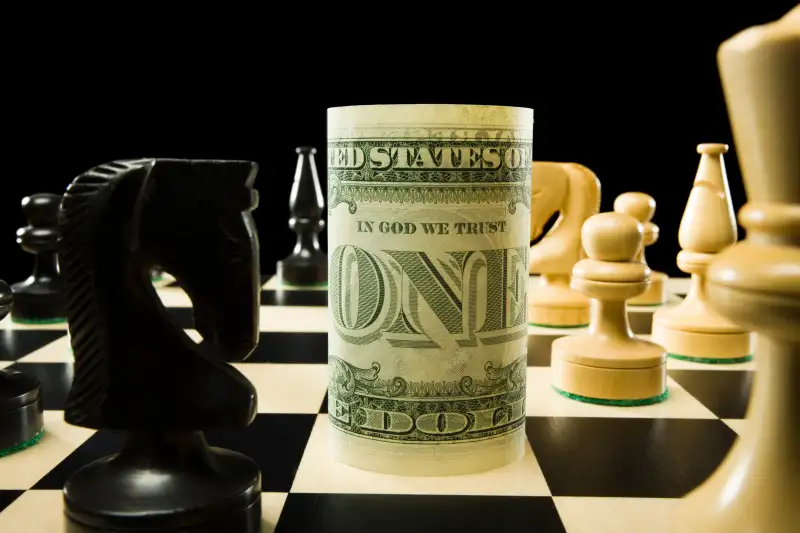 Mike Kemp—© Rubberball 2009
Between your coworker who can't stop playing Flappy Bird and your mother-in-law's obsession with her Sudoku app, there's no denying just how popular digital games have become.
Not only are there more than 1.2 billion gamers around the world, but gaming now attracts a much wider audience than your stereotypical Super Mario–playing teen.
That's because gamification (the practice of using game design and techniques to engage people in nongaming contexts) is all around us—from marketers who use games to attract consumers to companies that leverage gamification to train employees.
Use a Fitbit? Then you're just one of the millions of people who have turned staying healthy into a game.
With so many facets of our lives mirroring a test, competition or contest, it's natural to wonder: Could gamifying my personal finances help me with my money goals?
In theory, there's no reason why not.
"Games are associated with positive, social experiences, so people don't mentally turn off," says Syble Solomon, a financial behaviorist and author of 'Bringing Money Into the Conversation.' "And when people are actively engaged, they keep the pathways open in their brains so they can learn more and retain [what they learn]."
Of course, "fun" doesn't always mean "wise."
"Deployed carelessly, [gamification] can reinforce and appear to validate existing financially disastrous behavior patterns," says Marcelo Rinesi, a data scientist and assistant director at the Institute for Ethics and Emerging Technologies. "Ultimately, it is one of the most important behavior-modification techniques known—but its very power comes from the fact that it speaks to our most automatic drives."
So how can someone take virtual cues from gamification to do greater good in their very real financial lives?
The Psychology Behind Gamifying Your Finances
Whether or not we realize it, much of the way we interact with our finances is already set up like a game, Rinesi says.
Earning credit card points, boosting a credit score, and handing over cash to get instant consumer satisfaction all draw from elements of gaming.
"From a psychological and behavioral point of view, using gamification to put your finances in order isn't a matter of beginning a game—but of shifting to a more beneficial one," he adds.
This can be difficult, however, because you don't always feel immediate gratification when it comes to things like investing and saving for retirement.
Suppose someone earns $40,000, and saves 10% of her income. If she invests that $4,000, and earns a hypothetical 7%, in a year she's amassed about $280 in interest.
"That's a huge amount of saving and an excellent return, but it comes out to less than $24 a month," says Gabe Zichermann, coauthor of 'The Gamification Revolution.' "The average person [might perceive it as], 'I gave up a vacation to earn less than $24?!' "
Enter gamification, which can help up your game, so to speak, by teaching you how to gain gratification not from the end goal—but from mastering the steps that can get you there.
"Gamification focuses people on the small daily actions they can take to control their destiny," Zichermann says. "So instead of saying, 'I'm screwed because I haven't saved enough for retirement,' you can say, 'As long as I take these actions, I'm better off than I was before.' "
So one key to a good game structure, Zichermann adds, is that it will help keep upfiero—the Italian word for pride used by game designers to describe the emotional high you get from winning.
Intelligent (Financial) Game Design: 3 Ways to Get Gamifying
Before you conjure up an elaborate system of rules and rewards for yourself, take into account that simply throwing points at your finances won't fix them.
For starters, tapping into your extrinsic motivation, which is influenced by such external factors as a prize or punishment, often isn't as effective in the long run as triggering your intrinsic motivation—or the desire to do something because it feels personally rewarding.
"Offering rewards may have positive immediate results," Solomon explains, "but once the rewards go away, it's likely the interest will go away as well."
Gamification Tip #1: An effective game design incorporates both extrinsic and intrinsic motivation to drill in positive financial behaviors.
Alicia Alban, a real estate developer from Rye, N.Y., incorporated both forms of motivation while creating an Apprentice-like game for her two sons that was meant to teach them about the value of the things they owned.
The extrinsic reward was straightforward: Whoever sold the most, in dollar amount, of old games and electronics would win an Apple Watch.
The intrinsic reward, however, was learning how to sell their property wisely, in a way that maximized their earnings.
Alban's sons had to analyze how similar items were being priced on Craigslist and eBay. They had to figure out how to take photos that would make their items more salable. And they had to determine which costs would eat into their earnings, like shipping supplies and postage.
In the end, the family got rid of some clutter, and the boys made some pocket change—but the money savvy they picked up was priceless. "I wanted to teach my sons about finance, and help them identify just how easily sources of income could be found," Alban says.
But just because Alban's design of choice—a competition with an end prize—was a success for her sons doesn't mean it will work for everyone. In fact, one of the biggest factors to consider is your own personality.
Gamification Tip #2: Instead of conforming to a game, change the game so it fits your personality.
A perfectionist, for example, may not react well to immediate scoring and clear targets, Rinesi says.
"She's likely to feel pressured by them and will react to the first failure in a way that will magnify her issues—the equivalent of an eating binge following a minor slip on a diet," he explains. "So for her, a game design that's less responsive to small behavior deviations will have a bigger chance of being helpful."
On the flip side, those who feel fear and anxiety about their finances might be comforted by stats, says Cary Carbonaro, a Paramus, N.J.–based Certified Financial Planner™ and managing director at United Capital who uses personality assessments and financial scorecards with clients.
"People motivated by fear really want to see numbers that are good," Carbonaro explains. "They want to feel comfortable that they're not in a danger zone."
Solomon also notes that games that pit you against others can be counterproductive if you're not the competitive type.
"Money is already a difficult, sensitive topic," she says. "For the person who 'loses,' it's one more negative experience associated with money and failure."
But gamifying your finances doesn't have to be about achieving some measurable stat. Games can also be used to improve financial literacy, build better money habits—and even unearth hidden money behaviors.
Gamification Tip #3: Think of games as a way to reach not only your quantitative but also your qualitative goals.
Solomon once worked with a couple who couldn't understand why they were unable to stick to a budget. So she had them play a Solitaire-like card game specially designed to help them uncover any attitudes that were holding them back.
It required the duo to sort statements about saving and spending into piles that always, sometimes or never described them. The results showed they were both influenced by other people's opinions—but in different ways.
"They lived modestly, but always spent way too much on gifts," Solomon says. "But while the husband didn't want people to think he was cheap, the wife thought people wouldn't like her if she wasn't generous. After realizing what was motivating their spending, they shopped differently and more thoughtfully."
Ultimately, the goal of any effective financial game should be to make managing your money a more positive and uplifting—nay, fiero—experience.
"Most people don't want to talk about their finances or budgets," Carbonaro says. "Anything that will make financial planning more fun [is good]—that's how I look at it."
3 Digital Games That Can Help Up Your Money Game
If the whole concept of gamification sounds way too complicated, fear not—we've rounded up simple digital games that can help get you started.
SaveUp.com lets you earn credits for positive financial behaviors, like paying down debt or contributing to retirement. The credits can then be redeemed for a chance to win such prizes as cars and vacations.
SmartyPig.com helps you set up and automate transfers to digital piggy banksearmarked for your savings goals. You can share your progress on social media, and even accept contributions from friends or family who want to help.
EpicWin is an app that is half to-do list, half role-playing game. Set up daily tasks—say, checking your credit score—and every time you complete one to-do, your avatar earns points and levels up.
LearnVest Planning Services is a registered investment adviser and subsidiary of LearnVest, Inc., that provides financial plans for its clients. Information shown is for illustrative purposes only and is not intended as investment, legal or tax planning advice. Please consult a financial adviser, attorney or tax specialist for advice specific to your financial situation. Unless specifically identified as such, the individuals interviewed or quoted in this piece are neither clients, employees nor affiliates of LearnVest Planning Services, and the views expressed are their own. LearnVest Planning Services and any third parties listed, linked to or otherwise appearing in this message are separate and unaffiliated and are not responsible for each other's products, services or policies.
More From LearnVest: