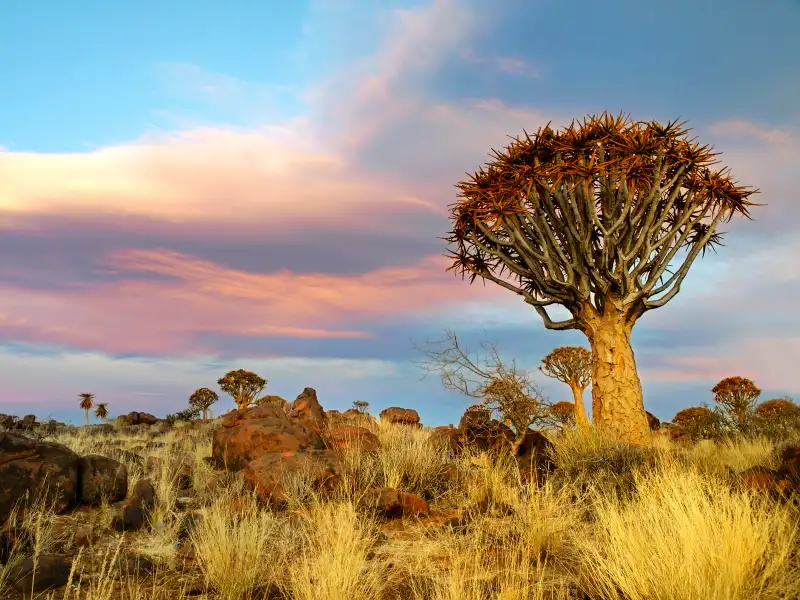 Why now
Any safari is a splurge, but the cost for this trip of a lifetime goes down dramatically during southern Africa's green (or rainy) season. Fortunately, Namibia is largely desert, and the two inches of rain it receives in March (on average) only serves to turn the countryside a lush green. That also makes it a great time to photograph foraging wildlife, notes Namibia expert and president of Premier Tours Julian Harrison.
What to do
Book a thatched roof house at the Kulala Desert Lodge, located in the private 67,000-acre Kulala Wilderness Reserve in central Namibia. Prices start at $297 a person per night, a 21% discount vs. high season (mid-June to October). The cost includes the use of quad bikes, a nifty way to drop in on the grazing ostrich and antelope.
If rhinos are more your speed, the Desert Rhino Camp is home to the largest roaming population of endangered black rhinos in Africa. Tented rooms look out over sweeping landscapes dotted with ancient Welwitschia plants, not to mention strolling zebras, giraffes, and lions. At $365 a person per night, the Rhino Camp is pricier than the Kulala Reserve, but that's still 40% less than in high season.
How to save
Don't forget that almost any trip to a safari region will require in-country air travel. In that sense, Kulala Desert Lodge is the better deal, with round-trip tickets from Windhoek's international airport in Namibia costing $885, while the flight to Desert Rhino Camp runs $1,170, says Harrison.
Local's tip
Ask to spend a night on the rooftop under the stars at Kulala Desert Lodge.